Consumers and businesses are continuing to move away from cash and paper-based payments, according to new figures from Banking and Payments Federation Ireland.
The latest payments monitor shows that ATM withdraws dropped by 44% in the first three months of the year, while electronic payments continued to grow.
In total 320 million card payments were made over the first quarter of the year, according to Central Bank figures.
The Banking and Payments Federation said in-store contactless payments made up 47% of those transactions – these include payments by cards, as well as mobile wallets such as Apple Pay or Google Pay.
Over the course of the quarter, the volumes of contactless payment volumes rose by 12.9% to almost 149 million.
The data also shows that the use of cheques saw a sharp decline with volumes falling by over 26% year on year, while direct debit payments also dropped in the first quarter.
---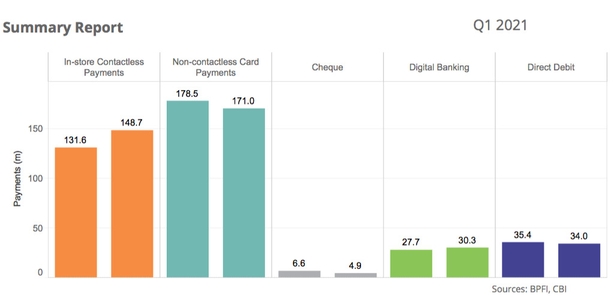 ---
Speaking on Morning Ireland, Brian Hayes, Banking and Payments Federation Ireland's chief executive, said the move away from cash payments has been accelerated by the pandemic.
"What we had seen before Covid was this onward march of electronic and digital payments, and the acceleration of this in the last 12 months has been extraordinary," he said.
Mr Hayes described the drop in cheque usage as very significant.
"If you consider that in 2016, 47 million cheques were issued in the economy, last year that was down to 23 million - so it has halved," he said.
We need your consent to load this rte-player contentWe use rte-player to manage extra content that can set cookies on your device and collect data about your activity. Please review their details and accept them to load the content.Manage Preferences
Mr Hayes pointed out that despite Level 5 restrictions during the first quarter of the year, electronic payments continued to grow.
"With the reopening of the county now underway and likely to gather pace in the weeks and months ahead, we anticipate that the upward trends in electronic payments will continue into the future with an ongoing decline in cash and paper based methods," he said.
Today's report also shows that digital banking transfer (credit transfers made via personal online or mobile banking) volumes are also up, growing by 9.3% year on year to 30.3 million payments.
Competition in the banking sector
Despite the planned exit of Ulster Bank and KBC from the Republic, Mr Hayes said he believes that competition in the Irish banking sector is still strong.
"We have obviously seen consolidation taking place and decisions will have to be taken over the next number of months and beyond as to how the sector will emerge.
"I think the sector faces a lot of challenges and that is clear in terms of the environment we are working in but also the broader European trust in terms of the European supervisory system," he said.
In terms of the competition in the mortgage market, Mr Hayes said Ireland has seven players, along with non-bank lenders.
"So within that market we are seeing people switching, or asking their banks and lenders for better rates - and that is a sign of competition in the market," he said.
New SME Webinar and guide on lender supports launched
Banking & Payments Federation Ireland has today launched an information guide and new webinar for SMEs focusing on banking supports and advice for businesses as they begin the road to recovery in a post-Covid environment.
Marian McCarville, Head of Business Banking and Taxation at BPFI said that SMEs have been severely impacted by the Covid-19 pandemic as they were forced to cope with partial or complete lockdowns of their businesses over three prolonged periods of public health restrictions.
"The Government has played a critical role in providing much needed supports, all of which have been instrumental in helping SMEs through the pandemic and keeping them connected with their employees," Ms McCarville said.
"However, as the vaccine programme rolls out and businesses begin to reopen, these supports can be expected to taper off," she added.
She that that SMEs now need to be planning, not just for the re-emergence from the pandemic, but crucially, they need to be planning for the long-term competitiveness and growth of their business.
This will require financial investment and BPFI members are committed to supporting viable businesses by providing the necessary access to finance, she added.