The Irish Airline Pilots' Association has urged the Government to urgently deploy rapid antigen testing for Covid-19 as part of the union's four-point plan to reopen international aviation.
IALPA, which represents 1,200 Irish-based pilots, is holding an outdoor general meeting today at which all members attending will submit to rapid antigen testing - a measure which the union believes could facilitate the early resumption of international travel.
A delegation will then travel to Government Buildings to deliver their proposals for a safe return of international air travel this summer.
IALPA President Captain Evan Cullen described the current travel restrictions in Ireland as a "disproportionate" response to the current threat, given the acceleration of vaccination programmes.
The union's four-step programme calls first for the reopening of the Common Travel Area between Ireland and the UK by aligning with the UK position.
Captain Cullen said that given the freedom to travel between Dublin, Belfast and London (and vice versa), it was "entirely pointless" to have "artificial barriers" in the Common Travel Area "that have zero public health benefits".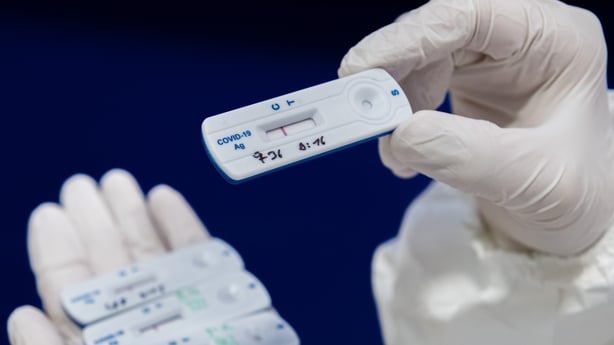 On EU travel, he urged the Government to fully implement the European Commission Digital Green Certificate "on the first day of the 6-week grace period", arguing that the necessary IT infrastructure is in place.
"Freedom of movement within the EU is an enshrined fundamental right of EU citizens," Captain Cullen noted.
"The Digital Green Certificate is a clear pathway to restore this freedom and Ireland should be a leader in this regard, not an outlier."
On travel between Ireland/the EU and the United States, the IALPA plan calls for the immediate exemption of the United States from Mandatory Hotel Quarantine, in light of its advanced vaccination programme.
"Fully vaccinated travellers from the United States should be welcomed into Ireland from today. Thereafter, a framework similar, if not identical, to the proposed EU Digital Green Certificate should be applied to all travellers from the United States," he stated.
IALPA's fourth demand is for the application of rapid antigen testing inbound to Ireland to safely facilitate the reopening of travel.
It notes that the Ferguson Report published last month by Minister for Health Stephen Donnelly states that rapid antigen testing "is key to enabling travel and ... enables travel to many of Ireland's key markets including UK, US and several European states".
We need your consent to load this rte-player contentWe use rte-player to manage extra content that can set cookies on your device and collect data about your activity. Please review their details and accept them to load the content.Manage Preferences
The EU green passport system will be 'up and running' by the start of July, Minister @simoncoveney has said.

He told @morningireland he hopes Ireland 'can be an early adopter', but does not think it will take effect from 1 July | Read more: https://t.co/yKIITjZ58Y pic.twitter.com/BEEIrGQBua

— RTÉ News (@rtenews) May 24, 2021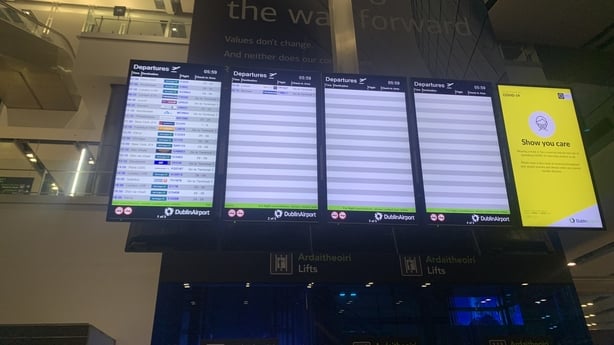 "The Minister for Health commissioned a report that recommends the use of rapid antigen tests for travel yet ignores the findings and blindly follows whatever NPHET propose. This unscientific approach to public health policy serves us all poorly," the IALPA President stated.
IALPA insists deployment of such testing in a "controlled and supervised manner for the purposes of facilitating safe and responsible international travel" will deliver significant public health benefits - and is being adopted worldwide "as the standard to be used in travel".
The union also accuses the Government of being over reliant on the NPHET expert group and what it dismisses as NPHET's "misguided" approach to rapid antigen testing.
"In addition to the Ferguson report, the evidence from world experts on antigen testing suggests that Irish public health policy is overly reliant on the personal opinions of certain members of NPHET, rather than the overwhelming scientific evidence."
"If this does not change," IALPA stated, "Government will have to explain why they failed to adopt the use of a tool that is scientifically proven to enable Ireland to emerge as quickly and safely as possible from this dreadful pandemic."
The union insists that rapid antigen testing is "incredibly effective" at detecting infectious cases, and can be deployed immediately before a flight, rather than up to three days prior to departure in the case of PCR testing.
It describes the 50% rapid antigen test sensitivity when compared to PCR as "misleading".
IALPA calls for sanctions on Belarus
The Irish Airline Pilots Association has called for sanctions on the Belarus government following yesterday's incident when a Ryanair flight was forced to land in Minsk.
IALPA President Captain Evan Cullen said it was outrageous and unacceptable that a sovereign state such as Belarus would apparently issue a false bomb threat in order to control a flight back into its own airspace.
"You cannot be telling pilots they could have a bomb on board or a possible security threat when it is actually a hoax, and what they are actually trying to do is to arrest one of the passengers," said Captain Cullen.
He said it was clear from the flight data IALPA had looked at that the aircraft was about to leave Belarus airspace, and the Belarus government had "panicked somewhat" in trying to retrieve the aircraft for the passenger they were targeting.
Captain Cullen called for an EU-wide approach.
"The EU should absolutely bring sanctions to bear on the Belarus government and make it clear to all rogue states that this type of behaviour is absolutely unacceptable, unsafe and there will be consequences for this behaviour," he said.
He confirmed that pilots are trained to deal with security threats such as a potential bomb on board, but said it was unacceptable that a sovereign state would issue what appeared to be a false or hoax bomb threat.