Mobile operator Vodafone has today reported a 1.2% drop in full-year adjusted earnings, coming in at the bottom of its guidance and missing market expectations, after Covid-19 hit roaming revenue and handset sales.
The company posted adjusted EBITDA (earnings before tax, interest, depreciation and amortisation) of €14.4 billion on revenue of €43.8 billion, down 2.6%.
Vodafone said it had delivered a resilient performance in a year that had shown the value of connectivity.
Chief executive Nick Read said the company ended the period with accelerating service revenue growth across its business, with a particularly good performance in its largest market, Germany.
"The increased demand for our services supports our ambition to grow revenues and cash flow over the medium-term," he said.
Vodafone's free cash flow fell 11.9% to €5 billion, just about meeting its target, after it increased investment in its network during the pandemic.
Read has focused Vodafone on markets in Europe and Africa and spun off its mobile towers infrastructure into a separate business that it listed in Frankfurt in March.
He said the next phase of his strategy would focus on driving shareholder returns through deleveraging, improving the return on capital, and committing to its dividend.
Analysts had expected Vodafone to report EBITDA of €14.54 billion, according to a company-compiled consensus.
Vodafone said it expected EBITDA for the current year to rise to €15-15.4 billion, with adjusted free cash flow of at least €5.2 billion.
Vodafone Ireland's services revenue dips
Vodafone Ireland said its service revenue for the fourth quarter fell by 3.8% to €197m due to reduced roaming and visitor revenues as a result of the Covid-19 crisis.
The company also said that regulatory impacts and competition in the market was partially offset by the successful launch of unlimited consumer plans.
Vodafone Ireland said its total fixed broadband customer base increased 5.2% year-on-year to over 299,000.
Overall, its total mobile customer base remained on par with the same time the previous year.
In the year to March 2021, Vodafone increased its 5G rollout to 26 counties with 30% 5G population coverage and said it aims to double that by early 2022.
In December, Vodafone became the first operator in Ireland to switch on an Open Radio Access Network (Open RAN), in partnership with Parallel Wireless.
This will connect 30 sites in the North West of the country with new 4G coverage.
Vodafone said that delivering Open RAN sites is a pivotal moment in the provision of mobile coverage to rural communities in Ireland, who now get a major boost in terms of digital connectivity.
In March, the company also launched the country's first 5G Standalone Mobile Private Network at Irish Manufacturing Research in Mullingar.
The wireless equipment from Ericsson enables Vodafone to provide a 5G standalone edge core and radio private network.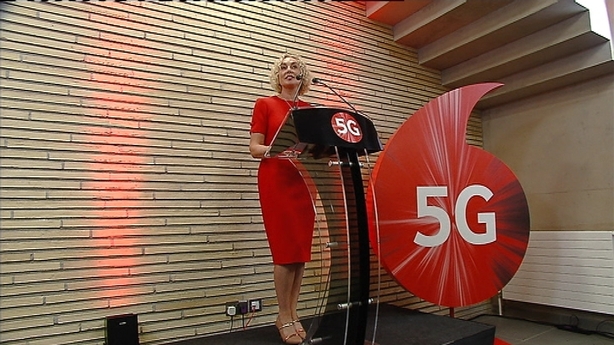 Anne O'Leary, CEO of Vodafone Ireland, said that the global pandemic has in many ways accelerated our move to becoming a digital society.
"Despite the current challenges, we continue to put a sustained focus on providing reliable connectivity at a critical time for the economy and society. We also continue to build our digital infrastructure and invest in network innovation for the benefit for our consumers and business customers," Ms O'Leary said.
"With the launch of our unlimited broadband packages and the provision of dedicated high-speed broadband to community centres through our Connected Communities Initiative, the delivery of Ireland's first OpenRan sites to address 4G blackspots and in reaching our milestone target of 30% 5G population coverage in March 2021 - we have remained dedicated to transforming the fabric of towns and communities by delivering connectivity that helps to address the digital divide, improve lives, support employment and stimulate rural economic growth," the Vodafone Ireland CEO said.