It has been a good week for the retail sector, as non-essential shops reopened for appointments - ahead of a full reopening next Monday.
While bigger stores like Penneys have reported strong demand, small Irish retailers are hoping consumers will also continue to support local.
Many small shops are reporting a slower uptake in appointment bookings than the larger stores, according to Marian O'Gorman, Founder of Champion Green, a group that represents small businesses.
Speaking on Morning Ireland, Ms O'Gorman said it is more important than ever to support local.
"If that support that local businesses have been receiving was to drop off, it would have a huge impact on our towns, villages, communities - and on jobs.
We need your consent to load this rte-player contentWe use rte-player to manage extra content that can set cookies on your device and collect data about your activity. Please review their details and accept them to load the content.Manage Preferences
Ms O'Gorman said people need to support their local shops now, if they want them to survive long-term.
"We don't want to see half the businesses close down in our towns and villages," she said.
As businesses reopen, some employers are having trouble recruiting back staff who had been laid off and were receiving the Pandemic Unemployment Payment.
Ms O'Gorman said this is not only an issue in the retail sector, but also across hospitality.
"Some people have moved on to other jobs while sectors have been shut, other people are choosing not to work and stay on the Pandemic Unemployment Payment."
Ms O'Gorman said the Government needs to focus on bringing people back to work.
"We need those people, we need people serving and behind the counters," she said.
Ahead of the full reopening next Monday, Ms O'Gorman said she would advise shop owners to share opening hours and further details with their customers via social media.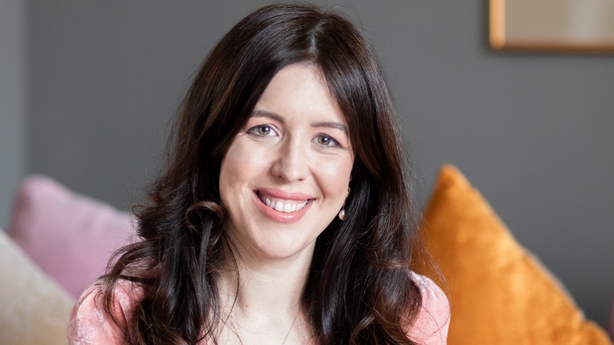 For Chupi Sweetman, CEO of Irish jewellery company Chupi, welcoming back customers to their physical store in Dublin city centre is something the team has been dreaming about for a long time.
"It was heartbreaking closing our doors - and closing them three times over the last year," she said on Morning Ireland.
"We are lucky that we have a really busy online business, but I think our store in Powerscourt in Dublin is home - and getting to meet people in person is just so special," she said.
Ms Sweetman said she has been overwhelmed by the support the business has received from Irish consumers throughout the pandemic.
"That support for Irish-made items has been phenomenal.
"There has been a lot of talk about the demand in booking for all the big companies that are reopening, but actually at Chupi we are doing so well with bookings," she said.