Remote working has the potential to bring economic, social and environmental benefits - but some enterprises may struggle with additional costs, according to the National Competitiveness and Productivity Council (NCPC).
In a new bulletin, the NCPC says enterprises could secure productivity and competitiveness benefits from remote working arrangements with a broader pool of talent, better retention of staff, and improved cost-effectiveness through more sustainable ways of working.
However, it warns that some businesses may face challenges from the extra costs of establishing remote working arrangements and equipping another workstation for employees.
It notes there may also be additional costs in terms of insuring a company's property at an employee's home, as well as "contributions" to an employee's increased costs of electricity, heating and broadband.
It also cautions that the impact on small and medium enterprises may be greater, as they may be unable to secure economies of scale - but points to the possible benefits of using hubs and start-up facilities.
"It will be important that any savings generated from reduced expenditure on a central office location are not eroded by the costs associated with providing a remote working option to employees," the Bulletin states.
The council stresses the importance of maximising the benefits and cost savings derived from remote working so that any potential additional costs of providing more flexible work arrangements can be offset.
It cautions that strong digital and management skills, along with investment in broadband and ICT equipment are essential to maximise productivity gains from effective remote working "and minimise any negative spill-overs".
It also advises that HR managers may need to be up-skilled - potentially at additional cost - on how to recruit, manage and motivate remote teams.
The NCPC Bulletin notes that changes to work practices can take time to deliver measurable impacts on productivity at enterprise level - and highlights the importance of collecting data to monitor those impacts.
It also calls for improvements in the quality of life and cost of living in both urban and rural locations "...so that Ireland is in a strong position to both retain and attract investment and talent".
"It is essential, in a future where people can work in locations away from the traditional workplace, that Ireland's regions provide attractive places in which to live and do business," it states.
We need your consent to load this rte-player contentWe use rte-player to manage extra content that can set cookies on your device and collect data about your activity. Please review their details and accept them to load the content.Manage Preferences
Dr Frances Ruane acknowledged that the pandemic had been a "disruptive" force across all aspects of people's lives, and had profoundly changed the way we work.
"Over the past year, we have seen how remote working opportunities could offer a better quality of life to those living and working in Ireland and there is a clear appetite to continue some form of remote working when the immediate public health threat has passed.
"It is important that the potential implications of a future blended working environment are fully considered to uphold the competitiveness and productivity of the Irish economy," she said.
Speaking on Morning Ireland, Dr Ruane said Covid-19 had created an "enforced experiment" of remote working and that it has shown the potential of it that had not been appreciated before.
She said that before the pandemic working from home was not taken "very seriously" or many people were not given the opportunity.
Ireland had a low rate compared to its European counterparts of people working from home with around 7% working this way.
"That was below the EU average and that is unusual for Ireland because in terms of those developments we tend to be above it rather than below it," she stated.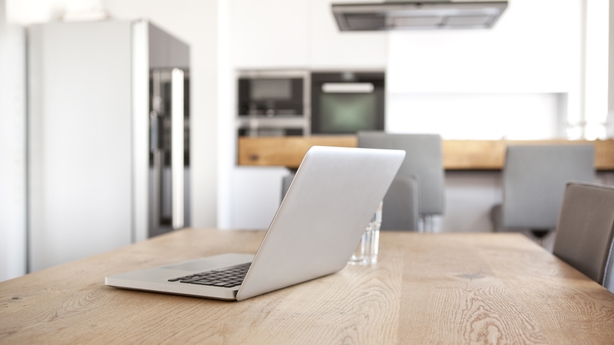 Very large numbers of people have been working remotely in the last year because of Covid restrictions and the potential for businesses has only been realised when this experiment was forced on them, Dr Ruane said
She said it is not just enterprises but parts of the public, health and education sectors too that can benefit from remote working.
The question is now when it will be possible to go back to the office, how much remote working should be continued and what are the implications of that, she stated.
But she acknowledged that for bigger companies the costs are easier to manage while for smaller industries it may be more difficult.
Dr Ruane also outlined the opportunities for new businesses starting up who may have been looking for a premises before, but now there are more opportunities of starting up with working from home.
She said there is no uniform approach when it comes to working from home.
"International evidence is limited on this as it is a shock for the whole system but evidence is that it's good for employees and employers but they have to be better at managing employees at a distance to ensure they remain connected," she added.
Tánaiste and Minister for Enterprise Trade and Employment Leo Varadkar reiterated the Government's commitment to making remote and blended working a much bigger part of life after Covid.
"The benefits are obvious, less commuting, fewer transport emissions, better quality of life for workers but we are aware that there are challenges to manage too," he said.
"We are currently implementing a strategy on remote working with actions across the board, including a code of practice on the right to disconnect, legislating to provide employees with the right to request remote working and ensuring we have the right tax incentives in place, to make sure the move to a more permanent arrangement is a smooth one," he concluded.
Meanwhile, the largest public service union, Fórsa welcomed the NCPC findings on remote working, and warned that nations and businesses that failed to embrace it would be left behind in the race for talent and investment.
General Secretary Kevin Callinan - who is a member of the NCPC - said its conclusions pointed to a potential productivity boost for Ireland if remote working is embraced and well-managed at national and organisational levels.
He called on the Government to take the lead by negotiating comprehensive guidelines on remote working for application across the public service.
"The Covid experience has removed a 'trust' barrier to remote working because studies show it's delivered stable or improved productivity, while generally working for staff too. Remote and blended working will continue to be a major feature of work organisation across the globe," he said.