Pickets by former Debenhams employees and their supporters campaigning for enhanced redundancy entitlements have added over €250,000 per month to the cost of the liquidation, and contributed to the devaluation of stock stuck inside the stores, according to a report by liquidators KPMG.
The report also confirms that preferential creditors of Debenhams Retail Ireland Limited (DRIL), which collapsed on 16 April 2020 with the loss of 955 jobs, will get a maximum of 10% of monies owed to them, while unsecured and other creditors will get nothing.
The report has been circulated to creditors ahead of an annual general meeting scheduled for next Friday, 7 May.
Outlining the impact of the pickets, joint liquidators Kieran Wallace and Andrew O'Leary state: "The presence of pickets outside all stores and the obstruction resulting from same has caused a significant delay in arranging the pack-up of stock in the stores for sale and deterred a number of interested parties from completing a purchase of the stock."
They also claim the pickets prevented the surrender of the 11 store premises to landlords by the original deadline of September 2020.
This resulted in an additional average monthly cost of €267,000 - which sources confirmed would otherwise have gone to the preferential creditors.
"To date, the Joint Liquidators have surrendered back the units in Blackrock, Tallaght, Galway, Newbridge and Mahon Point, and expect to have vacated the remaining stores in the coming weeks," the report confirms.
Preferential creditors of Debenhams Irish operation include the Revenue Commissioners, who are owed almost €5.55 million in VAT, Corporation Tax and PAYE.
They also include the Department of Social Protection, whose claim for employees' redundancy and insolvency entitlements is expected to reach around €13.5 million.
Statutory redundancy accounts for almost €10.5 million of that to date.
The preferential claim of local authorities has yet to be finalised due to the 2020 Covid-19 rates waiver.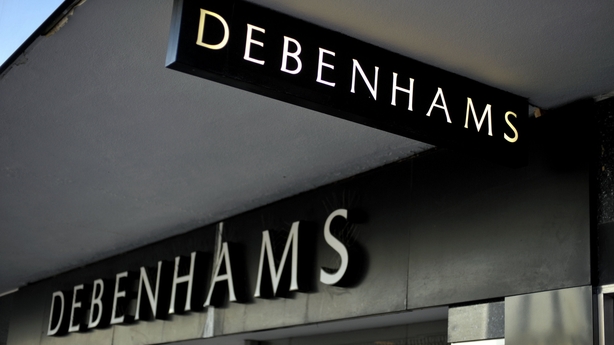 A company called GLAS Trust Corporation Limited has a floating charge over all assets on behalf of Debenhams UK on foot of a number of debentures dated between March 2019 and January 2020.
It will not recover any monies owed to it.
Unsecured creditors are owed just over €48 million.
The joint liquidators' report reveals that DRIL had assets of just under €7.6 million made up of cash in the bank of almost €4.4 million, trade debtors of almost €308,000, other receivables totalling almost €2.82 million and fixtures and fittings estimated at €66,000.
They anticipate that €2.04 million will be received from WorldPay in the coming weeks in respect of pre-liquidation credit card sales, and almost €1 million in respect of gift card liabilities may be realised at a later date.
The Department of Social Protection has paid just under €10.5 million in redundancy entitlements to 849 of the 955 employees who lost their jobs.
Over €2.9 million more has been paid out for other insolvency entitlements, such as arrears of wages, holiday pay, and minimum notice, to 916 workers.
Processing of outstanding employee claims is almost complete.
The joint liquidators note that the value of the stock has also been diminished "due to the seasonality, aging, exposure in the stores and the perishability of stock."
They confirm that the sale to Boohoo.com UK Limited of a portion of the stock including womenswear, menswear, men's accessories, childrenswear, lingerie and certain homewares was completed on 1 April for £1.85 million.
They are hopeful of agreeing a sale of remaining stock over the coming months.
KPMG is continuing to deal with a claim from Debenhams Retail Limited UK regarding ownership of the stock held in the 11 Irish stores at the date of the liquidation and the resulting proceeds of sale.