Bank of Ireland has reported stronger than expected income for the first quarter, noting it had seen limited adverse impact on customer loans from lockdowns in Ireland and its smaller UK operations.
In a trading update for the three months to the end of March, Bank of Ireland said its customer loan volumes were €78.5 billion at the end of March.
This marked an increase of €1.9 billion since December.
The bank noted that new lending of €3.9 billion was offset by €3.9 billion of redemptions.
It said its capital levels rose and its costs fell by 7% in the first quarter.
It reported "robust" new mortgage lending in Ireland of €0.5 billion despite Covid-19 restrictions on normal housing market activities and continued competitive dynamics in the mortgage market.
Bank of Ireland said it continues to support its personal and business customers in Ireland and the UK through payment breaks.
The number of customers availing of those breaks continues to reduce as payment breaks expire, it added.
Of the about 100,000 initial three month payment breaks in Ireland and the UK 96% have concluded and 4% remained outstanding at the end of March.
It said that 96% of the concluded payment breaks have returned to pre-Covid-19 terms and 4% have had further forbearance measures approved, it added.
Although restrictions to control the impacts of Covid-19 have remained in place longer than expected, Bank of Ireland there was limited evidence of adverse impacts on its non-performing exposures (NPEs) in the first three months of 2021.
The lender's NPE ratio of 5.7% at the end of March is unchanged from December, while NPEs were €4.6 billion at the end of March.
Earlier this month, Bank of Ireland announced a deal which could see it buy substantially all of KBC Bank Ireland's performing loan assets and liabilities.
"The transaction remains subject to customary due diligence, further negotiation and agreement of final terms and binding documentation, as well as obtaining all appropriate internal and external regulatory approvals," the bank said today.
In March, Bank of Ireland said it would close 103 branches in the Republic of Ireland and Northern Ireland, as the acceleration in digital banking had reached a "tipping point".
The branches closing are predominately self-service locations that do not offer a counter service, Bank of Ireland said. The branches are due to close from the end of September.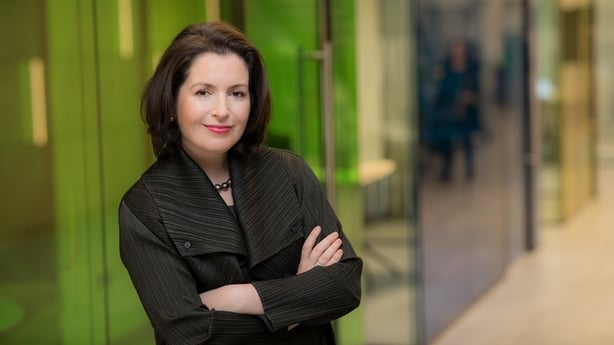 Bank of Ireland's chief executive Francesca McDonagh said that the operating environment for European banks, including in Ireland, is clearly dynamic and changing.
"We will consider opportunities that are a good fit for customers, complement our strategy to grow our business in Ireland, and support the investments we are making in the bank," the CEO said.
"Looking to the months ahead, especially in our home market of Ireland, our clear ambition is to proactively support economic recovery through accessible, responsible and sustainable lending," she added.
Bank of Ireland shares were higher in Dublin trade today.