Finance Minister Paschal Donohoe said that KBC's decision to leave the Irish market is regrettable, particularly as it comes so soon after NatWest's decision to withdraw Ulster Bank from the Irish banking sector.
"The decision announced by KBC is a very significant event for the Irish banking sector, its staff and customers. Our thoughts immediately turn to KBC's staff and the impact of this decision for them," he said.
"The news that discussions have commenced with Bank of Ireland regarding substantially all of the performing loan assets and liabilities is welcome," the Minister said.
"It is my hope that these negotiations are concluded quickly and prioritise the continuation of financial services for these customers and the preservation of jobs," he added.
We need your consent to load this rte-player contentWe use rte-player to manage extra content that can set cookies on your device and collect data about your activity. Please review their details and accept them to load the content.Manage Preferences
Mr Donohoe said that neither the Government nor he have any role in decisions such as these which are a matter for the relevant banks and their independent boards.
"Robust consumer protections are in place in the event of a bank withdrawing from the Irish market, including the Central Bank's Codes of Conduct and that the terms of any contract currently in place with KBC remains in place into the future," he added.
Speaking on Morning Ireland, Mr Donohoe said the announcement from KBC is another "significant development in the Irish banking sector".
But he added that competition would remain strong between domestic banks if the bank exits Ireland.
He said the chief executives of both KBC and Bank of Ireland informed him at 9pm last night of their decision after he was told that KBC may be making some moves in this direction earlier in the week.
The Minister said it is a commercial decision for the banks and the key concerns are around competition and protection of consumers.
Minister Donohoe said there is no need for existing customers of KBC Bank to do anything and all their 'rights are fully protected in any scenario'.
He said the talks with Bank of Ireland is "an important development" and while it happened quickly at least we have clarity in relation to Bank of Ireland's intentions, which is to be welcomed.
He said it is always a challenge to have a diverse set of banks in a small market like Ireland's and that the global banking landscape is consolidating, with larger banks exiting smaller markets.
He said Citigroup are exiting Asia and HSBC Bank have also made similar announcements recently.
The minister added that some banks do not see enough profit to be made in Ireland's small market.
But he said that we will continue to have large domestic banks in Ireland "well capable of meeting the needs of the economy has and providing credit and investment".
He also said the Competition and Consumer Protection Commission watches the competitive dynamic in the market, including among banks.
Central Bank says KBC Bank Ireland customers do not need to take any action
The Central Bank said there are no changes to the services that both KBC Bank Ireland and Bank of Ireland is providing today.
In a statement, the Central Bank said the talks between the two banks will take a period of time to conclude and further information will be shared with customers as those talks progress.
It said its focus is to serve the public interest by safeguarding monetary and financial stability and working to ensure that the financial system operates in the best interests of consumers and the wider economy.
"While decisions related to the strategic direction and business model of regulated firms are for the boards of those firms, they are obliged to consider all of the relevant risks and required to ensure compliance with applicable regulatory requirements at all times," it added.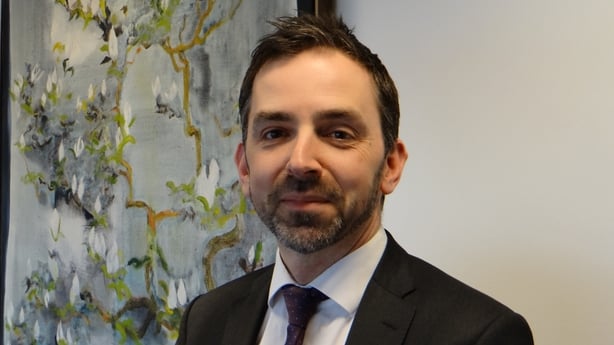 Ed Sibley, Deputy Governor, Prudential Regulation at the Central Bank, said that customers of the banks do not need to take any action.
"There are no immediate changes to the services the banks are providing today, nor the regulatory protections in place for their customers," Mr Sibley stated.
"The Central Bank's supervision of KBCI and BoI remains focused on ensuring that affected customers are protected and treated fairly and that the banks are operating safely and soundly," he added.
He said the Central Bank understands that there will be concerns that this transaction, if it goes ahead, will result in a further reduction in the level of competition in the Irish retail banking sector, and a reduction in choice for consumers.
A 'serious blow to competition' within the Irish market
Sinn Féin's Finance spokesperson Pearse Doherty has said the announcement by KBC Bank Ireland that it is in discussions about the possible sale of its performing loan assets and liabilities to Bank of Ireland is a "serious blow to competition within the Irish market".
KBC said the deal, if coupled with a separate sale of its non-performing mortgage loan portfolio, would ultimately result in the bank's withdrawal from the Irish market.
Speaking on RTÉ's Today with Claire Byrne, Deputy Doherty said KBC's withdrawal would leave only two commercial lenders in the form of AIB and Bank of Ireland.
"This is a serious blow to competition within the Irish market.
"It follows on the heels of Ulster Bank's decision so really we only have two commercial lenders in the State, in AIB and Bank of Ireland.
"In relation to the mortgage market, we had four banks with PTSB joining the big two, and KBC and now we're down to three banks with larger banks basically dominate that space so competition has been severely impacted.
"As a result it is well out of kilter, to what's happened and other European countries," he said.
He said KBC's departure would result in only three mortgage lenders in the form of PTSB "with the two larger banks dominating that space", which he added is "way out of kilter to other European countries".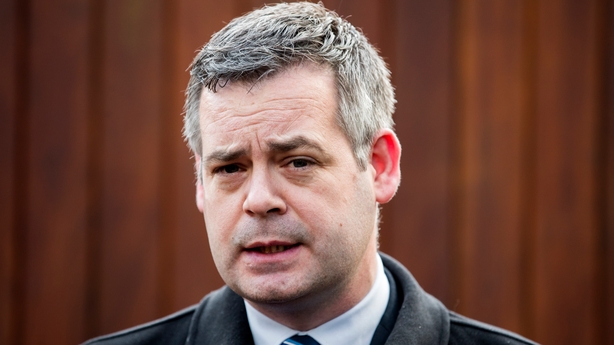 Deputy Doherty said there are "huge questions to be answered" about whether Bank of Ireland "instigated this maneuver".
He said it would be "highly inappropriate" and "disappointing" if Bank of Ireland "tried to consolidate its position to reduce competition".
Deputy Doherty said about one in seven loans with KBC are non-performing, which he said should not be sold to vulture funds.
"Many of those have become non performing during the pandemic so people are really worried.
"The problem is if they're a non performing loan they're likely to have a short term arrangement for example paying interest only at this point in time.
"When that is up for review then the vulture can call them the entire loan old, they can repossess the house, and the bank can do the same thing.
"A vulture, it doesn't have a long term interest and that's why mortgages, which are long term products should never be sold in my view to vulture funds and that's where the danger exists," he said.
Bank must immediately engage with staff - Fleming
Sean Fleming, Minister of State at the Department of Finance believes the possible withdrawal of KBC bank from the Irish market will lead to some "reduction in competition".
Describing it as a shock announcement, he said "inevitably" it has some impact as KBC has up to 12% of the banking market in Ireland.
He also said the bank must immediately engage with its 1,300 staff, adding that he was disappointed there was no mention of staff in KBC's statement released this morning, and said they must address that.
We need your consent to load this rte-player contentWe use rte-player to manage extra content that can set cookies on your device and collect data about your activity. Please review their details and accept them to load the content.Manage Preferences
Minister Fleming said everyone will be concerned that with this latest development, Ireland is back to a duopoly with AIB and Bank of Ireland.
However, he suggested there could be a third strong force with Permanent TSB who may incorporate Ulster Bank facilities.
Regarding KBC loans, he said it would be better if Bank of Ireland took all of the loans including non performing ones, which make up 15%.
He said in some situations it has caused difficulty for the banks to repossess, where a minority of people won't cooperate.
Regarding the latest developments, he said he is not sure if it was KBC that was approached by Bank of Ireland but is of the belief that the decision was more likely to have been made at a European level.
"It was a European decision rather than an Ireland decision."
He reiterated Minister Donohoe's point made earlier this morning that a lot of larger banks are scaling back in smaller economies like Ireland.
Minister Fleming also said he would support a forum on banking with involvement from everyone and said he has met with the financial services sector on that matter.
Nash calls for Forum on Banking to be set up
Responding to today's announcement from KBC Bank Ireland, Labour's Finance spokesperson Ged Nash said it should finally prompt the Minister for Finance to establish a formal Forum on Banking to develop a strategic vision for a sector that now looks set to comprise a mere three retail banks.
"KBC plans to sell off their performing loans to Bank of Ireland will serve strengthen the growing dominance of the Bank of Ireland and AIB duopoly in the Irish market," Ged Nash said.
"From a competition and consumer point of view and in a scenario where mortgage interest rates are the second highest in the euro zone the Irish banking sector requires urgent policy attention from the Government," Mr Nash said.
"This decision represents bad news for KBC's customers and for ordinary people everywhere. It will make an extremely difficult mortgages market even more impossible, particularly for those starting out," he added.
"It's time now that the Central Bank stops being commentators in ivory towers and take on some responsibility for setting out a vision for an optimum Irish banking model and how it would better serve an economy and society of our scale and ambition," he added.