The owner of Irish Ferries, Irish Continental Group, has reported lower revenues and earnings for 2020 due to Covid-19 travel restrictions on its passenger business.
Irish Continental Group said its revenues for the year fell by 22.5% to €277.1m from €357.4m in 2019, while EBITDA slumped 51.5% to €42.1m from €86.8m.
Overall the group generated an operating loss of €10.4m compared to operating profits of €64.9m in 2019. 
ICG Chairman John B McGuckian said that 2020 was an exceptionally challenging year for the group due to the restrictions placed on travel due to the Covid-19 pandemic. 
But the chairman said that while these restrictions brought large-scale disruption and reductions in its passenger business, the other parts of the business proved resilient throughout the entire year. 
ICG said that its RoRo Freight operations grew in 2020 despite the operational and market difficulties presented by the pandemic.
Its Container and Terminal Division largely maintained its profitability while it optimised capacity levels to meet market demands.
"The group maintained services on all its shipping routes to the United Kingdom and Continental Europe, and operations at its container terminals. Both were critical to maintaining Ireland's supply chains during this challenging year," Mr McGuckian said. 
"I would like to take this opportunity to thank all our colleagues who made the retention of these critical services possible in these difficult times, but in particular our colleagues on our front line in the ports, on our ships and in our terminals. During this most difficult year, their dedication to their roles kept our ships sailing, our terminals operating and crucially, our supply lines open," he added. 
ICG estimated that the overall car market, to and from the Republic of Ireland, fell by about 63.5% last year to 284,000 cars, while the all-island market is estimated to have decreased by 51.8%. 
Irish Ferries' car carryings during the year were down by 65.8% to 137,100 cars from 401,300 cars in 2019. 
Revenues at ICG's ferries division fell by 33.4% to €141.4m from €212.4m, while EBITDA sank by 66.8% to €22.3m from €67.2m. 
The company said it generated a profit on the sale of the Oscar Wilde ferry of €14.9m.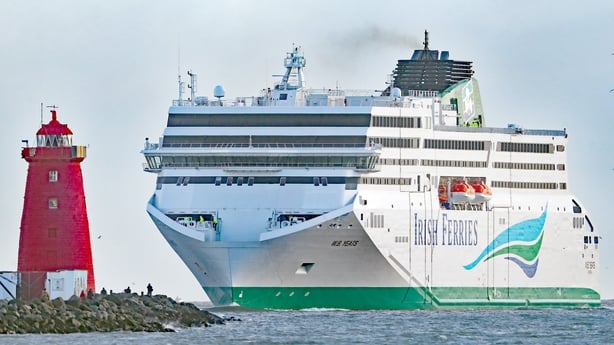 ICG said that the RoRo freight market between Ireland and the UK and France fell slightly in 2020 on the back of Covid-19 restrictions in the early part of the year, but was mostly offset in the second half as the Irish and UK economies opened up again. 
It said the market was further strengthened due to stockpiling in advance of the end of the UK's Brexit transition period. 
The total number of trucks and trailers was down 1.2% to roughly 1.03 million units. On an all-island basis, the market decreased by about 1.9% to 1.84 million units. 
Irish Ferries' carryings, at 335,500 freight units, increased by 7.1% in the year with volumes down 2.7% in the first half and up 16.6% in the second half. 
Meanwhile, revenue at its Container and Terminal Division division slipped by 5.1% to €146.5m from €154.4m in 2019. 
The division's EBITDA for the year edged 1% higher to €19.8m from €19.6m and ICG said that containers handled at its group's terminals - Dublin Ferryport Terminal (DFT) and Belfast Container Terminal (BCT) - were down 8.9% at 292,400 lifts.
Shares in ICG were lower in Dublin trade today.