The interim chief executive of Aer Lingus has said the Government and the airline sector needs to start the planning for the resumption of air travel in a meaningful way once the pandemic subsides. 
Donal Moriarty said aviation is a critical driver of the Irish economy and will be crucial to the recovery. 
"There needs to be, I suppose, development of a detailed plan for resumption of aviation and there are a number of factors to that or elements to that," he said. 
"Clearly as vaccines roll out a vaccine verification process is going to be critical. Similarly, a pre-departure testing regime that is scalable going forward is going to be critical," he stated.
He added that an agreement and standardisation of digital tools that can be used to provide verification of those two aspects will be needed as well as international cooperation. 
Aer Lingus continues to have weekly engagement with the Government on these issues, he said. 
Mr Moriarty said around 500 staff left Aer Lingus last year, but he indicated that up to 100 more are currently in the process of leaving under a voluntary severance scheme. 
He said the redundancy scheme had focused on cabin crew, maintenance and engineering and support staff. 
There are about 1,000 fewer employees at the airline today than would have been the case had the pandemic not happened, because around 500 more who had been expected to join the business had not.
"As we've gone through the crisis we've managed our costs very efficiently and we've reduced our costs effectively throughout the course of 2020.
"That has included a reduction in employee costs," Mr Moriarty said. 
He said redundancies had only been a part of that, with cuts to pay making up the rest.  
"That is something that is unfortunately continuing into 2021 but we have the flexibility to continue to do that and we are not ruling in or ruling out any particular measures, other than I suppose we've demonstrated our ability to continue to manage those costs effectively," he stated.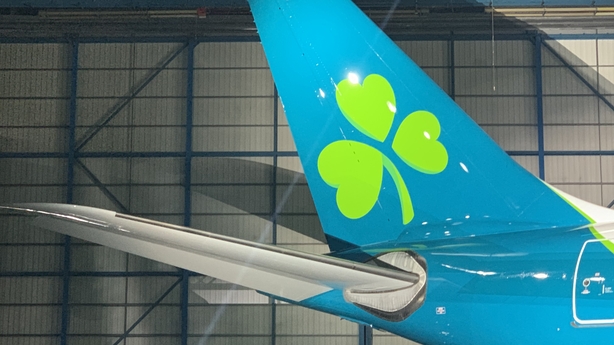 Regarding funding the airline through the Covid-19 crisis, Mr Moriarty said Aer Lingus has drawn down €75m of a €150m loan facility from the Irish Strategic Investment Fund's pandemic recovery fund. 
"That represents an important contribution to Aer Lingus' position from a funding perspective and from a liquidity perspective," he said. 
The temporary Aer Lingus boss said no decision has yet been made and no launch has taken place of new long-haul routes from Manchester to North America. 
But he confirmed that the airline is currently working to get regulatory approval from authorities in the UK and the US for it. 
"We are making very good progress on the regulatory processes and we'd hope to be able to launch services from regional UK to North America later in the year," he added. 
Launching those routes would not involve taking aircraft that would otherwise be used on routes from Ireland to long-haul destinations. 
"Our fleet plan and the aircraft in our fleet is sufficient to allow us to launch services from regional UK to North America and for us to execute on our plans out of airports in Ireland. It is not an either/or - both can be accommodated at the same time."
He added that Dublin would remain a critical hub airport to the airline.
Mr Moriarty also confirmed that Aer Lingus is in talks on concluding a contract with Emerald Airlines to take over running its regional services from Stobart Air when the contract runs out next year.
"I can't put a timeline exactly on when it will be concluded, but I can confirm that it is going well," he said.
Earlier Aer Lingus, which is owned by IAG, reported an operating loss of €563m last year as a result of the dramatic effects that Covid-19 travel restrictions had on its business.
That compares to a profit of €276m in 2019, the year before the pandemic hit. 
Passenger revenues at the airline plummeted to just €379m, down from €2.05 billion a year earlier and representing an 82% drop.
However, revenue from cargo rose 63% to €88m during the year.
Yesterday Aer Lingus appointed Lynne Embleton as its new chief executive. She will start her new role in April. 
Ms Embleton replaces Donal Moriarty who has been interim chief executive since October 2020 and who will resume his role as the airline's chief corporate affairs officer.
IAG today posted a loss after tax and exceptional items of €6.923 billion for 2020 after a year of minimal flying in the pandemic when it has burnt through cash. The company warned it could not give guidance due to the ongoing travel slump.