The chief executive of FBD has defended the insurer's decision not to immediately pay out on Covid-19 related business interruption claims made by policy holders last year and to allow the issue go to court. 
Earlier this month the High Court ruled in favour of four pubs in a test case involving FBD over its refusal to meet their claims under such policies. 
"When the case was first considered the view of FBD and the board was genuinely that there was no liability existed on this policy," said Tómas Ó'Mídheach.
"At the time the decision was made I think it was appropriate given what was believed by FBD and the legal counsel given. When you have a genuine difference of opinion then legal certainty is vital," he said.
The group CEO said the company had begun paying out the maximum it could to all policyholders with similar policies, without overpaying. 
"The variation between pubs is enormous in terms of their gross profit and their percentage claims," he said. 
"It varies hugely so because of our desire to pay upon claim without any real detail we are paying approximately somewhere between 15 and 20% of what we believe will be ultimate claim." 
He said FBD is reasonably confident that the group's best estimate of an overall gross claims cost of €150m arising from the case is the upper end, although he added that issues around quantum remain to be resolved. 
Mr Ó'Mídheach said the company is not yet sure how long it will take to work through all those issues and added that if there is a High Court quantum hearing it could take several months. 
On the issue of FBD's commitment to pay the legal bills of the pubs who took the cases, he said it is "absolutely prepared to pay all reasonable costs."
When asked what reasonable costs means, Mr Ó'Mídheach said it means costs associated with the case. 
"Once precision is arrived at in terms of what is being asked for, then what is reasonable can be determined," he stated. 
The new boss of the insurer said it is still giving commercial insurance premium rebates to businesses that are not open due to the pandemic. 
He added that motor insurance rebates had been given to customers in 2020 due to the lower level of vehicle use during periods of restrictions. 
Mr Ó'Mídheach said FBD is now considering the current motor experience as volumes are not anything like as low as they were last year.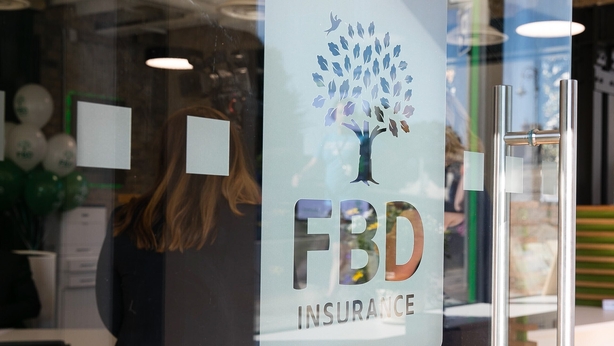 But he did not rule out the possibility of offering further refunds to motor customers, saying as FBD's understanding becomes more concrete it will have to consider all options. 
"We also need to understand the claims experience of 2020 because with lower traffic you get higher speeds, you might get less accidents, but are they more severe? So it does need to be understood, the whole ramifications of Covid on claims," he said. 
In relation to revised personal injury guidelines currently being considered by the Judicial Council, Mr Ó'Mídheach reiterated FBD's view that if award costs are reduced, premiums will be cut.
 
"We have undertaken that if the guidelines get revised downwards we will reduce our premiums," he said.
"I think that will be to the benefit of everybody in this marketplace. We would look forward to that." 
Earlier, FBD said it had increased its provision for the fallout of the High Court pub business interruption cases ruling to €65m, which includes estimated net claims costs of €54m and €11m assumed reinsurance reinstatement premium. 
It said that gross claims costs are currently estimated to be about €150m.
The insurer said the effects of the judgement are being considered with its reinsurance partners in order to finalise the reinsurance recovery position.  
FBD today reported profit before tax of €4.8m for the year to the end of December.
It said the figure reflects a "strong underlying business performance" and includes positive prior year claims reserve development of €23m and an investment return of €10m.
It had reported profits of €112.48m in 2019.
FDB said that average premiums were down 3% across the portfolio during the year, with private motor premiums down 5.7%, farm down 1.5%, home down 2.2% and commercial up 2.8%. 
In order to assist customers during the Covid pandemic, its forbearance measures included rebates for motor and commercial customers of €12m, removing administration and cancellation fees on motor and home to support continued cover and farm relief services along with the IFA.
Mr Ó'Mídheach said that all businesses faced extraordinary challenges in 2020.
"The challenges were highlighted by the recent judgement from the Commercial Court in respect of business interruption claims for Public House policies."
"The team at FBD remains determined to meet our customer obligations and we have commenced paying interim payments for all valid claims and will endeavour to settle claims as quickly as possible," the CEO said. 
"We are considering the impact of this judgement with our reinsurance partners and are confident about a satisfactory outcome," he added.
The FBD boss also said that some positives have come out of 2020 as the company improved its ability to serve customers in the ways they increasingly want to interact with it. 
"Our enhanced digital capabilities led to more online purchases and an increased number of customers joining our business and staying with us," he said. 
"New opportunities launching in 2021 will include the broadening of the Bank of Ireland relationship to include general insurance as well as life and pensions, and the successful evolution of other existing partnerships," he added.
Shares in the company moved higher in Dublin trade today.