Ireland is one step closer to legislating for electric scooters. 
This week the Government approved draft legislation, which will allow for the regulation of the devices. 
The proposed legislation will allow e-scooters to be used legally in public places. 
Tax, insurance and driving licenses will not be required. 
Are e-scooters illegal here at the moment? 
Here in Ireland, e-scooters are currently classified as 'powered transporters'. 
Therefore, they require registration, motor tax, a driving licence and insurance when used on a public road. 
However, as powered transporters fail to meet the criteria for vehicle registration, such as minimum required safety standards, they are not permitted for use on public roads in Ireland.  
This new legislation, when passed, will create a new vehicle category, known as 'powered personal transporters'. 
This change will allow for the introduction of regulations for these types of vehicles under the Road Traffic (Miscellaneous Provisions) Bill.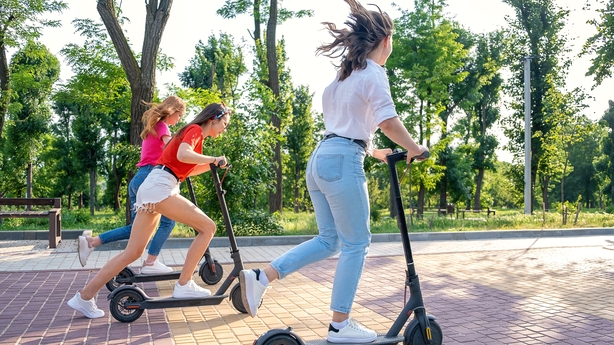 What sort of regulation should we expect? 
In 2019 the Department of Transport commissioned the Road Safety Authority to review the safety implications of e-scooters.  
The aim was to inform considerations for future policy and regulatory framework options. 
Following the review, the RSA published a set of recommendations, which it said still stand. 
Firstly, it states that regulations should promote the use of helmets and other protective equipment. 
It suggests carrying out an awareness campaign to educate the public.  
The report also recommends that e-scooters be banned from high-speed roads, to minimise the likelihood of high-speed accidents.  
If e-scooters are allowed on footpaths, it suggests a maximum speed of 6 km/h to protect pedestrians. 
According to the report, all guidelines should be created in consultation with shared e-scooter providers, local authorities and the Gardaí. 
 
Consideration will also have to be given to how best regulate scooter rental services.
In some cities where such firms operate, dockless scooters have become a nuisance and a hazard on pavements attracting opposition from residents and local authorities.
What companies want to introduce services here? 
Many companies have expressed their intention to roll out e-scooter rental services across the country. 
Both Irish and international players are hoping to enter the market when legislation is passed.
ZEUS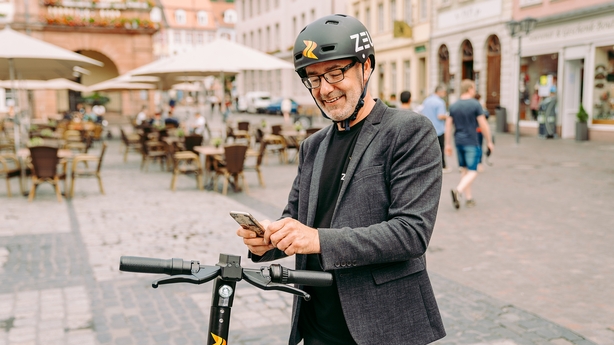 Irish company, ZEUS launched in Germany last year.
It has now expanded to 17 cities there, with a fleet of 2,000 scooters.
Damian Young, CEO and Founder of ZEUS said they hope to roll out their three wheeled devices in Ireland this year.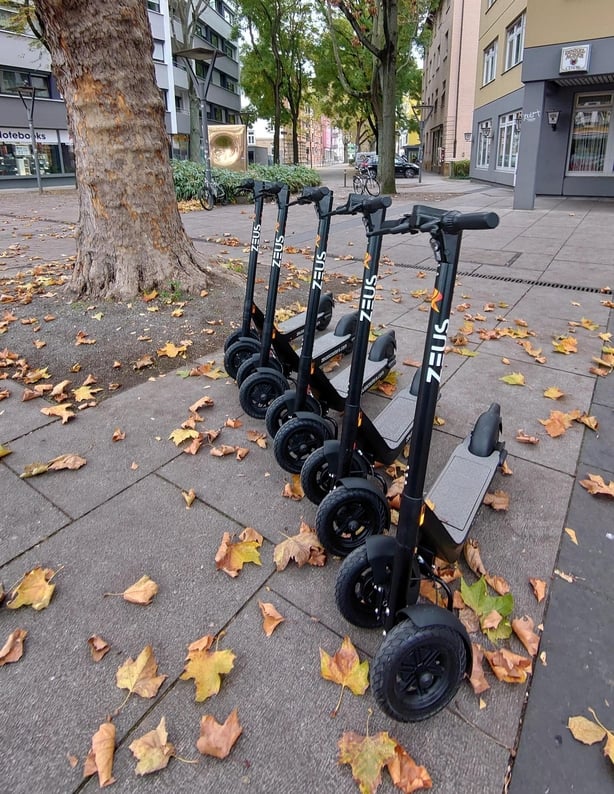 "Our extensive experience in Germany has taught us the demands of cities, towns and their residents and we will use these learnings to support the best practice here in Ireland," said Mr Young.
He said the company is now planning to expand its base in Ireland and grow the team.
"We are committed to Ireland and have established our base here and already employ 12 people but over 30 people internationally," he said
TIER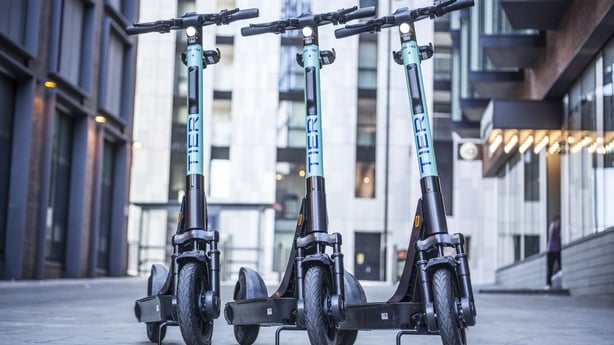 Europe's largest micro-mobility operator, Tier has said it plans to roll out its devices in Ireland.
The Berlin-based company currently operates in 90 cities across Europe and the Middle East, and recently won tenders in Paris and Dubai.
Fred Jones, TIER's Regional General Manager for Northern Europe said it is "committed" to introducing a service here.
"We will await the details and of course follow any procurement processes, but we are experienced in launching and scaling quickly. but responsibly to serve the needs of cities and towns of all sizes," said Mr Jones.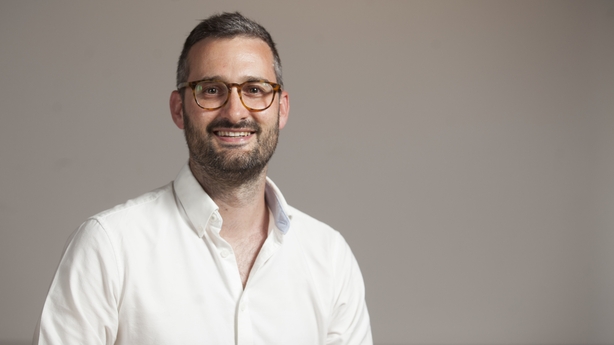 Mr Jones said Tier is the first 'climate-neutral' e-scooter.
"We recently introduced a new generation of e-scooters with rider-swappable batteries, which will be supported by a network of charging stations dotted around cities," he said.
TIER also said it has fitted its scooters with sound emitters to reduce the risk of pedestrians being 'surprised' by silent riders. 
"This was of particular concern to the blind and partially sighted community," said Mr Jones. 
Tier said it has partnered with a number of companies to improve safety and tackle the issue of improper parking of the devices, as Mr Jones explained. 
"We have partnered with the micro-mobility safety app Busby to create a rapid response system in the unlikely event that riders are involved in incidents on the road," he said. 
Mr Jones said they would look to replicate some of these partnerships in Ireland. 
"We know safety is a priority for the Irish market," he added. 
Free Now
Taxi company Free Now plans to introduce an e-scooter service here via its app, by forming partnerships with e-scooter operators.
The firm has already partnered with third-party providers such as Voi in other countries across Europe.
Niall Carson, General Manager of Free Now Ireland, said they are planning on doing something similar here when legislation is passed.  
"We are very excited about working with councils and working with the scooter operators.  
"We presume that the councils will be going out to tender and we want to work with those operators," he said.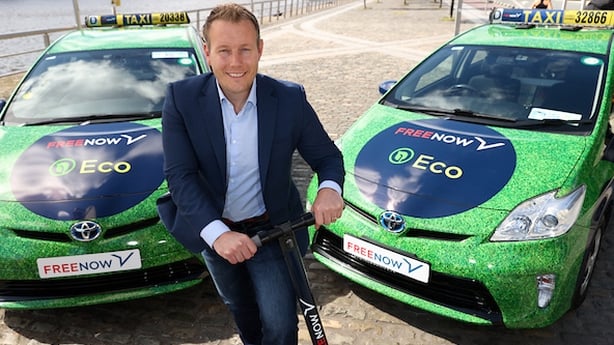 Mr Carson said they are currently in talks with local and international operators. 
"At the moment we are working with an international player called Voi in Germany, but locally we have been speaking to both Zipp and ZEUS who are very progressive Irish scooter companies that operate in other countries - but not in Ireland yet," he said. 
While Ireland is clearly lagging behind our European neighbours when it comes to legislating for e-scooters, Mr Carson said there are many benefits to allowing other countries take the lead. 
"We can learn from the mistakes of other countries, so I think this is an exciting time," he said. 
Mr Carson said he thinks it would be wise for Ireland to limit the number of e-scooter operators introducing services here. 
"It leads to a greater level of control," he added. 
While Mr Carson said they envisage strong demand for e-scooter services across the country, he said he does not believe taxi services will be impacted following the roll-out. 
"I don't think micro-mobility devices will ever take over.  
"The services that are currently in operation such as taxis, car sharing schemes, e-bikes, Dublin bikes – will continue to be used. 
"E-scooters will be an important piece of the puzzle though and they will offer transport solutions that Irish people have long been waiting for," he said.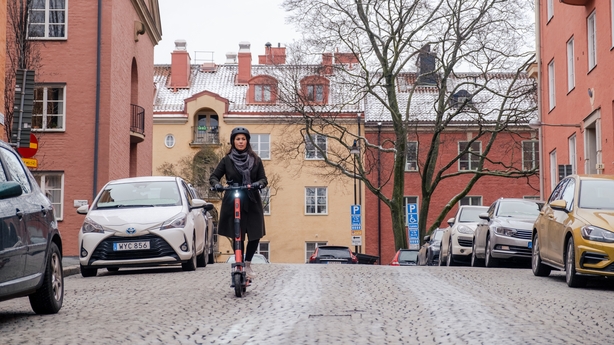 Voi
Sweden's Voi operates e-scooter services in more than 50 cities in eleven countries across Europe.
Richard Corbett, General Manager for the UK, Ireland and Benelux said they want to draw on their experience to advance micro-mobility in Ireland.
"We believe that our expertise, most recently in the UK, where we've become the number-one operator with 17 cities and counting, will be an asset in helping the people of Ireland to discover a new form of green transport, especially as they seek out more socially distant alternatives during the pandemic," he said.
Mr Corbett said that Voi is already engaged in talks with stakeholders here.
"We look forward to working with the Irish Government as it rolls out its e-scooter legislation," he added.