RTÉ has published proposals to implement a package of cuts to salaries, jobs and sick pay worth an estimated €8.3m in a bid to address the financial difficulties facing the station.
The cuts form part of RTÉ's previous pledge to deliver €60m in cost savings over a three-year period.
According to today's RTÉ/TUG Stability Agreement, the organisation is seeking significant cost savings from pay cuts ranging from 3.5% to 5.35% and reductions in allowances, though those earning less than €40,000 a year would be exempt.
However, the document stresses that the proposal is a key element in parallel engagement with the government to secure "adequate and sustainable" funding for RTÉ "in line with the recommendations of many reviews."
The agreement, including the pay cuts, would last for two years starting on 1 May. After that, the organisation has committed that salaries, allowances, sick pay and other cuts will be restored.
RTÉ is also launching a Voluntary Exit Programme seeking 60-70 job cuts.
Union sources say management has calculated that such a programme would deliver around €4m per year in savings, with pay cuts and other financial measures delivering a further €4.3m.
Paid sick leave will be halved, bringing it into line with the public service, while self-certified sick leave will drop from five days per year to seven days over a two-year period.
Salary protection for staff experiencing long-term illness will fall from 75% to 66%, with RTÉ reducing its contribution from 33% to 20%.
Annual leave and so-called privilege days will be standardised.
The proposed pay cuts would see those making between €40,000 and €70,000 lose 3.35% in their gross pay, while those on salaries ranging from €70,000-€100,000 will experience a reduction of 3.85%.
Staff on salaries of €100,000-€130,000 will lose 4.35%, while those earning €130,000 to €160,000 will see a reduction of 4.85%.
The highest paid staff earning above €160,000 will have salary cuts of 5.35%.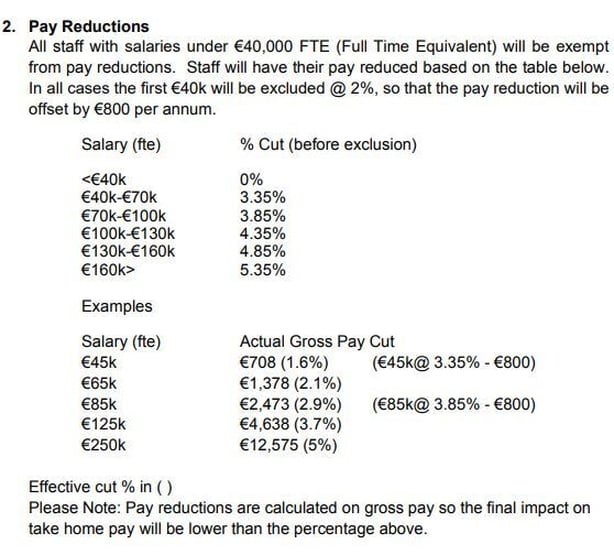 Allowances and Rostered Duty Allowances will fall by 10%.
An Implementation Body with an independent chair will meet at least every three months to ensure adherence with the agreement,. It will also developing a comprehensive plan for more efficient use of existing staff resources by the end of 2021.
The document commits to reducing dependence on external service providers by maximising direct employment where this is appropriate and cost-effective.
Director General Dee Forbes acknowledged the cuts were difficult, particularly at this time, but added that they were proportionate, fair and necessary to return RTÉ to a sustainable financial position, while protecting employment, content and output.
She said it was not sustainable for RTÉ to run consistent annual deficits due to declining commercial revenue, and a TV licence system in need of significant reform.
Ms Forbes said that fairness had been central to management's considerations, and highlighted previous measures in relation to higher earners, including a 15% cut in fees to top on air presenters.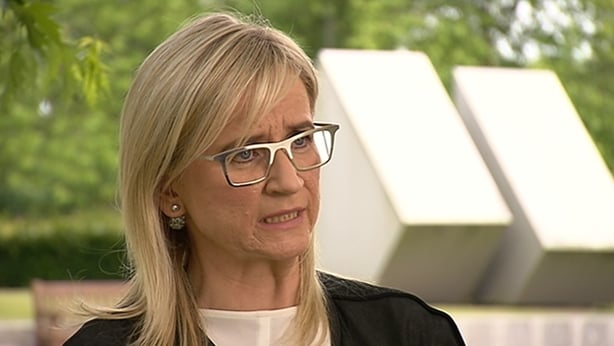 She also noted that a year ago, the Executive Board had agreed to take a 10% pay cut, while the RTÉ Board members had agreed to waive their fees.
The RTÉ Trade Union Group said it would now put management's revised proposals to a ballot.
"While there are different views within the TUG negotiating team about the necessity for these proposals at this time, we confirm that they represent the final position of RTÉ," the statement said.
The TUG said its priorities in the negotiations had been the maintenance of employment and achieving alterations to RTÉ's original proposals, adding that these priorities had been reflected in amendments accepted by management.
However, the unions cautioned: "In the event that our members accept this proposal in an effort to secure the long term viability of the organisation and the protection of Public Service Broadcasting, it is only one part of this essential process."
The TUG called on the Government to play its part in providing the necessary funding required for public service broadcasting, in recognition of the essential role RTÉ had played in providing this service, particularly during the pandemic.
The unions also noted: "We also await the publication of the Commission on the Future of Media, established by Government, due in September, which has the capacity to chart the long term future for RTÉ."
The negotiations were chaired by former Labour Court Chair Kevin Duffy.
Two lay representatives of the National Union of Journalists who were involved In the negotiations have said they will vote against the cost-saving proposals in the forthcoming ballot.
The two - Broadcasting Branch Chair Emma O'Kelly and the Chair of the RTÉ Sub-Branch Paul Murphy - said they did not believe pay cuts were necessary or just at this time, and remain opposed to them.