Fuel forecourt operator Applegreen said it would be taken private by a consortium led by its founders and Blackstone Infrastructure Partners in a deal that values it at about €718.1m
Applegreen said it had accepted a takeover offer from Bidco, a consortium including B&J Holdings and Blackstone Infrastructure Partners, which will see the company delist from the Dublin Stock Market. 
B&J Holdings is a 41.3% shareholder in Applegreen and represents the holdings of Applegreen's founders, Bob Etchingham and Joseph Barrett. 
The deal represents a premium of 48.2% to the company's closing share price of €3.88 on December 9, the last business day before news of the takeover offer. 
Applegreen is the largest fuel forecourt operator in the country and the second largest in the UK and it employs 11,500 people between Ireland, the UK and the US. 
It had a total of 559 sites at the end of June. 
Under the terms of the deal, shareholders will receive €5.75 in cash for every Applegreen share.
Robert Etchingham and Joseph Barrett said that over the last 28 years Applegreen has gone through many changes to become a major roadside retail business with 559 locations across Ireland, the UK and the US. 
"This growth is a testament to the employees and the strong culture within Applegreen that have enabled us to identify and pursue attractive investment opportunities," the company's founders said. 
"Looking forward, Applegreen will transition its business through capital intensive highway projects and electric vehicle charging infrastructure to meet the needs of an evolving consumer," they stated.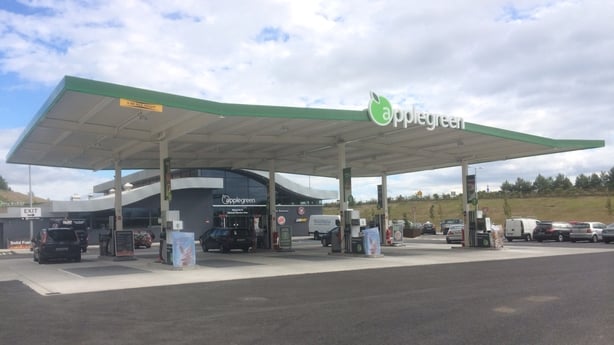 "We believe private ownership is the appropriate structure for this transition and that in Blackstone Infrastructure Partners, with its long-term focus and its significant ability to accelerate our growth, we have found the right partner for the next stage of the Applegreen journey," they added.
Applegreen's chairman Daniel Kitchen said the company's independent board is unanimously recommending the offer from BidCo.
Mr Kitchen said it represents a compelling opportunity for independent shareholders to realise their investment in cash in the near term, and is at a significant premium to the prevailing share price. 
"Importantly, this offer reflects the potential in the Applegreen business for future growth and is an endorsement of the significant achievements over recent years and the hard work put in by all Applegreen employees, for which I am extremely grateful," he added. 
The deal is still subject to approval from the company's shareholders and regulators. 
Applegreen shares moved higher in Dublin trade today.