Dalata Hotel Group said that despite the challenging environment, its earnings for the year to the end of December are expected to be marginally ahead of market expectations. 
In a year end trading update, Dalata said its operations in the the second half of the year was continually and acutely disrupted as a result of Covid-19 restrictions across its markets in Ireland and the UK.
The hotel group said that after the initial lockdown in Ireland and the UK, its hotels reopened to the general public in June and July.
Hotels in its Regional Ireland and Regional UK markets benefitted from strong staycation demand during the summer months, it stated.
But as expected, its Dublin and London hotels were quieter because a higher proportion of their business is ordinarily driven by international travel and events. 
Dalata said that occupancy in the third quarter came in 26% in Dublin, 60% in its hotels around the country in Ireland and 36% in the UK. 
It noted that during the country's second lockdown in October there was some limited demand for hotel rooms as most manufacturing and construction services remained open.
Since the start of December there has been a significant reduction of restrictions in Ireland, while its hotels in the UK are subject to varying levels of restrictions. 
"During December, bookings have been encouraging but are on short lead times. Occupancy for Q4 is currently projected to be 17% in Dublin, 28% in Regional Ireland and 21% in the UK," the company said.
The company said it has significant financial headroom to support the business through the on-going recovery and continue its path of growth and development.
It said it has current cash and undrawn debt facilities of €293m after deducting upcoming payments including quarterly rent and interest.
"Following an amendment to the group's debt facilities agreement in July, the previous covenants comprising Net Debt to EBITDA and interest cover will not be tested again until June 2022, providing the group with further flexibility," it said in today's trading update.
But Dalata said the outlook for 2021 remains uncertain at present with short lead time on bookings and it is not yet known when international travel will return to more normal levels. 
"However, the group welcomes the very positive news on vaccines in recent weeks and is optimistic on trading once the vaccines start reducing the impact of Covid-19 on public health," it added.
Dalata also said it continues to make progress on its development pipeline of almost 3,250 rooms across Ireland and the UK. 
It completed the 44-bedroom extension at Clayton Hotel Birmingham and the meeting and events centre at Clayton Hotel Cardiff Lane in Dublin during the fourth quarter of this year.
In Dublin, Dalata's Samuel Hotel is projected to open in summer 2021, while the construction of Maldron Hotel Merrion Road and the residential units is progressing well and scheduled for completion in early 2022.
It also said that a planning decision is expected for Maldron Hotel Croke Park in January 2021, and the development is scheduled to start construction in the second quarter of next year with a target opening date of the third quarter of 2023.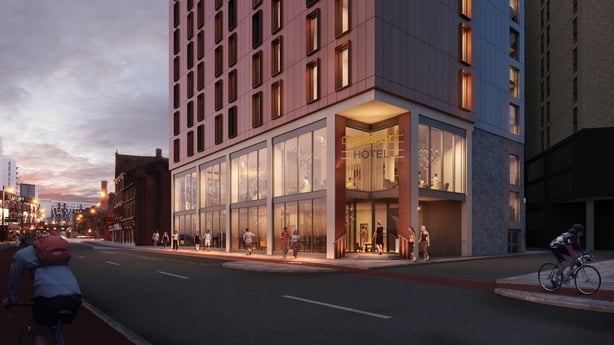 In the UK, Dalata said its Maldron Hotel Glasgow is scheduled to open in summer 2021, while construction continues at its four hotels in Glasgow, Bristol and Manchester. 
The Clayton Hotel Manchester and Clayton Hotel Bristol are scheduled to open in early 2022 while both Maldron Hotel Manchester and Clayton Hotel Glasgow are scheduled to open in the second quarter of 2022.
Construction on its new Maldron Hotel Shoreditch in London is expected to start towards the end of the first quarter of 2021 with the hotel projected to open mid-2023.
Dermot Crowley, the company's deputy CEO - Business Development & Finance, said the impact of Covid-19 on the hospitality industry has been acute.
"In Dalata, our people have suffered significant losses of income through temporary layoffs, reduced working hours and salary cuts. However, we remain resilient and united in dealing with the ongoing impact of Covid-19," Mr Crowley said. 
"We note the very positive news surrounding vaccines over the last month and look forward to 2021 with renewed optimism," he added.
Shares in the company moved higher in Dublin trade today.