New figures from the Central Statistics Office show how the outbreak of Covid-19 and the restrictions it caused has changed the way households use the internet as people's lives became a lot more virtual.
The CSO's latest Information and Communications Technology (ICT) Household Survey reveals that with all but essential retail closed during the lockdown period from March until the end of June, 63% of internet users bought clothes, shoes or accessories online.
The survey also showed that 33% of internet users purchased online ready-made food delivered from restaurants, fast food chains or catering delivery services.
17% of consumers also bought food or drink from shops or meal-kit providers online.
Remote working and home schooling also had a big effect on the internet usage of individuals and the CSO noted an increase in the use of video calls on services including Skype, Zoom, WhatsApp, FaceTime, Snapchat, Facebook Messenger and Viber.
It said that 73% of internet users carried out this internet activity in 2020, compared with 48% the same time last year.
Use of educational websites or portals for communication between teachers and students also increased by seven percentage points in 2020 - rising to 21% from 14% in 2019.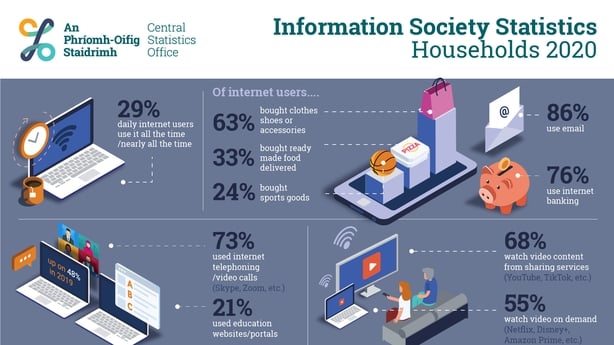 68% of internet users also said they watched video content from sharing services including YouTube and TikTok, while 55% watched video on demand from the likes of Netflix, Disney+, HBO GO, Amazon Prime. 50% of internet users said they watched internet streamed TV - live or catch up from television broadcasters.
Today's survey also showed that email was the most popular activity carried out on the internet in the period under review, with 86% of internet users using email, an increase of two percentage points on 2019.
Meanwhile, 76% of internet users used internet banking in 2020, compared with 73% in 2019.
The survey was carried out during the first and second quarters of 2020 and data was collected during the pre-pandemic period and during the initial set of Covid-19 restrictions.