The Government is exploring the possibility of appointing a mediator in a bid to resolve the long-running Debenhams dispute over redundancy payments, according to the Mandate trade union. 
The news emerged at a meeting this morning between Taoiseach Micheál Martin, Mandate General Secretary Gerry Light and shop stewards representing the 1,000 workers who lost their jobs in April when Debenhams' Irish operation went into liquidation. 
Sources said that during the one-hour meeting, the Taoiseach indicated that the Government was considering appointing a third party to resolve the deadlock between workers and liquidators Andrew O'Leary and Kieran Wallace of KPMG.  
For the last eight months, some workers have picketed the 11 Debenhams stores preventing the liquidators from removing stock and progressing the liquidation.
The workers argue that the proceeds of that stock should be ringfenced to fund enhanced redundancy terms of four weeks per year of service negotiated under a 2016 collective agreement. 
KPMG contends that as the company is now insolvent, the previous collective agreement no longer applies, and former staff  are only legally entitled to statutory redundancy of two weeks pay per year of service capped at €600 per week. 
It also disputes the workers valuation of the stock at €20m, saying it is worth less than €10m and that legally, preferential creditors like Revenue have the first claim on whatever proceeds are left. 
At failed negotiations at the Workplace Relations Commission some weeks ago, KPMG told the union side that because of the stalemate, the liquidation would run out of money before Christmas, which could leave creditors with little or nothing. 
Mandate's General Secretary Gerry Light said the Government was continuing to explore ways of finding "an individual or body" to assist the parties in finding a solution.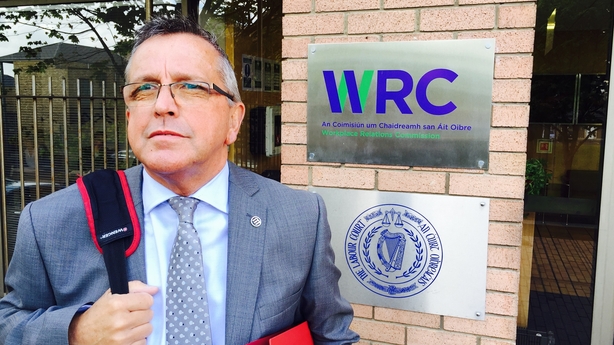 He described the meeting with the Taoiseach and officials as "constructive, orderly and respectful". 
However he acknowledged the caveat that any solution "must be subject to the statutory constraints that currently exist".  
Mr Light said no one had expected a magic solution, but that the Taoiseach has expressed sympathy and a desire to find a resolution.  
He acknowledged the Government fear of creating a precedent, but argued that the Debenhams situation constituted an "exceptional mass redundancy". 
Mr Light said that many exceptional measures had been put in place due to Covid-19, and expressed the view that an exceptional solution to resolve the Debenhams dispute could be ringfenced to avoid creating a precedent. 
It is understood that during the meeting, the assistance promised by the Government to Dublin Zoo yesterday was raised as an example of how exceptional solutions could be found. 
Shop steward Valerie Conlon said she had commenced today's meeting with no expectations, but described it as positive.
She said she felt "a little bit nearer to an end".