There are so many ways to watch your favourite TV shows, movies and sport these days. 
From smart TVs, to streaming services on laptops and tablets and boxes, sticks and other gadgets that are attached to your TV. 
Google was one of the first into this space a number of years ago with Chromecast – a device that is plugged into your TV that enables you to stream to it from a mobile device. 
Now Chromecast has had an overhaul, with the addition of new functionality and a remote control to help you navigate it all. 
DESIGN 
In looks terms the Chromecast with Google TV looks a lot like it did before. 
The main brains is the dongle – a fairly compact, oval shaped device that plugs into the TV's HDMI port. 
It comes in three colours – snow, sunrise and sky – and is modern in design and appearance. 
But in reality it is probably going to be at the back of your TV, so the look doesn't really matter. 
It comes with a power cable and adapter, but it can also be powered from a USB port on some TV's if they give out enough juice. 
The new addition is the voice remote – a small handheld remote control with buttons and voice control built in that uses IR and Bluetooth to communicate with the Chromecast. 
It looks and feels a little plasticky and cheap, but it does plenty and that makes up for it. 
On certain TVs you may also be able to configure it to operate the TV's volume and power it down after use.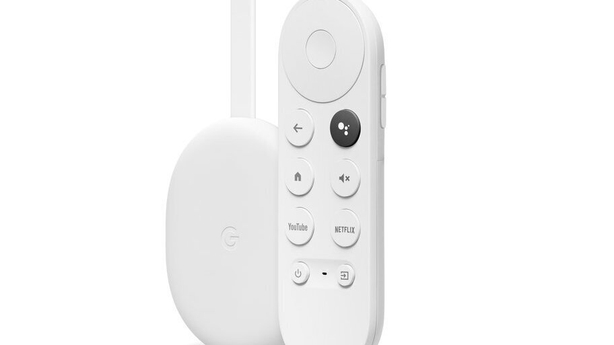 PERFORMANCE 
Set up is reasonably straightforward and is done via the Google Home app on your smartphone or tablet. 
You will probably have to wait for the usual firmware updates and for various bits and bobs to talk back and forward to one another, which can be a little frustrating. 
But the process is pretty intuitive and easy to carry out. 
You need a Google account to get setup obviously, but that will bring its benefits in terms of integration with other services like YouTube for example. 
Streaming is at a resolution of up to 4K HDR at 60fps. So the picture quality at its best (depending on what kinds of TV you have obviously) can be pretty ace. 
To help, there is support for Dolby Vision, HDR10 and HDR10+ where available. 
Google's spec sheet doesn't go into detail on what is inside the box. But fair to say, the device isn't underpowered.
There is a little lag getting onto the interface for the first time on startup, but after that the navigation is smooth and pretty fast. 
Connectivity is good too – despite being a distance from the router in testing, it held up nicely. 
There is no ethernet port on the Chromecast device itself, so the Wifi performance is important. 
FEATURES 
When you first open up the Google TV interface, you are met by a fairly familiar site and layout like you get on many other streaming services. 
At the top is a list of tabs – Search, Home, Apps and Library – all fairly self explanatory. 
The Home screen offers a mixture of Top Picks, as well as a horizontal list of your installed apps. 
There is also a list of trending movies, new films and shows, recommended videos and popular films and TV shows. 
In the apps menu there is a horizontal list of your installed apps, and below that again is a list of grouped app categories, like for example Entertainment, Music & Audio and Video Player and Editors. 
The next row has apps from your other devices – here's where the integration with your Google account comes in. 
And then there's a row of recommended apps, featured apps, movies and TV apps, games, etc. 
The Search function is powered by either an on-screen keyboard, or alternatively by using Google Assistant through the remote. 
This works reasonably well, but not all the time, and unless you are particularly lazy, you will probably find clicking the remote a more efficient way of getting around.
If you don't like using Assistant for privacy reasons, then you can disable it.
There's thousands of apps available on the Google TV platform - including the most popular ones that you'd expect, like Netflix, Prime Video, Disney+, Spotify, YouTube Music and many more.
You won't be able to access Google's gaming service Stadia however. 
And Apple TV+ isn't there either, which is a pity.
As you are logged in to your Google account the menus are personalised to that account, so you will be served up the kinds of apps you have used and videos you have watched in the past. 
CONCLUSION
From Apple TV , to Now TV and Fire TV to Roku, there's any number of ways of streaming on TVs these days.
Google Chromecast with Google TV is just one more - but it is a good option.
It is simple to use, has a pleasant interface, a decent remote control and lots of app and content options.
It is missing Apple TV+ and Stadia though, and is a little slow to set up.
But you'd forgive it those few things for the very competitive price of €69. 
In fact for that, it is pretty good value and certainly likely to give the other options a run for their money.