Ryanair has said it is to close its bases in Cork and Shannon for the winter.
The move comes as the airline cuts capacity over the winter season from 60% to 40% compared to last year.
Its base in Toulouse in France is also to close and there will also be significant base aircraft cuts in Belgium, Germany, Spain, Portugal and Vienna, it said in a statement.
The airline said due to increased flight restrictions imposed by governments across the EU, air travel to and from much of Central Europe, the UK, Ireland, Austria, Belgium and Portugal has been heavily curtailed.
This has caused forward bookings to weaken slightly in October, but materially in November and December, it said.
"While we deeply regret these winter schedule cuts they have been forced upon us by Government mismanagement of EU air travel," said Ryanair CEO Michael O'Leary.
"Our focus continues to be on maintaining as large a schedule as we can sensibly operate to keep our aircraft, our pilots and our cabin crew current and employed while minimising job losses," he said.
"It is inevitable, given the scale of these cutbacks, that we will be implementing more unpaid leave, and job sharing this winter in those bases where we have agreed reduced working time and pay, but this is a better short term outcome than mass job losses," he added.
We need your consent to load this rte-player contentWe use rte-player to manage extra content that can set cookies on your device and collect data about your activity. Please review their details and accept them to load the content.Manage Preferences
The airline had warned a number of weeks ago that it may be forced to close the Shannon and Cork bases for the winter unless the Government took steps to open up air travel by immediately adopting a new EU traffic light style system that classifies countries based on the level of Covid-19 there.
Mr O'Leary said Ryanair continues to urge all EU governments to immediately and fully adopt the EU system.
Ryanair employs 80 pilots and cabin crew at its base in Cork and 55 in Shannon.
The airline said the decision to close the bases temporarily over the winter will mean they will be temporarily laid off.
Ryanair had been operating on 16 routes in and out of Shannon and that is now falling to 3, with 8 flights a week.
While the airline had been running 13 routes in and out of Cork, and this is now also dropping to 3 for the winter.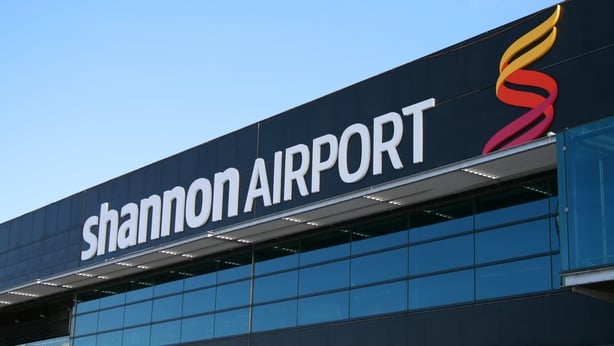 The airline says it is also reducing its full-year traffic guidance to 38 million this year compared to 149 million last year and it warned this could fall further if travel restrictions stay in place.
Because of the weaker bookings, it now expects to operate with 70% load factors over the winter period which Mr O'Leary said would allow the company to operate as close to break-even as possible and minimise cash burn.
"There will regrettably be more redundancies at those small number of cabin crew bases, where we have still not secured agreement on working time and pay cuts, which is the only alternative," Mr O'Leary warned.
"We continue to actively manage our cost base to be prepared for the inevitable rebound and recovery of short haul air travel in Europe once an effective Covid-19 vaccine is developed."
Earlier this week, the EU agreed the new traffic light system which the Government has endorsed but has yet to adopt.
Three Ryanair routes between Shannon and Standsted, Machester and Wroclaw will continue over the winter, but they will be serviced from bases elsewhere.
CEO of Shannon Airport, Mary Considine, said the news was "very disappointing news for the airport but for the entire region".
Ms Considine said Ryanair is a very important customer of Shannon, but they need to work together now to ensure supports are put in place to allow a return next March.
?@ShannonAirport? CEO Mary Considine very disappointing news that Ryanair closing its base there for winter. Only 3 non base services now til Spring ?@rtenews? pic.twitter.com/JmABnWhYne

— Cathy Halloran (@HalloranCathy) October 15, 2020
Shannon Chamber CEO Helen Downes said the news is devastating but she hopes it will be temporary.
Ms Downes said Ryanair has been in Shannon since 2007 but the pandemic has put pressure on every business to change their operations.
The airline business across the world has been devastated since last March, she said, and they now need a sustainable model for the future.
Niall MacCarthy, Managing Director at Cork Airport, said the airport had done everything in its power to retain the base here and the connectivity that it delivers for the South of Ireland region.
But he noted that since the pandemic, many Ryanair flights to and from Cork have been operating with fewer than ten passengers.
Ryanair has had a base at Cork Airport since 2005, and this winter will be the first time in 15 years that the airline has not had any aircraft based in Cork.
Despite the base closure, Ryanair will still retain three routes serving Cork over the winter - to Stansted, Katowice and Gdansk. But these routes will be operated by aircraft and staff based outside of Ireland.
Mr MacCarthy said that Cork Airport was Ireland's fastest-growing airport before Covid-19, but it was now looking at a 95% plus reduction in traffic levels for this coming winter compared to last year.
"With the appropriate financial supports and travel policies from Government, we will work tirelessly to secure the return of the Ryanair base at Cork ahead of next summer, when hopefully, the airline will be in a position to replace lost services," he said.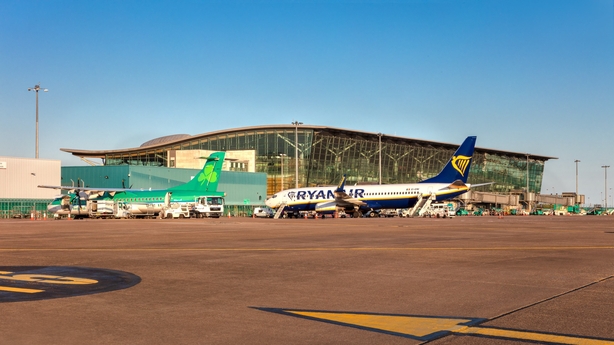 Cork Airport will also have a service to Amsterdam with KLM this winter and Aer Lingus will operate services to Heathrow and Amsterdam.
"The continuity of all or any of these services cannot be taken for granted and we will continue to work with the Government and our airline customers to retain this hard-won connectivity as best we can this winter," the Cork airport boss added.
Ireland West Airport in Co Mayo has said Ryanair's decision to significantly scale back flights to its facility will have a "devastating effect" on operations.
The airline is to cut its scheduled services from the airport by 80% this winter.
The collapse in demand for air travel means Ryanair will offer just seven weekly services to Ireland West over the coming months. Routes to Bristol, East Midlands and Malaga have been cancelled. There will be significant reductions on services to London and Liverpool.
In a statement, the Knock airport said the development highlighted the need for an urgent rescue plan to safeguard the future viability of the facility.
The Minister for Foreign Affairs said the Government decision not to remove restrictions on global travel are being done for the greater good, adding that he hopes Ryanair will re-open its bases at Shannon and Cork after the winter months.
Simon Coveney told Morning Ireland that the Government "cannot and will not open international travel in a global pandemic" but will move next week to implement a new EU-wide travel agreement.
The Minister said that Ryanair's decision is "really bad news" for Cork and Shannon airports, but he has been assured by the airline that it is a temporary decision and "if we can get back to normality is a very good chance" it will resume operations next year.
Minister Coveney said that Ireland has signed up to a common EU travel system and will decide next Tuesday how Ireland will implement the new travel system in a safe manner.
He said Ireland has to maintain international connectivity and will adopt a common threshold agreement which will see regions in countries categorised as green, orange or red depending on positivity levels or the number of positive tests per 100,000 over 14 days.
He said full details next week about the measures will be given next week.
Ryanair shares were lower in Dublin trade today.