The European Commissioner responsible for competition has said it is very important to make sure all businesses pay their fair share of tax, so the public purse and European citizens are not deprived of much-needed funds for investment.
Margrethe Vestager said that includes making sure that digital companies pay their fair share of tax where it is rightfully due.
"In the case of Apple's tax treatment in Ireland we have had a very careful look at the General Court's judgement, and respectfully, we think that the court has made a number of errors in law," she said during an Ibec online conference.
"And this is why we are appealing the judgement to the European Court of Justice," she added.
The Commissioner said if member states give certain multinational companies tax advantages not available to their rivals, this harms fair competition in the European Union in breach of state aid rules.
She also said efforts need to continue to put in place the right legislation to address tax loopholes and ensure transparency.
Ms Vestager said so many businesses have to work hard to make a profit and from that profit they pay taxes.
This should not be the case for most companies, it should be for all, she said.
"A lot of progress has been made already. There is more to be done and we will do it together," she added.
The Commissioner said competition between member states is accepted across a wide variety of issues, but there is a limit to that.
She continued, "it shouldn't be that states use state aid to give someone an advantage that others do not have when it influences the market place."
Ms Vestager also claimed that with size comes responsibility and in her competition work she sometimes sees that such responsibility becomes blurred.
She said this was apparent in the Google case, for example, where the company preferred its own services and demoted others making it difficult or impossible for them to compete.
Competition is important, she said, because it gives companies the drive to continue innovating.
Also speaking during the same event, the Minister for Finance said the timing of the withdrawal of fiscal supports put in place to help mitigate the impact of the Covid-19 pandemic across the EU will be really important.
However Paschal Donohoe added that we are not at that point yet.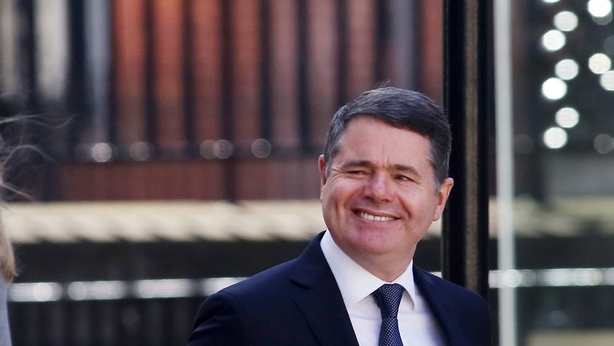 "At the moment the risks of withdrawing supports too quickly outweighs the risks of keeping them in place in the medium term and that is well understood in the euro area," he said.
"So when we get to the point of that discussion beginning it will then be really important to look at what is the pace of budgetary change and how the budgetary stance, the changes in budgets in the euro area, can hopefully be in synchronisation with an improvement in growth and an improvement in employment in particular."
He said there is also a deep appreciation that the interdependence between European countries, which can be a strength, continues in certain circumstances to also be a risk.
Mr Donohoe said that the recovery in the European Union and in the eurozone, if it becomes particularly fragmented with different countries moving at very divergent speeds of recovery, could create another and bigger challenge in the future.
"We will get to a point where we will need to demonstrate to those who are paying for the borrowing that is underway at the moment that there is a path in place to, over time, diminish that borrowing in the future which, in turn, will help with continuing to be able to borrow at interest rates that are affordable today," he said.
In relation to the EU Brexit fund, Mr Donohoe said funding will be available to countries most impacted by Brexit.
Ireland isn't the only one in this situation so many others will apply for funding, he said.
What it will be used for still has to be determined, the minister stated, but there are a few obvious areas, including enterprises and sectors most adversely effected by a no-trade deal Brexit who will be prioritised.
He added that there if there is a no-trade deal Brexit there will be an immense challenge for supply chains across the EU.
"I would expect this will be an area in which there would be an application of funding for dealing with all the issues about access, use of customs, how we can ensure the right procedures are in place and the consequences of those procedures to see if we can mitigate them for some economies for a period of time," he said.
However, he added that no fund will be big enough to compensate an economy for the consequences of a no-deal Brexit and that is why the Government and EU is striving to see if a trade deal is possible.