There was a reduction of approximately 10% in the number of mortgage accounts in arrears during the three months from April to June, mainly due to the introduction of Covid-related payment breaks.  
The latest figures from the Central Bank show at the end of June there were 736,307 private residential mortgage accounts with 56,792 in some form of arrears.  
The Central Bank said that 41,061 accounts, or 5.6%, are in arrears of more than 90 days. This figure remained unchanged in the second quarter. 
The reduction was overwhelmingly seen in mortgages in the early stages of arrears of less than 90 days.  
Of the accounts in arrears, 9,591 or 17% are in arrears by between two and five years, while 11,936 accounts or 21% are overdue by between five and ten years and 8% or 4,701 accounts are in arrears of over ten years.
87% of mortgages for principal dwelling homes are provided by banks while 13% come from non-bank entities. 
But of the properties in arrears of over 720 days, 44% are held by banks and 56% by the non-banks.  
A total of 77,789 accounts have had the terms of their mortgages restructured and 87% of these are "meeting the terms of their arrangement". 
The quarterly report from the Central Bank also contains information on legal proceedings. 
This shows that legal proceedings have been issued to 9,297 accounts.
Of these, 6,511 accounts have been in the system for more than two years, 2,595 have been in the system for over five years and 1,060 accounts have been in the system for over ten years. 
---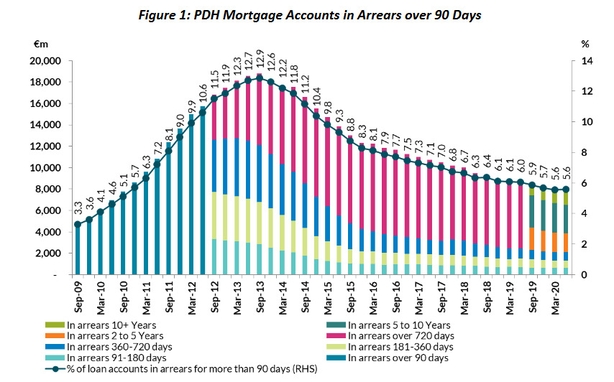 ---
Over the months from March to June, the Courts granted orders for repossession or sale on 44 properties. 30 properties were repossessed, which was down from 64 in the first three months of the year, the Central Bank added. 
Senior Government ministers are meeting the CEOs of the country's main retail banks today as pressure grows on them to further extend their offer of loan repayment breaks as the Covid-19 crisis continues.