The scheme put in place by the banks to offer payment breaks to borrowers struggling financially due to the Covid-19 pandemic will stop accepting new applications as planned from the end of this month, the Government has confirmed.
It follows a meeting between the Tánaiste, the Minister for Finance, the Minister for Public Expenditure and the chief executives of the country's retail banks today. 
According to a Government statement, the ministers used the meeting to underscore the importance of protecting borrowers and offering solutions on a case-by-case basis to customers who are currently on Covid-19 payment breaks. 
The ministers were told that the lenders will ensure customers who have difficulties at the end of the payment break will be supported with a range of options so that a suitable arrangement can be agreed.  
"Following on from today, the banks agreed that this would be done on a case by case basis with other options also being made available; reduced payments and interest-only, for example," Tánaiste Leo Varadkar said. 
"Anyone who is struggling should contact their bank and we expect that arrangements will be made based on each individual's circumstances.
"Banks must be understanding of people's needs at this really difficult time and cognisant of the extraordinary year 2020 has been," Mr Varadkar said. 
The lenders will ensure that customers who have difficulties at the end of the payment break will be supported with a range of options so that a suitable arrangement can be agreed.  
Mr Varadkar added that there is no cliff-edge coming on September 30 - this is just the last day on which borrowers can apply for a Covid-19 related payment break. 
The Minister for Finance, Paschal Donohoe, said it is vital that lenders work with borrowers to ensure suitable arrangements are put in place for borrowers currently on payment breaks. 
"Lenders need to demonstrate a continued awareness of customers' financial situations and to deal with cases in the most sensitive way possible," he said. 
"It is in everyone's interest that the number of people who cannot service their loans is minimised; a point I reiterate to the banks during our engagement this afternoon,"  he said. 
Banking industry representative group BPFI said a wide range of solutions were being made available for customers coming off the special Covid-19 payment breaks.
"2,500 staff across the five banks are actively working with customers coming off the special Covid-19 six-month payment break to fully understand their situation and to put in place an individual solution for them," said CEO, Brian Hayes.
"The focus is on engagement, assessment, and solutions for those most impacted financially by the Covid-19 pandemic."
"Our aim is to offer individually tailored plans that will help customers manage what is a challenging and stressful situation."
He added that while additional payment breaks may impact on a borrower's credit rating, that record can be restored over time should they be in a position to return to full repayments.
However, Sinn Fein has criticised the government for failing to secure an extension to the breaks.
The party's finance spokesman said Irish borrowers had been provided with fewer protections than borrowers in other European jurisdictions and as a result they now face falling into default sooner as a result of government inaction.
We need your consent to load this rte-player contentWe use rte-player to manage extra content that can set cookies on your device and collect data about your activity. Please review their details and accept them to load the content.Manage Preferences
The repayment breaks were introduced in March in response to the financial pressure many homeowners, households and businesses were experiencing from the downturn in business and employment caused by Covid-19 restrictions.
The breaks were initially to be offered for three months, but that was extended for a further three months due to severity of the economic situation.
Now that six-month period is due to come to an end, even though many borrowers remain in financial distress.
Mortgage repayment breaks for local authority home loan borrowers to be extended
Earlier however, the Government said it would extend mortgage repayment breaks for local authority home loan borrowers facing financial difficulties due to Covid-19 for a further three months. 
Similar to the scheme put in place by the banks in March, the 15,000 local authority home loan borrowers had previously been offered breaks of up to six months. 
However, with many of those people still facing serious financial challenges due to the economic impact of the pandemic, the Minister for Housing, Darragh O'Brien, has confirmed a further three month break will be on offer. 
Those availing of the offer will be contacted by their local authority during the payment break to assess their financial situation and discuss options if necessary. 
"I am also extending the deadline for applying for a payment break until the end of 2020 to provide for borrowers who may yet suffer setbacks in the coming months," Mr O'Brien said. 
"Importantly, no additional costs to the original home loan balance arise for the borrower who avails of these measures, as borrowers are not charged interest for the period of the breaks." 
Borrowers facing financial problems are being advised to contact their local authority as soon as possible.
At the end of August, 900 of these borrowers had been approved for a mortgage payment break.
Last week, the European Banking Authority (EBA) said payment breaks from the banks will be phased out from the end of this month as planned.
The EBA said the breaks had proven effective, but it does not consider adequate at this stage the further extension of such an exceptional measure.
But on Saturday, Governor of the Central Bank of Ireland Gabriel Makhlouf said there is nothing in the system stopping banks from putting further payment breaks in place for borrowers who have been impacted by Covid-19.
Mr Makhlouf said if borrowers still see themselves in difficulty, then they should contact their lender and have an early conversation about the challenges they have.
He said lenders need to "start thinking very hard about the individual's circumstances and how they can support them".
He added that there is nothing in the system stopping banks from allowing more payment breaks, but said such breaks, however, needed to be tailored to an individual's needs, rather than system-wide breaks.
Ongoing effect of Covid-19 pandemic 'tragic and seismic' 
The Deputy Governor of the Central Bank, Ed Sibley, has said the ongoing effect of the Covid-19 pandemic is "tragic and seismic".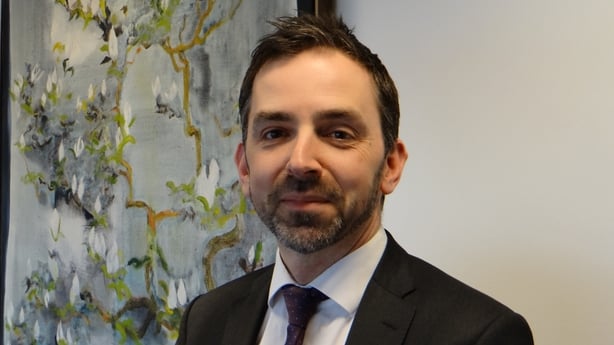 Ed Sibley told an online audience at an event hosted by the University of Limerick this afternoon that many borrowers will be temporarily or permanently unable to return to full repayments of their loans.
They will require "further individually tailored support" from their banks to address "solvency and affordability" issues, he added.
He repeated the message from the Central Bank that there is "no regulatory impediment" to lenders offering borrowers further payment breaks provided they are affordable.  
However the Deputy Governor also referred to lessons the bank had learned since the financial crisis to state that while temporary forbearance can assist, it may not be in borrowers' best interests over the longer term. 
He said problems could build up and prevent the borrowers from entering a more "sustainable forbearance arrangement".
It was impossible to know the extent of loan losses in the banks as a result of the impact of the pandemic but he said he expected it would be "material".
Ed Sibley said that at its peak, there were 152,000 loans to Irish borrowers under a payment break. 
The number of payment breaks today is down approximately 25% from the peak and eight out of ten borrowers who received a payment break were repaying their loans normally before the pandemic. 
20% of all loans to small and medium sized businesses were still under a break at the start of this month with a much higher percentage in certain sectors like accommodation and hospitality where the proportion was 46%.