Over one quarter of staff at the Shelbourne Hotel in Dublin are being laid-off temporarily, due to lower than normal levels of occupancy.
The five-star hotel on St Stephen's Green currently employs around 435 people, including full-time and part-time workers.
127 of these employees will be temporarily laid-off while remaining staff, across all levels, will work reduced hours as part of the cost reduction plan.
The Shelbourne reopened to the public on 29 June last under phase two of the Government's Covid-19 road map.
"Despite the significant challenges facing the travel sector this year and the dramatic decline of international travel, we have had a relatively positive summer season, focused almost exclusively on domestic business," the hotel's operator, Marriot International told RTÉ News in a statement.
"Unfortunately, it has also become clear during this period that we need to right-size our operations to reflect lower levels of occupancy compared to those attained before the pandemic."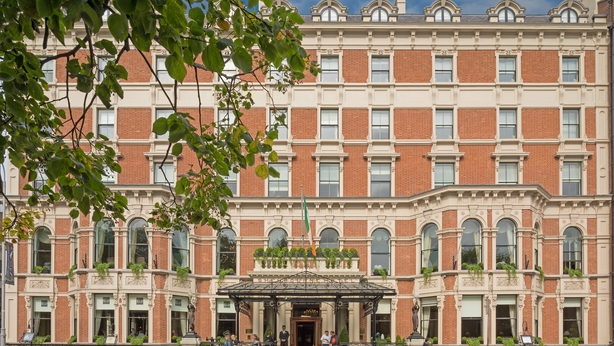 The hotel group said it had evaluated all the options and had subsequently taken the "difficult decision to reduce the size of the team" through temporary layoffs as well as cutting the working hours of other staff at all levels.
"Employees whose roles may be impacted have been notified," it said.
 
"The well-being of our employees is important to us and we are striving to proceed in the most thoughtful and respectful way possible. We will actively support each one of the impacted employees through this process."
Many Irish hotels have been battling with difficult trading conditions over recent months due to the Covid-19 pandemic restrictions.
Some hotels in areas outside the main cities have enjoyed reasonably strong occupancy levels during the summer months, as people holidayed at home instead of travelling abroad.
However, hotels in cities, particularly Dublin city centre, have experienced much more patchy demand, due to the extremely low numbers of foreign tourists coming into the country.
The Irish Hotels' Federation recently said that booking levels for September and October at hotels around the country are much lower, following the end of the holiday season.
The Shelbourne is owned by Kennedy Wilson which acquired the debt secured by the premises for $152 million in 2014 in a complex transaction involving multiple sellers.
In 2019, following the completion of a $40 million refurbishment programme, the hotel joined Marriott International's Autograph Collection Hotels.
Earlier this year, the Shelbourne received a warning letter from Dublin City Council concerning the removal of four 153-year-old statues from the front of the building.