The number of people claiming the Covid-19 Pandemic Unemployment Payment has fallen to just under 219,900 - down 5,100 over the last week.
This represents a fall of 63% from the peak of the pandemic, when 598,000 people were completely reliant on the PUP for income support.
Over the last seven days, 9,265 people closed their PUP claims, of whom 7,716 reported that they were returning to work.
6,256 will receive their final payment tomorrow.
The top sectors in which people returned to work this week were Education (1,500) followed by Accommodation and Food Services (800), Transportation and Storage (800 ) and Repair of Motor Vehicles and Motorcycles (700).
The largest cohort by age returning to their jobs were aged 45-54 (1800), followed by 35-44 year olds (1,700) and over-55s (1,600).
Meanwhile, new Central Statistics Office figures that a total of 783,485 people were on the Live Register in August, received the PUP in the last week of August or benefitted from the TWSS during the month.
The Covid-19 crisis continued to have a significant impact on the labour market during August, the CSO said.
Today's figures show that the unadjusted Live Register total for August stood at 225,844. When seasonal effects are considered, the Live Register total was 213,700 - a decrease of 12,400 from July.
---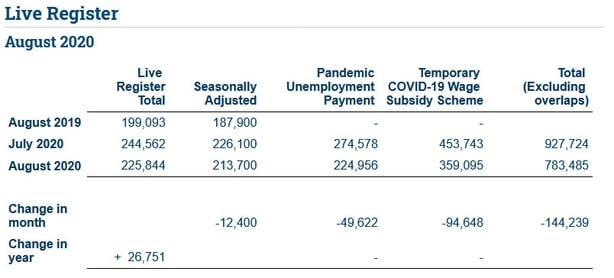 ---
Outside of the traditional Live Register, the CSO said that a total of 224,956 people were in receipt of the Pandemic Unemployment Payment at the end of August, while 359,095 people benefitted from the Temporary Wage Subsidy Scheme in August.
There is some overlap of the figures, the CSO explained, due to the different frequency of the payments and the fact that some people who are included on the Live Register but not receiving a payment, might be in receipt of either the PUP or the TWSS.
The Government's Temporary Wage Subsidy Scheme was replaced by the Employment Wage Subsidy Scheme on September 1. The EWSS will continue until the end of next March.
The CSO said that of the 224,956 people in receipt of the Pandemic Unemployment Payment for the week ending August 30, 52.3% are male, 72.1% are Irish and almost a quarter are in each of the 25-34 year old (22.6%) and 35-44 year old (22.3%) age groups.