Dalata Hotel Group has reported a big drop in revenue and a pre-tax loss for the six months to the end of June as Covid-19 restrictions forced the closure of most of its 44 hotels in Ireland and the UK for most of April, May and June.
Dalata said its half yearly revenues slumped by 60% to €80.8m while it reported a pre-tax loss of €70.9m.
Its shares were lower in Dublin trade today. 
"If you can be delighted in an environment like this, I'm very happy with the way our teams have performed across the business to deliver what we've delivered," said CEO Pat McCann.
"When we look at the plans that we laid out for ourselves in March, looking after our people, our business and our customers, and our cash, we have done better than we anticipated at the outset of all of this," Pat McCann said.
"Most of the losses we're reporting today are to do with impairments or a write-down in property so there's at least no cash issues to be dealt with around that. If I look at the cash position, that has improved from where we were in December," the CEO added.
Since the end of June, the group has been gradually opening its hotels with 100% of its hotels now reopened. 
It said that occupancy for the group amounted to 30% in July and is projected to be about 40% for August. 
Overall occupancy for the six months to the end of June fell to 34.3% from 80.2% the same time last year.
We need your consent to load this rte-player contentWe use rte-player to manage extra content that can set cookies on your device and collect data about your activity. Please review their details and accept them to load the content.Manage Preferences
In April, Dalata laid off 3,500 workers due to the pandemic, but Mr McCann said many of those were now back working at with the group.
"We have 2,500 people back to work now, which is wonderful, but I still have 1,600 odd people who are still on lay-off," he said.
"We are using all the Government supports - both in Ireland and in the UK - to support those people. Without them we'd be in a very different place," he said.
The hotel group CEO said Dalata was signed up to the Employee Wage Subsidy Scheme, which launched today as a replacement to the Temporary Wage Subsidy Scheme. 
Dalata said its half year average room rate decreased to €95.28 from €110.30 while its revenue per available room (RevPar) fell to €32.69 from €88.48 in the first half of 2019. 
As expected, its hotels in regional Ireland and regional UK performed better than those in Dublin and London, which depend more on international travel and events. 
"While bookings from domestic guests are encouraging, the outlook for the near term remains uncertain at present with short lead time on bookings and it is not yet known when international travel will return to more normal levels," the company said. 
It said its adjusted EBITDA is expected to be in the range of €7-7.5m for the months of July and August.
"While the future remains uncertain, I am encouraged by the positive demand drivers in the markets in which Dalata operates. The Irish economy and Dublin market is underpinned by strong foreign direct investment from industries which will be less impacted by Covid-19," Dalata's chief executive Pat McCann said.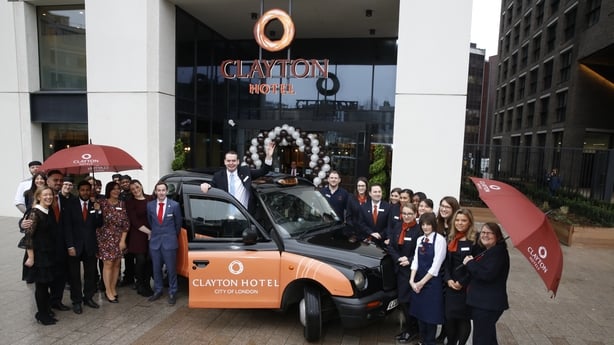 He also said there is also likely to be pent-up demand for key destination cities such as London and Dublin. 
"There are many challenges ahead but the Dalata team has demonstrated that it is up for those challenges and determined to emerge stronger from the impacts of Covid-19," the CEO added.
The company also announced that it had signed deals to lease two new Maldron hotels to be constructed in Brighton and Manchester in the UK, which brings its current pipeline to almost 3,300 new rooms. 
Dalata's pipeline of seven hotels already under construction includes two in Ireland and five in the UK. All of the new hotels will open between the first quarter of 2021 and the first quarter of 2022. 
It added that ten development projects, including extensions, are currently at the pre-construction phase. 
Dalata, which operates the Maldron and Clayton Hotel brands, said it had €110m in cash and €111m in undrawn committed debt facilities at the end of August.
Share placement planned to fund growth
Dalata this morning also announced plans for a non-preemptive share placement, which would ultimately represent almost 20% of the company's issued share capital.
The placed shares represent up to 19.9% of current issued share capital, Dalata said, and help secure leases at competitive terms in London, regional parts of Britain and Dublin where "growth opportunities remain compelling".
This afternoon the company said it had placed 37,000,000 shares at a price of €2.55 each, raising gross proceeds of €94.4m.
He said that while the company was using government supports to help fund its day-to-day operations, it was right that it raised money to pursue expansion too.
"The reality is that if companies like us don't start to expand and grow, essentially you start to retrench," he said. "The difficulty then is, how do you get all your people back to work?
"Don't forget we're also in the construction phase of 11 hotels, which will absorb - as we start to reopen those from next year - some of our employees that are currently laid off.
"You're trying to do everything that you need to do - but the reality is that an organisation like Dalata cannot retrench. We have to keep moving forward," the CEO added.
Pat McCann also said that Dalata was looking at new ways to shore up demand, including offering students deals to stay in their hotels when they may only need to be in university one week a month due to Covid-19 restrictions. 
"Normally at this time of the year, I would know the outcome for 2020 with a fair level of accuracy but at the moment I have no idea," Mr McCann said. "The patterns that we would normally rely on no longer exist."