Schools are preparing to reopen safely at the end of this month, and lots of businesses are helping them to do just that.
Zimmer Biomet is a global organisation with two plants in Shannon, Co Clare and Oranmore, Co Galway, where they manufacture orthopedic medical devices.
At the start of the pandemic, the company had three priorities - to protect its 700 employees and their families; to ensure that livelihoods were protected, and to support the community under Corporate Social Responsibility.
"In July of this year, we were very conscious of the anxiety that was out there amongst parents, teachers and children, about the reopening of the schools," explained Claude Costelloe, Site Lead at Zimmer Biomet in Shannon. "We wanted to do something to support and enable the safe reopening of schools."
The company invited principals from 13 schools in Clare, Limerick and Galway, to show them the measures that had been put in place at Zimmer Biomet and how they could adapt those measures in their schools.
"We invited the principals into the plant to see some of the measures we have put in place, and see what they could adapt to their own environment to be able to make their kids and their teachers safe," Mr Costelloe said. The principals were also provided with 'Back to School Covid-19 Safety Packs', which included visual management systems, signage, floor tape, and hand sanitisation dispensers.
Patrice Hayes is Principal of St Aidan's National School, which has 260 children enrolled, in Shannon, Co Clare.
She said the school's location, close to the Shannon Free Zone and Smithstown industrial estate, means industry and education are intrinsically linked.
She jumped at the chance to go to Zimmer because she felt they would offer practical advice.
"It got us thinking at St Aidan's very logically and very practically because we are thinking about entry and exit points, arrival and dismissal times, policy formation and above all communication," she said.
Sadhbh O'Donovan attends Crusheen National School in Co Clare. She designed a sign with the six steps to stay safe at school which Zimmer Biomet has made into posters that will be displayed in all 13 schools.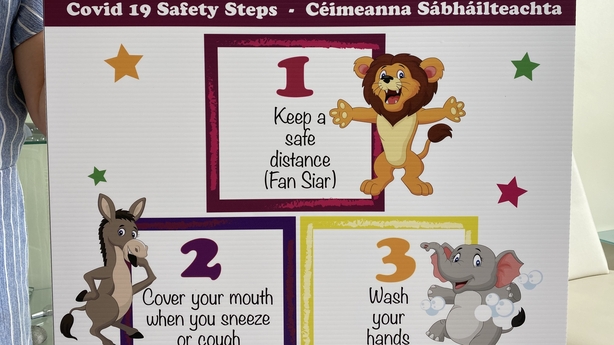 The hopscotch design advises pupils to:
1 - Keep a safe distance
2 - Cover your mouth when you sneeze or cough
3 - Wash your hands
4 - Use your own pens and pencils
5 - Do not shake hands or hug
6 - Tell your teacher if you feel sick
Mr Costelloe explains why it is really important for private industry that schools reopen again.
"It's really important to us that schools can reopen safely because it is the schools and third level that is going to provide the pipeline of talent that's going to allow us reopen and grow all the businesses in Ireland, and grow Zimmer Biomet as a business. So I think it is essential that the private sector get involved in initiatives like this."
Ms Hayes is confident to reopen St Aidan's, and is looking forward to it. "We have taken every practical measure that we believe that we could have to date. We have a fantastic support network in our parents, our board of management and our staff. Together I think we can and will open St Aidan's safely on the 31st of August and please God we will all stay safe."