Food technology and ingredients company Kerry Group has reported lower revenues and profits for the six months to the end of June after an "unprecedented period" due to the Covid-19 pandemic.
Kerry said that Covid-19 had a significant impact on its Taste & Nutrition business - particularly its foodservice channel - where the impact was most pronounced in April, with the channel recovering well since then.
It said that the performance of its retail channel improved in the second quarter, mainly through increased consumer demand for authentic cooking, plant-based offerings and health and wellness products.
Kerry's half yearly revenues fell by 4.3% to €3.414 billion from €3.569 billion the same time last year.
Its profit after tax for the six months to the end of June fell to €213.1m from €239.4m.
"The first half of 2020 has been an unprecedented period due to Covid-19, and I am immensely proud of the tremendous efforts of our people in supporting our customers and local communities throughout this period, aligned to our purpose to Inspire Food and Nourish Life," Edmond Scanlon, Kerry's chief executive, said.
He said that in spite of the challenges arising from Covid-19, Kerry continued to make good progress on a number of fronts aligned to its key strategic priorities.
"Our global operations and supply chain continue to demonstrate resilience and engagement with our customers has been overwhelmingly positive, which gives us confidence in the trajectory of business recovery," the CEO added.
In line with its dividend strategy, Kerry has declared an interim dividend of 25.9 cent per share, compared to the prior year interim dividend of 23.5 cent.
But it said that due to the continued uncertainty in relation to the extent and duration of the Covid-19 pandemic, it was not providing full year earnings guidance at this time.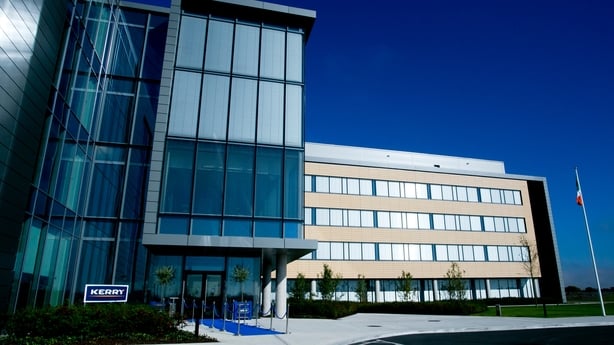 Breaking down its divisional performances, Kerry said that revenue in its Taste & Nutrition unit fell by 5.6% to €2.799 billion with overall volume reductions driven by a second quarter decline of 11.8% due to the impact of Covid-19.
It noted that the division had begun the year strongly before the global spread of Covid-19. While performance in the second quarter was impacted most in April, business volumes have been recovering well since then.
The company said its nutrition and wellness technology portfolio had a very good performance within the retail channel through customised solutions incorporating its broad protein portfolio, fermented ingredients, probiotics and immunity enhancing technologies.
But business volumes in the foodservice channel declined 27% in the first half of the year, with many out-of-home food and beverage outlets closed for an extended period of time.
Kerry said the impact from these closures was a major contributor to overall performance in developing markets, where business volumes declined by 3.8%.
Revenue in Kerry's Consumer Foods Division dropped by 7.8% to €647m in the six month period.
It said the market was highly volatile across the period due to the outbreak of coronavirus, with major swings in category performance resulting from overnight changes in consumers' purchasing and consumption behaviours.
"Shopping habits became more functional with centre-of-store aisles benefitting most. Retailers scaled back many category product listings and their freshly prepared over-the-counter operations," Kerry said in today's results statement.
"The large traditional retailers benefitted versus the discounters, with increased average basket sizes and reduced promotional activity, while demand for online and delivery has increased dramatically," it added.
Looking ahead, Kerry said its Taste & Nutrition business is focussed on managing through the short-term challenges to emerge an even stronger customer partner, while its Consumer Foods business continues to see short-term changes in consumer purchasing behaviour with some variability across categories.
"We will continue to invest for growth and pursue M&A opportunities aligned to strategic growth priorities. Kerry's unique business model, broad taste and nutrition portfolio and industry-leading integrated solutions capabilities are more critical than ever, as we support our customers through this changing environment," the company added.
Shares in the company moved higher in Dublin trade today.