FBD Holdings has said that Tomás O'Midheach will become the insurance company's new chief executive and an executive director of both the Group and of FBD Insurance in February 2021. 
Paul D'Alton, current interim CEO at the company, will remain in the position until February to ensure an orderly handover.
Mr O'Midheach was AIB's group's chief operating officer and he announced he was leaving the bank yesterday to purse other business interests.
He has 25 years experience in the financial services industry spanning many diverse areas including finance, data, customer analytics, direct channels and digital. 
He spent 11 years with Citibank in the UK, Spain and Dublin where he held several senior positions before joining AIB in June 2006.
Meanwhile, FBD has reported a loss before tax of €9.3m for the six months to the end of June compared to profit before tax of €39m the same time last year. 
FBD said it continues to see on-going uncertainty surrounding the Covid-19 pandemic related business interruption claims, which are subject to legal proceedings.
It said that best estimate costs of €30m include taking into account the most up to date information in assessing the expected costs and probability of occurrence of potential outcomes.
Motor damage and injury claims frequency reduced over the six month period mainly due to the government lockdown restricting movement. 
Property claims frequency increased as business interruption claims were notified and there were also more claims for smaller weather events. 
The company said that no significant weather events occurred in the first half of the year although attritional weather claims experience is higher than 2019, which was an "exceptionally benign year".
FBD noted that average premiums were down 3.4% across the portfolio, with private motor premiums down 7.6%, farm down 3%, home down 2.3% and business up 1.5%.
The company also today reported an underwriting loss of €5m - compared to a profit of €29m last year - due to the impact of business interruption costs and reduced premium income.
This was offset by frequency reductions during the lockdown period and positive prior year reserve development of €8m, it added.
Paul D'Alton, FBD's interim group chief executive, said today's results were "robust" in very difficult circumstances for our customers and employees. 
"Our profitability excluding the business interruption costs and capital position remain strong and we continue to invest in our business for the future," Mr D'Alton said.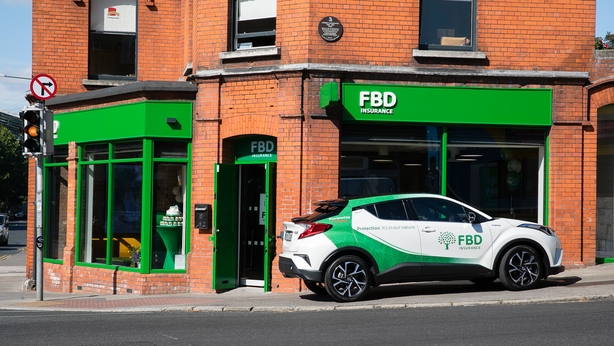 He said the company had introduced a number of measures to assist our customers through the Covid-19 pandemic including premium rebates, suspension of cover reductions and payment flexibility where required. 
The interim CEO said that from an operational perspective, FBD's business continuity plans continue to work very well. 
"Service to customers has been maintained and in FBD it has been business as usual", he said 
The vast majority of FBD employees have worked remotely since late March and the company is now starting a slow process of returning to the office. As part of this process its branches reopened to customers on June 29.
On the issue of business interruption claims by customers, Paul D'Alton said the company acknowledged the disappointment and frustration of affected businesses that their business interruption insurance does not respond to cover pandemics. 
"However, we are unable to provide cover for what we believe to be, and are advised is, an uninsured risk not covered by our policies," he stated. 
He said the company had a duty to all of its customers to settle claims consistently with the coverage provided so that it can continue to offer products at affordable pricing levels and pay valid claims. 
"Proceedings will be brought, by way of test case, which is now scheduled for hearing in the Commercial Court in October 2020. We believe that this is the quickest and most efficient way of achieving clarity for our customers," he added.
FBD said that until clarity emerges in relation to Business Interruption Insurance it expects a period of uncertainty for the company.
"However, we remain confident in the underlying profitability, future growth prospects, capital strength of the business and in our ability to continue to provide excellent service to our customers," its interim CEO added.
Shares in the company moved higher in Dublin trade today.