Pubs who fail to comply with Covid-19 regulations should "feel the full force of the law", according to the Vintners Federation of Ireland.
Yesterday, it was reported that a further 22 potential breaches of public health regulations were identified at licensed premises, with gardaí saying the majority related to a lack of evidence that food was being served or consumed.
The regulations include alcohol only being served alongside a "substantial meal" costing at least €9 with customers staying a maximum of one hour 45 minutes on the premises.
CEO of the Vintners Federation of Ireland Padraig Cribben said pubs should be allowed reopen fully as is currently planned on 10 August.
Speaking on RTÉ's Today with Sarah McInerney, he said there are many publicans in rural Ireland who rely on this time of the year to pay their bills through the winter, and the mental health and anguish they are under cannot be underestimated.
He said the Australian state of Victoria has kept pubs and restaurants open, despite a second wave of Covid-19.
Mr Cribben said that those who socialise at home are not socialising in the controlled environment that a pub would provide.
He said "a million and one things need to be done" in order to allow pubs reopen correctly and there is no reason why the guidelines should not be released soon.
The Tánaiste has said that while he would like to see pubs reopen on 10 August, he cannot guarantee that will happen.
Leo Varadkar told the Dáil that he hopes the Government will make a decision on the issue when the Cabinet meets next Thursday.
He said he agreed that pubs are important to Ireland's social fabric.
---
---
The CEO of the Restaurants Association of Ireland said that restaurants are also subject to inspection by gardaí, and "rightly so", because this gives confidence to the consumer.
Speaking on RTÉ's Today with Sarah McInerney, Adrian Cummins said that while he expects every business to benefit from the 'staycation' voucher announced by the Government, a number of details still need to be worked out.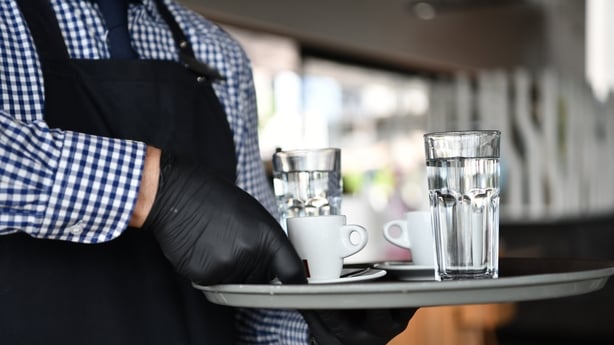 He said the RAI would have liked the initiative to be rolled out straight away, and that every citizen should be included in the scheme, as well as every business in the hospitality sector.
The sooner the details are made known, the better, he added.
The President of the Irish Hotels Federation said hotels are also regularly being inspected and she is not aware of any compliance issues.
Elaina Fitzgerald Keane said that while the 'staycation' scheme would help to stimulate demand, the plan seems "convoluted" and there are a lot of unanswered questions.