A further 22 potential breaches of public health regulations have been identified at licensed premises.
Gardaí say the majority of the incidents relate to a lack of evidence that food was being served or consumed and no evidence of receipts to show that food had been sold.
As part of the Garda Operation Navigation, officers have been visiting pubs throughout the country.
They said they continue to find widespread compliance with the regulations introduced in response to the Covid-19 pandemic.
These include rules that alcohol can only be served alongside a "substantial meal" costing at least €9 with customers staying a maximum of one hour 45 minutes on the premises.
The latest potential breaches were observed between Monday and Sunday of last week.
Gardaí said that since their operation began on 3 July, a total of 80 premises were found to be in possible breach of the legislation.
Files will now be prepared for the Director of Public Prosecutions.
Deputy Commissioner, Policing and Security, John Twomey said: "An Garda Síochána is delighted to see a continued high level of compliance by licensed premises to the Public Health Regulations.
"However, there are still a minority of licensed premises that are failing to adhere to the regulations."
He appealed to publicans to comply "in all circumstances to help stop the spread of Covid-19".
The regulations around the opening of pubs that are serving food will remain in place until 10 August.
Bar counters 'vital' for rural pubs
Publicans are calling for the right for punters to have a drink at bar counters when pubs reopen.
Fáilte Ireland is expected to publish guidelines on this by the end of the week.
Pubs were expected to reopen on 20 July during Phase 3 of the roadmap for easing restrictions but this was later postponed until 10 August.
The Vintners' Federation of Ireland (VFI) said it wanted people who are sitting at a bar stool to be treated in the same way as if they were sitting at a table in a restaurant.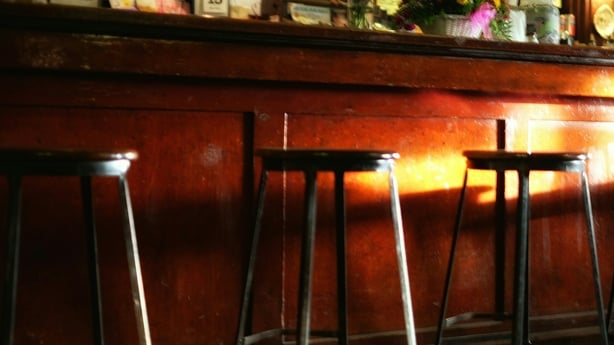 A spokesperson said: "The bar counter is where a lot of business happens in pubs across rural Ireland. It is vital for our members that this continues.
"Many rural pubs would be of the view that if you prohibit customers from sitting at the bar, they simply will not come in at all."
He added: "Pubs provide a crucial social outlet for thousands of people around the country."
The VFI said customers could sit in a socially distanced manner, one metre apart from each other. "Those who arrive in a group can sit together, just like they would in a restaurant.
"Clearly you cannot have people standing around in a packed bar - but a lot of rural pubs never get that busy in the first place."
Speaking on RTÉ's Drivetime, Michael O'Donovan from the Castle Inn in Cork city, said life in a pub revolves around a bar counter.
He said publicans can implement social distancing at counters
Tom Dunbar from Dunbar's in Ferns, Co Wexford, said he wants guidelines around bar counters and there is a way, with the proper procedures, to still allow people use them.
He said he runs a small family run pub with part-time employees and it was only fair for pubs that are still closed to get a chance to trade and try to make a living.