Irish Ferries owner Irish Continental Group said its group revenue for the six months to the end of June fell by 21.6% to €130.8m due to the outbreak of Covid-19.
In a trading update ahead of its AGM today, ICG said that total revenues in its ferries division fell by 33.3% to €61.6m.
This was mainly due to lower passenger volumes as a result of the travel restrictions introduced across the EU due to the Covid-19 pandemic. 
For the year to July 25, Irish Ferries carried 68,900 cars, a decrease of 67.2% on the previous year. Freight carryings were 173,500 RoRo units, a decrease of 1.1% compared with 2019. 
Total half yearly revenues in its container and terminal division came to €73.2m, a 6.6% decrease on the previous year. ICG said this decrease is mainly due to supply chain disruption as a result of Covid-19.
Container freight volumes shipped were down 10.5% on the previous year at 178,300 twenty-foot equivalent units. Units handled at its terminals in Dublin and Belfast decreased 13.6% year on year to 160,100 lifts.
ICG said its key challenge during the Covid-19 pandemic has been maintaining its shipping schedules which are critical to the supply chain on and off the island of Ireland. 
It said these services provided a "vital lifeline service" to the island and beyond for food, pharmaceuticals, medical supplies and in more recent times a high level of e-commerce goods.
"In the absence of airline capacity, we have also offered a vital lifeline service for essential passenger travel, including returning medical and caring volunteers and technicians to fix vital equipment in our hospitals and care centres," the company said.
It also said it has provided an ability for Irish citizens to repatriate, where they must do so, to deal with emergencies at home.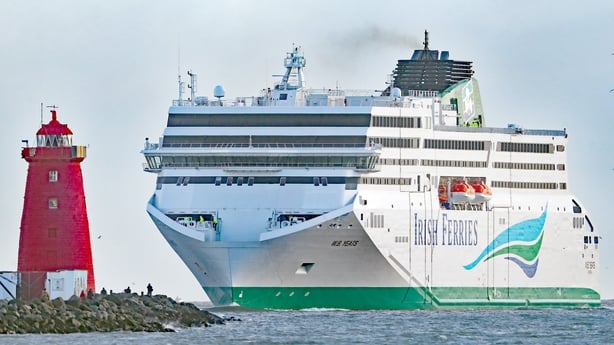 "While we have been successful in meeting this challenge, the continuation of travel restrictions throughout our peak summer season has had a material impact on our passenger carryings on ICG's Irish Ferries services," the company said. 
"We have raised our concerns with the Irish Government on the current policy of asking people from Britain who visit Ireland to self-isolate for two weeks, while allowing unrestricted transit via Northern Ireland. We believe this is clearly anomalous and puts the retention of the Common Travel Area between Ireland and Britain at risk," it added.
In a note, Davy Stockbrokers said that in the context of quarantines it sees ICG's AGM statement as "reasonably robust". 
Davy noted that ICG continues to generate cash and net debt has improved at the half-year from 2019 year-end. Freight has also held up remarkably, showing strong underlying demand. 
The summer tourism season may be largely lost but is still operating at about 30% of normal capacity, the stockbrokers said. 
"The resilience of the business in a tough year is noteworthy, leaving ICG well placed when recovery comes. Cost savings and the resilience of supply chains to and from the island are to the fore," they added.
Shares in the company were higher in Dublin trade today.