Taoiseach Micheál Martin has told the Dáil that banks should not profit from the application of interest on mortgage holders who took a payment break during the Covid-19 crisis.
Labour Party leader Alan Kelly raised the issue of interest being charged to people who have availed of the Covid-19 mortgage supports.
He said the Central Bank had clarified that interest does not have to be charged if the amount is less than 1% of the entire interest bill.
Sinn Féin's Finance Spokesperson Pearse Doherty told the House he had a letter from Permanent TSB to a customer who availed of a three-month payment break.
The cost of credit would increase by over €7,700 as a result of this break and if that extension goes to six months it would "sky rocket" further, he said.
Deputy Doherty said this was the time for the Government to stand up to banks and ensure they cannot profit on the back of the pandemic.
Sinn Féin's Matt Carthy said banks need to be told by Government that they are not to "fleece" customers who have had to look for a payment break.
The Taoiseach said around 140,000 payment breaks had been issued, affecting around 78,000 mortgages.
Mr Martin said a key principle was that banks would not profit and the Minister for Finance will be actively engaging and reviewing the situation.
In a statement, Labour Finance Spokesperson Ged Nash said a pledge by the Government to engage with the banks is "simply not good enough".
He added: "Yesterday it emerged that Irish banks have been charging interest on so-called 'mortgage holidays' contrary to the Central Bank and European Bank Authority's advice.
"This would mean an additional €4,300 payment on an average €300,000 mortgage with 30 years to go, at time when many are out of work or have had their wages cut."
The Irish Banking and Payments Federation (IBPF) insisted the practice remains in line with guidance from European regulators and the Central Bank.
It said there was no role for the Oireachtas in deciding whether interest should be applied during payment breaks but the group would be happy to meet the Finance Minister for talks.
It said the issue is ultimately a matter for individual banks.
Speaking on RTÉ's News at One, the chief executive of the Irish Banking and Payments Federation said Irish banks have been upfront from day one on the costs associated with payment breaks.
Brian Hayes said the Irish banking sector produced the breaks in good faith and in all cases those payment breaks are in line with EBA and Central Bank Ireland guidance.
He said the EBA guidance was that the sequencing of loan repayments could be changed but the interest rate could not; and if the interest rate was changed, this could be classified as forbearance.
This advice, he said, did not change until yesterday. Other customers will bear the brunt if costs are not paid by those who availed of a mortgage moratorium, he said.
Mr Hayes said banks will help vulnerable customers who are unable to meet their mortgage requirements at the end of the payment break by restructuring their loans.
Ireland is one of a few jurisdictions (one of ten) that provided payment breaks during the pandemic, he said.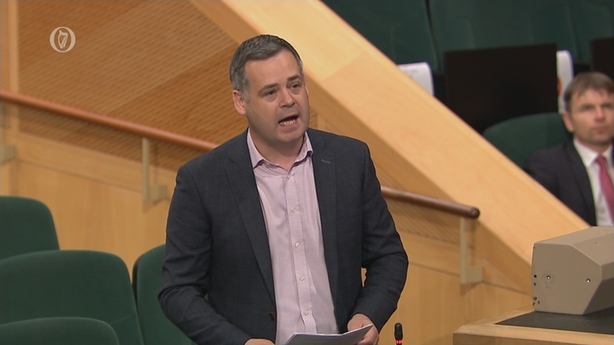 Speaking on the same programme, Sinn Féin's Pearse Doherty said the Government needs to intervene to prevent banks from "profiteering from the Covid-19 pandemic" by having customers who take a payment break accrue additional interest.
He said the suggestions by senior bankers that guidelines stating they did not have to charge this interest is "a bolt out of the blue" are not true.
He said payment breaks did not accrue interest in other jurisdictions too, such as Germany, Spain, Hungary and Cyprus, and the Central Bank had written to him to confirm this three weeks ago.
Mr Doherty said people should not have to pay "a Covid penalty" because the Government closed down economic activity here and people's wages were reduced as a result.
---
Read more:
IDA Ireland warns of 'challenging' FDI outlook amid Covid-19
Ireland tops corporation tax from multinationals list