The chief executive of IDA Ireland has warned that the outlook for Foreign Direct Investment (FDI) here over the next two years looks "very challenging", as the Covid-19 pandemic continues to disrupt global trade. 
Martin Shanahan made his comments as the inward investment agency reported a 6% drop in new investments during the first six months of this year compared to the same time last year.
"The installed base of investments, those that are already here, have proven to be broadly very resilient, not uniformly, but for the most part much more resilient than maybe other sectors of the economy," Mr Shanahan told RTÉ News. 
He said that particularly technology, pharma, medical technologies and international financial services have proven resilient. 
"Engineering and business services are having a more challenging time, and anything that has connections to the tourism business, the hospitality business, construction, retail. If you are servicing those businesses or providing platforms to those businesses, it is very difficult," the IDA CEO added. 
Mr Shanahan said competition for investments by multinational firms into Ireland is intensifying and as a result it is critical that Ireland remains competitive. 
We need your consent to load this rte-player contentWe use rte-player to manage extra content that can set cookies on your device and collect data about your activity. Please review their details and accept them to load the content.Manage Preferences
The organisation also warned that other challenges including Brexit, global trade tensions, the challenge of reaching a global agreement on tax and the increase in automation and use of technology remain. 
In total 132 new investments were made over the first half of 2020, compared to 140 a year earlier. It is hoped that 9,600 new jobs will flow from those projects. 
But the IDA said that while existing FDI here is resilient, it has not been immune to the impact of, and disruption caused, by the Covid-19 pandemic. 
It said most of its client companies have continued to function through the crisis and the flow of investments has continued, but at a slower rate. 
A prolonged battle against Covid-19 that would lead to sectors staying closed either in Ireland or abroad could alter that though, the IDA warned. 
The IDA has warned of a very challenging outlook for foreign direct investment here over the next two years amid the global fallout from the Covid 19 pandemic.

IDA CEO Martin Shanahan says new investments fell 6% in the first half of 2020 | Read more: https://t.co/YzxzXflqr2 pic.twitter.com/NepvzVIbRC

— RTÉ News (@rtenews) July 8, 2020
There have been no site visits by potential investors since March due to Covid-19 restrictions, Mr Shanahan said. Overall site visits are down 56% for the first six months of the year. 
"The impact of that won't be seen immediately but it will be seen down the road, so in six or seven months' time we'll see the impact of that, so towards the end of this year right into the beginning of next year," he said.
"My expectation is for this year that the job creation numbers will be lower, that losses will be higher, and if we get to the end of the year and we see a net increase in the employment in the portfolio I think it would be a very good outcome," he stated.
"But there is a possibility obviously that we could see some negative impact by year end," he added. 
IDA Ireland has put in place measures to get around the impact on site visits, including an e-site solution that allows potential investors to tour facilities and talk to key stakeholders remotely.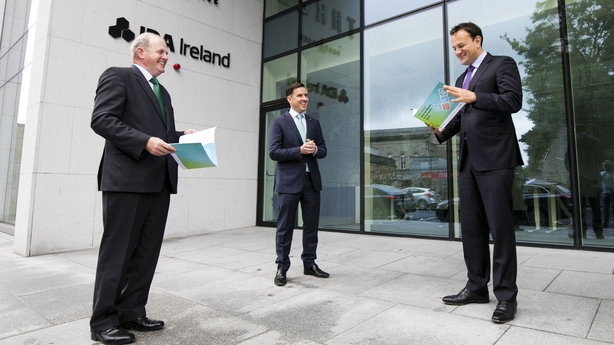 36 such site visits have taken place in recent months, but Mr Shanahan said it is not a substitute for what the IDA normally does when investors normally visit Ireland. 
Of the 132 investments made so far this year, 53 were from firms without an existing presence in Ireland, 44 were expansions by companies already here and the balance were made by the IDA itself to support research, development and training at multinationals here. 
Almost half of the new investments went to locations in the regions. 
Launching today's report, the Tánaiste and Minister for Enterprise, Trade and Employment, Leo Varadkar, said the Government is under no illusions that times ahead will be more challenging and Ireland will have to fight harder than ever before for new investments. 
Delighted to welcome @LeoVaradkar to discuss #FDI performance in the first half of 2020 and the outlook for the remainder of the year at our Mid Year Briefing this morning #InvestInIreland #COVID19 pic.twitter.com/MJaJSfh4KO

— IDA Ireland (@IDAIRELAND) July 8, 2020
The IDA said Ireland's strong track record in winning FDI over the last few years left it strongly placed prior to the Covid-19 crisis, with more than 245,000 employed in client firms. 
It also said Ireland remains an attractive place for companies to invest, due to its safe and stable location in the EU, an educated workforce, the corporate tax regime and because it is considered a nice place to live. 
Among the larger investments made by multinationals during the first quarter were the 1,500 jobs announced by Mastercard, 450 positions promised by Hubspot and 100 new roles pledged for Limerick by AxiomSL.