The Department of Business, Enterprise and Innovation is to launch a public consultation process on remote working later this week.
This comes as the Financial Services Union called for urgent action on developing guidelines and protocols on safety and other issues affecting those working from home.
Responding to a query from RTÉ News, the department noted that last December, it had published the "Remote Work in Ireland" report, which set out to determine the prevalence and types of remote working available in Ireland, along with the factors influencing the adoption of remote working by both employers and their employees.
The department noted that a key outcome arising from the report was the need for official guidance for employers and employees on a variety of different topics, including equality, health and safety, employment conditions and the right to disconnect, data protection and training.
To build on this work, it said Minister Heather Humphreys had established an Interdepartmental Group to develop clear guidance on remote work for employers and employees, and that the consultation process will be launched shortly.
Regarding the right to disconnect, the department pointed to Ireland's "comprehensive" body of employment legislation, including the Organisation of Working Time 1997.
It confirmed that it has been closely monitoring significant debate across Europe in recent years on this issue.
The department's statement said the Programme for Government seeks to deliver a better work life balance for all, and that the Tánaiste will bring forward proposals for the right to disconnect in 2020.
The Programme for Government also commits to considering a role for the Workplace Relations Commission in drawing up a code in this area.
In a letter to the Minister for Enterprise, Trade and Employment Leo Varadkar, the Financial Services Union General Secretary John O'Connell highlighted some of the challenges of home working.
The FSU represents thousands of finance and banking employees, many of whom have been working from home since the onset of the Covid-19 Pandemic.
Mr O'Connell also called for engagement between the Government, employers and unions on a new protocol governing issues arising from remote employment.
"CSO figures indicate that of those workers whose employment has been impacted by the pandemic, 34% have started remote working from home and 12% have increased their number of hours remote working from home. There is an urgent need to address the challenges which are now arising," Mr O'Connell said.
The FSU has launched its own protocol entitled "Making home-work work for all", setting out measures which the union sees as reasonable to address the challenges of "the new normal".
"The protocol lays out what needs to be done to address increased work intensity, introduce employee-led flexibility and high standards of health and safety for people working at home. We also want to ensure that employees have the right technology for the job, and appropriate allowances," Mr O'Connell said.
A key element of the FSU campaign is the "right to disconnect" outside of paid working hours.
It cited University of Limerick research commissioned by the union which found that up to a quarter of banking and finance sector workers were expected to answer calls and emails outside working hours.
Further union research revealed 44% of staff working from home at the moment feel pressure to answer work calls and emails, or engage in work-related communication, outside of paid working hours.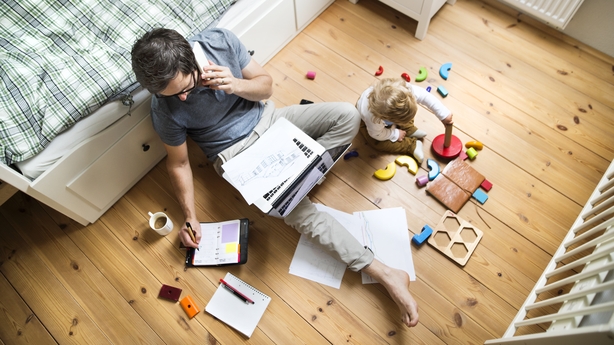 The union wants a clear acknowledgement of the right to disconnect outside of paid hours and breaks, with overtime accruing to time worked beyond contracted hours.
The FSU queries whether the increased number of employees now working from home will be adequately protected if security issues arise, and whether rules made for the pre-Covid-19 world are sufficient now.
"We have to grasp this once in a generation transformation of the world of work and ensure the benefits are shared. We must ensure that we do not swap one set of poor working environments for another," Mr O'Connell said.
The FSU noted that employers can accrue "significant" overhead savings from home-working, including by reducing their property footprint, but the union said staff should not have to absorb workplace costs, for example. through higher utility bills. It called for "significant working from home allowances".
It also demanded an urgent review of Revenue tax breaks for home working, describing them as "designed for another era".
The protocol also warned against excessive surveillance or monitoring of employees working from home, and said employers should accommodate flexibility for caring responsibilities, through flexible start and finish times.
The FSU protocol recognised that home working is not suitable for everyone or for every role.
"The removal/change of home-working arrangements once they are established should be minimal and should only be done with six months notice recognising that many colleagues will have built their personal schedules and family arrangements, including caring responsibilities, around home-working," it stated.
The union also said that home-working should not necessarily have to be full-time, and that staff should be able to vary their start and finish times, as well as splitting their shifts if needed.
The FSU also demanded suitable health and safety standards - including compliance with working time legislation and the necessary equipment and technology - when the home becomes a workplace.
It called today for an online health and safety assessment within the first three months of working from home, a physical ergonomic assessment within six months, and ongoing mental health and well being supports.