The CEO of CityJet has warned that it could take three-four years for aviation to return to anything like 2018-2019 levels, and that most airlines will be 30-40% smaller. 
Pat Byrne said he believed the industry had been overheating with an explosion in new aircraft orders, particularly for larger type plans.
But he added that the bubble had now "truly burst" due to the sudden shock caused by the coronavirus.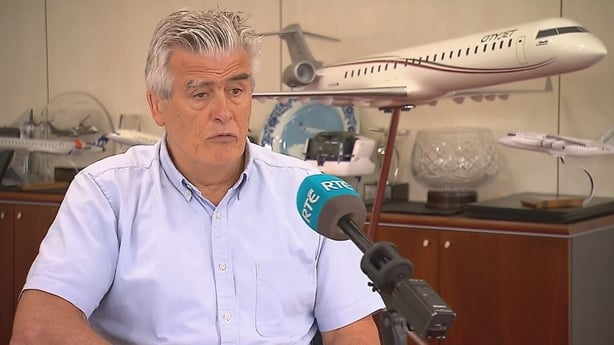 The CityJet CEO was speaking as around 25 pilots protested outside the airline's headquarters amid accusations that it was offshoring the jobs of Dublin-based staff to Scandinavia.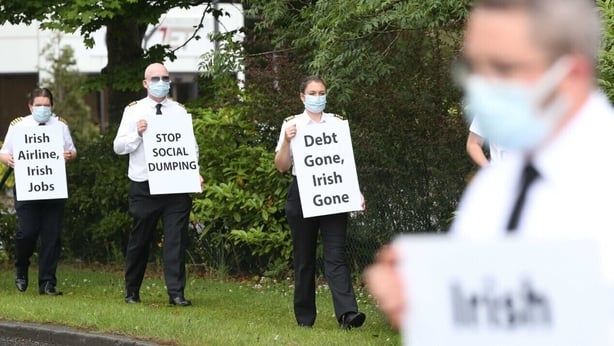 Mr Byrne noted that CityJet is in examinership, because the coronavirus had "taken our revenue off the table". 
He said the company had lost four of its five major contracts, the fleet had been grounded since March, and was only slowly getting back to some sort of operation.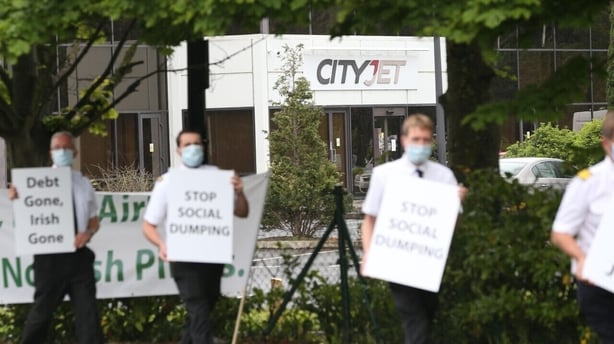 He said the pilots' union Forsa/IALPA wanted CityJet to fly their pilots out of Dublin to the "theatre of operation" in Scandinavia, which would mean losing productivity for a day at each end of their duty, as well as incurring the cost of hotels and per diem payments while they were there, versus employing pilots locally. 
He said CityJet had to optimise the economics of what they still had, and convince an examiner and the courts that the business was viable going forward. 
Mr Byrne described the situation at CityJet as "extremely precarious" - particularly if it did not succeed in emerging from examinership - and that job losses were inevitable as they were in other airlines around the world.
He said that when the coronavirus struck, CityJet was employing 1,175 people, but it now looks as if it will have fewer than 500 if it emerges successfully from examinership. 
He said the priority was to preserve the core of the business and rebuild the airline but that they could not do that if they did not survive. 
Mr Byrne said that CityJet had offered 20 pilots qualified to fly the right aircraft permanent positions at their Copenhagen base when they become available over the coming months. 
He said the company was in negotiation with stakeholders including providers of aircraft, financiers and leasing companies, and described those conversations as very tough, because those stakeholders in turn were also in a bad place.
He said he was confident CityJet could emerge from examinership, but said they could not take that for granted, and it would "come down to the wire".
CityJet's examiner - Kieran Wallace of KPMG - will report to the High Court on Thursday. 
We need your consent to load this rte-player contentWe use rte-player to manage extra content that can set cookies on your device and collect data about your activity. Please review their details and accept them to load the content.Manage Preferences
Speaking at the CityJet pilots' protest, Forsa Assistant General Secretary Ian McDonnell said that up to 10 days ago, the union had received assurances that 23 of the 57 pilots under the threat of redundancy would have security of tenure of employment.
However, he said the company was now saying that all pilots were again under the threat of redundancy, and only some may be able to relocate to Copenhagen or other Scandinavian bases.
He said some pilots would consider relocation, but added that it would not be unusual for Dublin-based pilots to travel to bases abroad in order to carry out their flying duties there, as they had done in the past.
Asked whether this kind of commuting would make economic sense in the current crisis, Mr McDonnell said it would make sense as when the industry recovered, CityJet would have a pool of trained pilots ready to populate planes.
He said it was the union's understanding that examinership would help to protect Irish jobs in an Irish company, but claimed that the examinership process was serving the company far more than the pilots.
He called on the Government to intervene with a review of the examinership process to prioritise jobs.