Eir said its third quarter revenues declined by 1% to €307m but its EBITDA for the three months to end of March increased by 5% to €154m.
The company said it reduced its operating costs by 5% to €96m in the three month period.
Eir said it saw "consistent solid growth" with strong annual increases in fibre broadband and postpay mobile customers, quarterly growth in TV customers and continued growth in its multi-play product bundling.
The group said its broadband base totalled 954,000 customers by the end of March, growing by 1% or 13,000 year on year.
Eir said its fibre network rollout continues to progress and has now passed 72,000 urban and suburban premises across Ireland, up 42,000 since December.
Eir customers using fibre-based high-speed broadband services totalled 748,000 by the end of March, an increase of 9% or 60,000 customers on an annual basis.
78% of the company's broadband base is now connected to its fibre network, which represents a 39% penetration of fibre premises passed, the company added.
Eir said its mobile base stood at 1.171 million customers at the end of March, an increase of 13% or 139,000 from the same time last year, driven by growth in its new SIM-only mobile service GoMo.
Its postpay base increased by 35% or 199,000 subscribers year on year and postpay subscribers now represent 65% of the total mobile base.
Meanwhile, Eir also said it had 77,000 TV customers by the end of March, up 3% or 2,000 on a quarterly basis.
Carolan Lennon, Eir's CEO, said that in these challenging times staying connected to family, friends, and colleagues has become more important than ever.
"We are discovering new ways to communicate, work, and socialise while managing everything from shopping to education online," Ms Lennon said.
"Our priority during this time has been to ensure the safety of our employees, our customers, and our suppliers, and we are following stringent guidelines and processes to ensure all our stakeholders are protected while we work to ensure our network remains fully operational," the CEO added.
Ms Lennon said that Eir's engineers are continuing to connect homes and maintain the network across Ireland, while its care teams are providing support to customers while working from home.
Over 97% of Eir staff have been working remotely or in the field, and it has closed all but one of its Dublin offices as well its three regional care centres.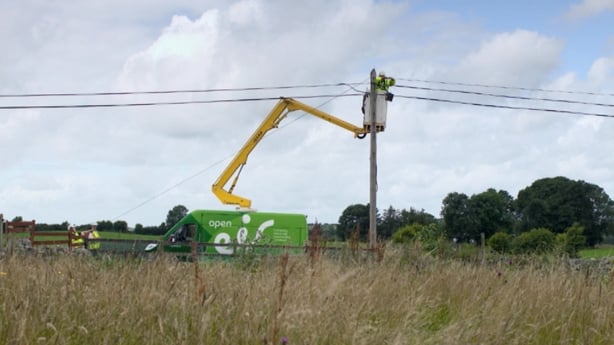 The Eir CEO said the company has prioritised mobile network upgrades to enhance connectivity for customers working at home, with about 40 new sites going live in the last six weeks, providing more coverage and more capacity.
"Our 5G network, by far Ireland's largest, continues to expand, with superfast data speeds now available in 20 towns and cities across Ireland and outdoor population coverage now at over 28%," Carolan Lennon said.
She also said that the upgrade and expansion of Eir's 4G network is continuing and so far it has achieved over 98% population coverage and 94% geographical coverage across Ireland.
"Our investment programme will continue in the coming months, where it is safe to do so, with plans to roll out 5G to every major town in Ireland and continue passing more homes and businesses with superfast fibre to the home broadband," Ms Lennon said.