The Daa has informed staff that it may need up to 1,000 voluntary redundancies and other cost reductions because of the collapse in passenger numbers at Irish airports due to the Covid-19 virus.
In a memo to staff, chief executive Dalton Philips said that, with passenger numbers down by 99%, the outlook for the rest of the year is "bleak", and it only expects to have a throughput of 21 million passengers next year.
That would be down from 33 million per year in Dublin, and 2.6 million in Cork.
He notes that the last time Dublin and Cork Airports operated with that reduced level of passenger traffic, it had 750 to 1,000 fewer personnel. 
He also warned staff that a return to 2019 levels of activity is unlikely for several years, and that the Daa is now "significantly over-resourced" for the current level of passenger throughput.
Mr Philips said that all non-pay costs are under review, but cautioned that "our entire non-pay costs only account for just over one third of total costs for the Irish business".
On jobs, Mr Philips said frontline teams are currently significantly over-resourced and will continue to be so until the required cost reductions are completed across the business.
"We are looking at all options, but to give you a sense of the scale of the issue that we are facing, when Dublin and Cork airports last welcomed 21 million passengers per year, we had between 750 and 1,000 fewer employees in the business," he said.
Details of a voluntary severance scheme will be provided next week, but other alternatives may be available including career breaks and reduced hours working - and the company has pledged to safeguard as many jobs as possible.
The Daa is also reviewing its capital programme for new infrastructure. 
We need your consent to load this rte-player contentWe use rte-player to manage extra content that can set cookies on your device and collect data about your activity. Please review their details and accept them to load the content.Manage Preferences
"Essential capital projects such as North Runway, Hold Baggage Screening, and other core maintenance projects will proceed, but all other capital projects will be reviewed.
"The appropriate timing of future capital projects will also be considered in the context of the very uncertain passenger demand position in the coming years," he told staff in the memo.
Non-frontline operations will be restructured to eliminate duplication, certain activities will cease, new "centres of excellence" will be created, as a result of which fewer employees will be required. Staff in such roles will be grouped together in two locations. 
Other proposed changes to work practices include employees being required to "follow the work" by moving between Terminals 1 and 2 in Dublin Airport.
"Work practices which currently prevent this will have to fall away," Mr Philips warned.
He also told staff they will all have to clean their own workplaces, there will be enhanced use of technology, and rosters will be "simplified" to be cross-company, facilitating team working and removing inefficiencies. 
The Daa had previously moved staff to a four-day week until 20 June.
It said it has not yet decided what will happen after that date, but reiterated that significant payroll and other savings have to be secured very quickly. 
Daa said it will now engage with its employees and staff representatives in relation to the cost reduction measures required to address the economic crisis that is affecting businesses throughout the aviation sector. 
It also said it would not be making any further public comment at this time.
SIPTU representatives have called for urgent discussions with Daa representatives following the news.
In a statement, SIPTU Sector Organiser Neil McGowan said the union "will insist that any workers leaving the company as a result of redundancy must do so on a strictly voluntary and agreed basis".
He said the union's focus "will be to ensure that as many jobs possible are maintained in Dublin and Cork Airports".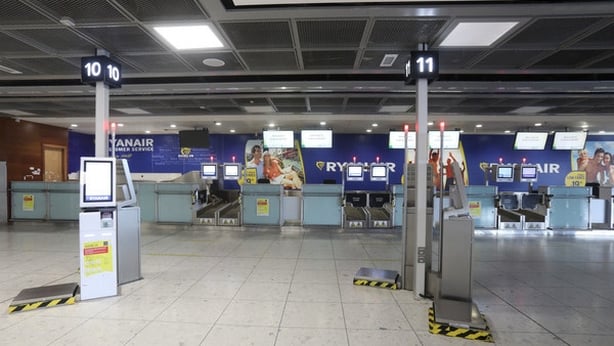 Figures released by Daa last week showed that fewer than 27,000 passengers travelled through Dublin Airport in April, a 99% drop when compared to the same month last year due to the impact of Covid-19. 
The Daa said that passenger volumes to and from continental Europe fell by 99%, with about 9,600 passengers travelling to and from European destinations last month.
UK traffic also declined by 99% when compared to last year, with about 9,000 passengers travelling to and from Britain in April. 
Meanwhile, passenger volumes to and from North America decreased by 99%, as about 4,700 passengers travelled on transatlantic routes last month.
The number of passengers on domestic routes decreased by 98%, as just 170 passengers travelled on domestic flights in April.  
More than 5.2 million passengers have travelled through Dublin Airport in the first four months of this year, a 44% decrease on the same time last year.