Ryanair has today cut its annual passenger target by another 20% and said it had no idea how much it would earn this year.
But its shares surged over 13% on strong cost control and a €1 billion profit in the year to the end of March.
Ryanair said today it expects to fly less than 80 million passengers in the coming year, down from a target of 100 million given last week and an original target of 154 million.
Chief executive Michael O'Leary, who plans to operate a skeleton fleet until the June and about half its normal capacity in July and August, said that bookings by holidaymakers were "building nicely".
But he said the airline's performance was dependent on measures taken by governments, including what he described as the "idiotic" mismanagement of the Covid-19 crisis by the UK.
"It is idiotic and it is unimplementable," Michael O'Leary told BBC radio, referring to UK plans to impose a 14-day quarantine on international travellers.
Michael O'Leary claimed the proposals have "no medical or scientific basis", and instead said face masks would "eliminate" the risk of spreading coronavirus.
"Its laughable that this government can come up with any plans for a quarantine that will be strict and fully enforced when already they are exempting the Irish, the French," he said.
"You don't have enough police in the UK to implement a two-week lockdown. And what's really worrying is that a two-week lockdown has no medical or scientific basis to it in any event," he added.
"If you really want to do something that's effective - wear masks," the CEO stated.
He also said the UK government would likely be "embarrassed" into dropping its plan for a 14-day quarantine of travellers arriving from abroad.
The airline chief also forecast a "domino effect" of countries scrapping restrictions on travel in June as the tourism industry in countries like Spain and Portugal lobby to match Italy in allowing foreign tourists to return from June 3.
"For the next 12 months it's obviously impossible for us today to give you any guidance on either traffic numbers or on profits," Michael O'Leary also said in a video presentation after the company published its full-year results.
"We have no idea because it is entirely subject to passenger numbers, yields and the lifting of government restrictions," he added.
Ryanair's shares jumped over 13% after it announced a profit of €1 billion for the year to March 31, having lost only 5 million of 150 million passengers to Covid-19 restrictions since the middle of March.
Ryanair's share price is down about 40% since the start of the crisis.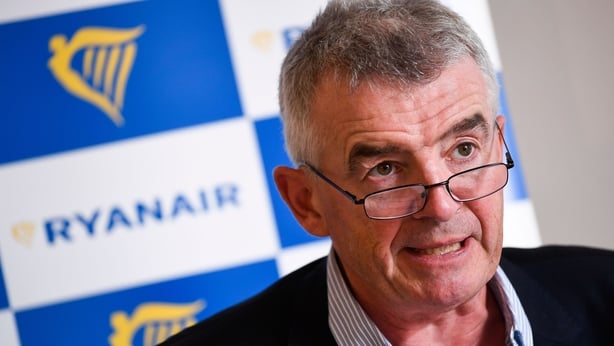 Investors were impressed by Ryanair's announcement that it had cut its weekly cash burn to a little more than €60m in May from about €200m in March and had a cash balance of €4.1 billion, said Stephen Furlong, transport analyst at Davy Stockbrokers.
"It looks like things are somewhat under control," Stephen Furlong said.
The airline is currently undertaking a major cost cutting drive, with 3,000 pilots and cabin crew likely to lose their jobs as well as 250 people at head offices in Dublin, Stansted, Madrid and Wroclaw.
Ryanair is also looking at pulling out of some airports across Europe.
Michael O'Leary said the airline would first look at the possible closure of loss-making bases in the UK, Germany and Spain but could could widen that to Italy, Belgium and central and eastern Europe if necessary.
It is also likely to close the main base of its Lauda subsidiary in Austria, which O'Leary said is facing an "existential crisis" because of the Covid-19 pandemic.
"We need pay cuts. We need job losses, we need lower airport costs if we are going to right-size the business and right-size the cost base," Michael O'Leary said.
Ryanair expects to post a loss of a little more than €200m in the three months to the end of June and either break even or post a small loss for July-September, its CEO added.
Michael O'Leary admitted to having "no visibility" on customer behaviour but said he expects demand to return pretty quickly thanks to deep discounting.
Pre-crisis ticket price levels will not return until 2022 or later, O'Leary said.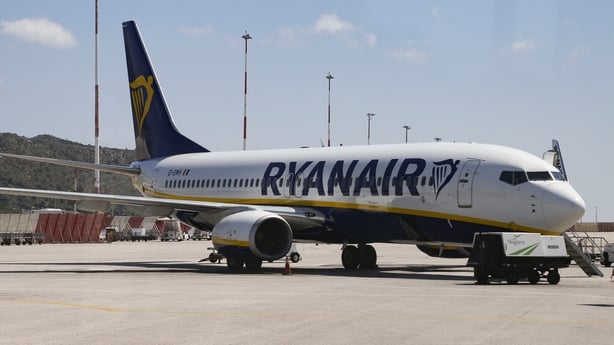 The airline last week said it expects a surge in bookings in the coming weeks from people who have been cooped up at home for months.
The airline said today that it had booked an exceptional charge of €353m for hedging on fuel and currency hedges it put in place last year which it did not need.
That includes foreign exchange hedges worth around €40m that offset some of the losses caused by hedging at high prices.
The airline is "sitting on the sidelines" for now in terms of hedging future fuel bills, Neil Sorahan said.
Ryanair's Austrian subsidiary Lauda facing "existential crisis"
Ryanair's Austrian subsidiary Lauda faces an "existential crisis" and its main Vienna base appears likely to close at the end of May, group chief executive Michael O'Leary also said today.
Ryanair in recent weeks has warned that the Austrian airline, which it purchased in 2018, was underperforming and said its Vienna base would close unless unions accepted a new collective labour agreement.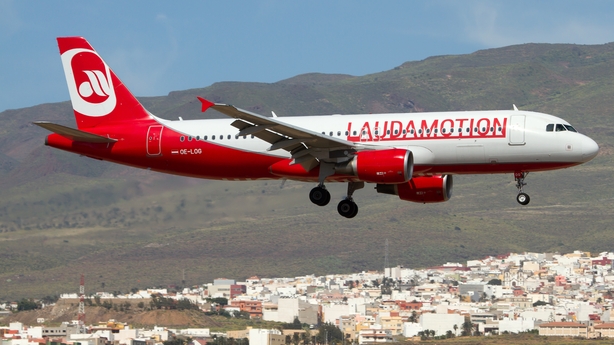 Ryanair has also said it was likely to replace 30 Airbus jets at Lauda, the only part of the Ryanair group not to fly Boeing 737s, with Boeing jets.
Michael O'Leary said today that Ryanair had cancelled eight A320s that were due for delivery to Lauda from leasing companies.
"As a result of the Covid-19 pandemic, Lauda is facing an existential crisis," Michael O'Leary said in a video presentation released alongside its full-year financial results, saying the only way it could survive was with a deep restructuring of the Vienna operation.
"I think it is likely that the Vienna base will close at the end of May because we don't see the union agreeing to these reforms," O'Leary said, adding that if they did accept them the airline would "thrive".
The Vienna base hosts 15 of Lauda's 30 A320s. Lauda's other bases in Stuttgart, Dusseldorf and Palma would remain open, the group CEO added.
Richard Flood, investment manager at Brewin Dolphin Ireland said that the next year will be a substantial challenge for Ryanair as they restart their business.
"However they remain extremely well placed to emerge from the Covid-19 crisis as a winner with an increased dominance of the European short haul market," he added.
Ryanair shares were trading higher in Dublin trade today.