More than three in ten (31%) daily internet users are using the internet "all the time" or "nearly all the time" during the Covid-19 pandemic, new figures from the Central Statistics Office show.
The CSO today published details on how ICT usage by households and individuals has been impacted by the coronavirus pandemic.
It found that people's use of the internet has increased with more people at home as schools and many workplaces are closed.
The CSO compared data collected during the three weeks following the initial Government measures put in place to contain the Covid-19 pandemic, from March 16, with a three week period in January.
The CSO said that the Covid-19 restrictions have impacted the way people are doing their shopping and what they are buying.
Clothes and sports goods, which are usually the most popular online purchase, decreased in March while the purchase of food or drink from shops or meal-kit providers has more than doubled from 6% in January to 13% in March.
Meanwhile, the online purchase of cleaning products or personal hygiene products (including toothbrushes and washing detergents) doubled in March to 10% of internet users compared with 5% in January.
---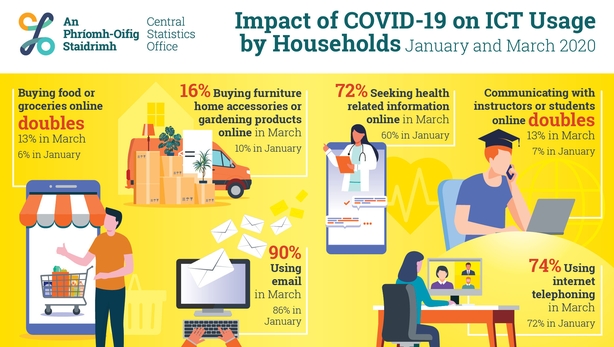 ---
Home schooling and working from home also had an impact on the ICT usage of individuals.
With all primary, second and third level students continuing their education at home, online teaching and learning and the use of online learning platforms for students of all ages has increased, the CSO said.
Communicating using educational websites and portals almost doubled during this time with 13% of internet users using such tools in March compared with 7% in the corresponding survey period in January.
Meanwhile, 90% of internet users surveyed in three weeks in March said they used e-mail, an increase of four percentage points on the corresponding figure for January.
The CSO said that due to an increase in the number of persons remote working from home or home schooling, and remote meetings by phone, there was also an increase in the use of internet telephoning/video calls (such as Skype and Zoom).