Facilitating adequate childcare for essential employees is critical to ensure that Ireland can continue to respond to the Covid-19 crisis, according to the Economic and Social Research Institute.
A new ESRI report entitled entitled "Essential Employees During the Covid-19 Crisis" is based on an examination of workers defined as essential by the government in March.
It finds that a substantial proportion of essential employees are likely to have significant childcare needs that will intensified following the closure of schools and creches.
It also notes that many essential workers are struggling to pay for childcare because they are concentrated in lower paid occupations, such as retail and certain health care roles.
The ESRI says that "the capacity of many such employees to pay for additional childcare services is likely to be constrained.
"Therefore facilitating adequate childcare for these essential employees is critical to ensure that we can continue to respond to the crisis," it adds.
Authors Paul Redmond and Seamus McGuinness find that essential workers account for 22% of all employees in Ireland, and note that for most, working from home is not an option.
Their research focuses on the family status of such workers, "to evaluate the potential challenges faced by those who are combining work with family responsibilities."
They also examine the status of spouses of essential workers, adding that "particular challenges" are presented when both parents are essential employees.

The ESRI breaks essential workers into seven main categories based on the list published by the Government on March 28.
They are:
- Health Professionals (including doctors, dentists, nurses/midwives and social workers)
- Health Associate Professionals (including medical technicians, dental assistants, ambulance and community health workers)
- Other Health Employees (health care assistants in hospitals and nursing homes and hospital orderlies)
- The Armed Forces ((including all members of the armed forces)
- Defence and Public Adminstration (including officers, Gardai, prison officers and firefighters)
- Retail Sales Workers (including sales assistants and cashiers)
- Transport Operatives (including train, bus, taxi and tram drivers).
Almost 70% of essential employees are female, particularly in the three health groupings and in retail, while posts in transport, the armed forces and defence, are predominantly occupied by males.
The ESRI notes that retail employees are the largest group of essential workers but cautions that this includes retail employees in sectors that have closed due to Covid-19 restrictions.
Just over half of all essential employees have children, and around two thirds of these have children aged under 14 - raising issues around childcare.
43% are part of a couple with children, and 9% are lone parents. 16% live in couples with no children, 18% live with their parents, while 14% do not live with family members.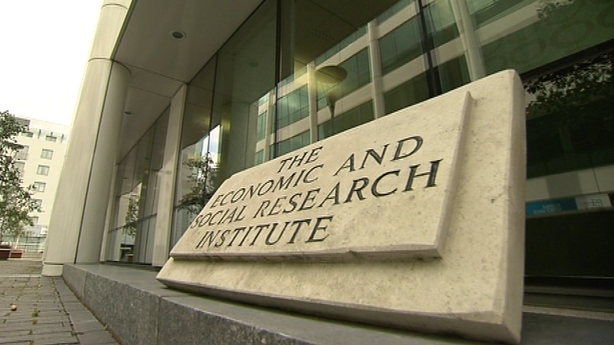 The ESRI finds that essential employees have a higher rate of lone parents at 9%, compared to 5% among other workers.
The rate of lone parents is highest (14%) in the Other Health Employee group, including workers in hospitals and nursing homes.
Meanwhile, essential employees in Defence, the Armed Forces and among Health Professionals are most likely to have children aged under five.
Around 80% of essential workers with children have a partner who also works.
According to the ESRI, approximately 14% of essential employees are non-Irish nationals. They account for 18% of workers in the transport sector and 16% in retail.
We need your consent to load this rte-player contentWe use rte-player to manage extra content that can set cookies on your device and collect data about your activity. Please review their details and accept them to load the content.Manage Preferences
The Economic and Social Research Institute has said it is important to provide adequate childcare for all essential workers including police officers, prison officers, firefighters, bus drivers and supermarket workers.
Dr Paul Redmond told Morning Ireland that the existing plan only applies to healthcare workers and provides just 5,000 places.
He said while it is a positive development it falls well short of what is needed.
He said a conservative estimate suggests there are over 100,000 essential workers with children, 70% of which are women and many of these are lone parents .
He said of of all over half of these workers have children and many have children aged under 14.
Dr Redmond said many of these essential workers who have significant responsibility are struggling at the moment with the closure of schools and creches and grandparents cocooning and unavailable to help.
He said the scheme agreed will cost workers €400 a month which for some workers in low paid occupations will be a high financial burden.