Huawei has been having a fairly torrid time in recent months.
US-led action against the Chinese company motivated by fears that its technology could be used by the Chinese government as a backdoor for spying has left it increasingly isolated.
On the handset manufacturing side, it has also left it without access to Google's main suite of apps.
Despite these major setbacks, Huawei is still managing to churn out top quality devices, and the P40 Pro is the latest of those.
DESIGN
The P40 Pro is the middle smartphone in the Huawei flagship P40 range.
And it looks every bit the part a premium handset.
The eye-catcher is the so-called "Quad-curve Overflow Display" - effectively a screen with curved edges on all four sides.
This combined with narrow bezels, a metal band around the edge of the device and matt glass finish to the rear gives the phone a really slick appearance.
The P40 Pro is really all about its camera though (more on this later) and to achieve what it does, the device has a fairly sizeable and prominently protruding rectangular shaped lens block to the rear, which some might find too chunky.
That said, the phone is comfortable to hold and use, and weight isn't an issue.
The handset comes in three colours - Ice White, Deep Sea Blue and Black – and two refractive matte glass finishes – Blush Gold and Silver Frost.
On the bottom is the dual nano-SIM tray, into which an SD card can be placed to expand storage. It also supports eSIM.
You'll find the power button and volume keys to the right and its charged via USB-C connection on the bottom.
DISPLAY
The P40 Pro has a 6.58 inch display which for me was one of the stand out features of the device.
The OLED screen has a refresh rate of 90Hz, which in layman's terms makes for an incredibly smooth viewing experience, even though its a little lower than some competitors, like the Samsung Galaxy S20 Plus.
It doesn't quite reach the level of Quad-HD, with a resolution of 1200x2640. But that doesn't matter.
All you will notice will be the bright vibrant colours, deep contrasts and smooth scrolling and viewing experience, not matter what the content.
The display is also the home for an enhanced in-screen fingerprint reader which Huawei says offers 30% faster biometric authentication.
Indeed it is very quick and accurate, and it still amazes me how a fingerprint sensor can be embedded inside a screen without degrading the quality of the display output.
There are two small holes in the top left side of the screen for the front facing camera set up. Huawei still hasn't found a way to hide those behind the display.
All told, there is little not to like about the solid viewing experience on the P40 Pro.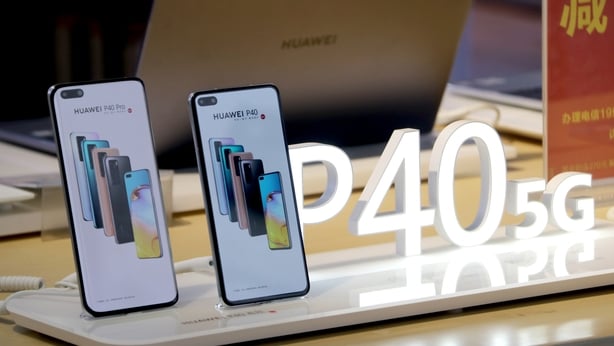 PERFORMANCE
The P40 Pro is powered by the Kirin 990 5G processor, which is a virtual powerhouse.
That is coupled with 8GB of RAM and 256GB of storage, with further SD expansion of up to 256GB possible.
The combo makes for a powerful user experience in line with what you would expect for a top-end phone in this bracket.
5G integration in the chip means it is ready to work with networks of the future.
The P40 Pro is also well powered by a 4,200mAh battery, that will keep the device alive right through the day, even during these times of back to back video conferences, phone calls and remote working.
Wireless charging is built in, along with 40W fast wired charging.
The device carries an IP68 rating which gives it protection from water ingress up to 1.5m for 30 minutes.
CAMERA
Central to the P40 Pro offering is the camera.
Huawei has made great strides in recent years in developing its high-end imaging technology and this latest smartphone marks a further step forward.
The main triple camera system is comprised of 50MP wide angle lens, 40MP ultra-wide angle sensor and 12MP telephoto lens, which offers up to 5x optical and 50x digital zoom.
In most other cameraphones, zooming can be iffy, with varying results. But the technology behind the Huawei P40 Pro puts these usual concerns to rest.
It means that really good quality snaps are possible even from considerable distances.
The system is augmented by artificial intelligence, with the new XD Fusion Engine making its debut to assist with optimising quality, with impressive results.
The main camera also uses a RYYB colour filter setup, which in simple terms translates into more light getting into the sensor for better picture quality, even when its dark.
Video can be recorded at up to 4k quality at 60fps.
The camera interface is clean and intuitive, with the usual array of useful and sometimes less useful features built in.
On the front is a 32MP selfie camera, which also supports 4k recording.
THE MISSING LINK
Despite its many excellent features, there is one disappointing missing link in the P40 Pro.
That's Google.
The US ban on its companies selling technology to Huawei over security fears means the P40 Pro doesn't have native access to any of Google's products and services.
It does run on the Android 10 operating system with Huawei's own EMUI interface.
But there is no Google Play Store, nor is there access to key apps normally downloaded through it, including YouTube, Google Maps, Chrome, Gmail, Google Photos or anything else.
Instead, the phone has access to the Huawei App Gallery - an app store built by Huawei, loaded with the company's own apps and those developed by third parties.
Yes, there is a selection of apps in there to do many of the jobs that the missing Google apps to, including some from Microsoft, as well Snapchat and TikTok.
The Facebook app is not available from the gallery itself, but it does link to an app download from the Facebook website which works.
But for most users who are highly dependent on some or many Google apps, this will not be sufficient.
It is possible to access some Google services, like YouTube for example, through the Huawei web browser.
It isn't the same experience though and will likely be a source of frustration to most users.
Other features boasted by the P40 Pro include a new virtual assistant, oddly named Celia.
CONCLUSION
There is so much to like about the P40 Pro, in particular its excellent camera system which is top of the class, its sleek design and super display.
It also comes with a price tag of €999, lower than many of its main competitors from Samsung and Apple.
But the elephant in the room is the missing Google connection.
Parking geopolitical and security concerns for just a second, and looking purely at the technology, it is a real pity, because it is a major black mark on an otherwise terrific device.
In time the row between the US and China, including Huawei, may be resolved and normal service may be resumed.
In the meantime though, the US ban is going to leave Huawei in a major pickle.
If Google isn't an important part of your world, then there are many reasons to love this phone.
But if it is, you may want to think hard before you put your money where your mouth and your finger tips are.