A surge in online orders - greater than that experienced during black Friday and Cyber Monday last year - has prompted a national delivery company to hire 100 more drivers. 
The country is experiencing massive increased volumes in online deliveries as people order cosmetics, beauty products, gardening products and seeds, books, pet food, sports equipment, electrical goods, self-assembly furniture and toys. 
DPD, Ireland's largest courier company, and An Post both confirmed to RTÉ'S News at One that they are seeing more parcel deliveries than before. 
DPD delivered 585,000 packages last week outstripping the 560,000 parcels delivered during Cyber Week, a period that includes the high intensity shopping extravaganzas of Black Friday and Cyber Monday. 
The surge in increased deliveries has pushed DPD to hire 100 new drivers on top of 115 new drivers it has already hired over the past four weeks.  
"Our volumes have gone through the roof. The difference in volume between week 10 (2 March) and week 15 (6 April) is 60%. That is phenomenal.
"Beauty products are up 200%; electrical up 800%; pet food and accessories up 300% and sports equipment up 225%," DPD's chief executive Des Travers told the News at One. 
"I did an interview about two weeks ago when I said I thought it would dry up and it would stop but it has been the exact opposite - we've been 60% up in parcel volume last week compared to the week beginning March 2," Mr Travers added. 
"It just doesn't seem to be stopping. The same customers seem to be piling out the parcels. Last week we did 585,000 parcels in the week and that compares to about 560,000 parcels during Cyber Week. Right across this week we have seen a massive surge," Mr Travers said. 
We need your consent to load this rte-player contentWe use rte-player to manage extra content that can set cookies on your device and collect data about your activity. Please review their details and accept them to load the content.Manage Preferences
DPD is hiring drivers on its website DPD.ie.  
"We are 115 drivers above where we were four or five weeks ago. But, we have a shortage of drivers and we are looking for 100 new drivers. We have 100 new jobs mainly in Dublin, in Cork and in Limerick. If people go on to our webpage dpd.ie they can apply for those jobs. These are real full-time jobs that were created as a result of this surge," the DPD boss said. 
 
Delivery drivers on the ground are busier than they were previously. For them the job is enjoyable, with many receiving treats from customers. 
Paul Horan, a DPD driver for 23 years, has been left gifts by customers. 
"People are glad to see you coming. You might be the only person that they see in the day. They do like to have the chat and the banter but keeping the distance at the same time," Mr Horan said. 
"I have a lady that makes an apple tart for me and leaves it on the door for me when she knows I am calling once a week," he said. 
"One of the big things for me is that you could call to a house and leave the box at the door and there could be a thank you note left out for you thanking you for bringing the parcel. It is a nice touch to it all," added Mr Horan.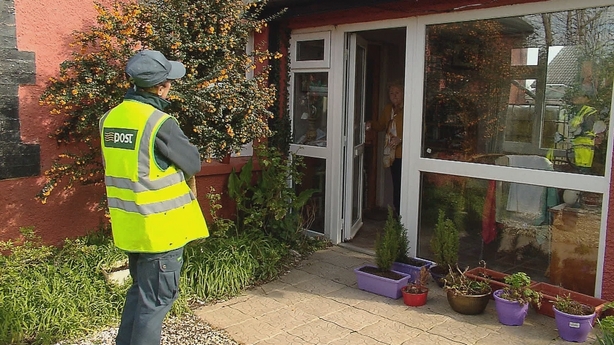 An Post also said it is seeing "more parcel deliveries than before". It said "volumes are up" but has not released figures. 
The company sees postal deliveries as part of its overall remit in terms of community support.  
Joe Sheridan, a postman in the Newport area of Mayo, has worked the same route for 20 years. 
He knows vulnerable and isolated people on his route who need help. 
"I would call even if I haven't post to some very isolated or vulnerable people in the community. I would know elderly people who have no family and have nobody to call to them and look after them," Mr Sheridan said. 
"I make it my businesses to call and check on those people as I am passing. They also have my phone number. They could ring me in the morning to ask me could I pick up something for them in the town and bring it with me on my delivery out to them later on that day," the postman said. 
He also added that some parcels he is delivering to the cocooning elderly are from children or relatives who are living in other places. 
"I have seen a lot of parcels coming to people that are isolated and they may be coming from their own children or from nephews or nieces," Mr Sheridan said. 
An Post has new services to support communities during the current Covid-19 crisis. 
The first is a 'Request a Check-In' service where family members can request a local postman or postwoman to check in on older or vulnerable people who are 'cocooning'. 
The second is a newspaper delivery service.