Department store Debenhams has said it is planning to place its Irish operations into liquidation. 
It said the majority of its Irish stores are not expected to reopen after the Covid-19 crisis is over. 
The company employs up to 2,000 people here, both directly, and indirectly through in-store concessions, according to the Mandate union. 
The company temporarily closed all 11 of its stores in Ireland last month as a result of the Covid-19 restrictions. 
In a statement, it said it was having to make some really tough decisions and the Republic of Ireland's retail operations had trading challenges which were exacerbated by the impact of Covid-19. 
"Debenhams has already suspended trading in the Republic of Ireland stores, the majority of which are not now expected to reopen," it said. 
It said customers will still be able to shop with Debenhams online. 
We need your consent to load this rte-player contentWe use rte-player to manage extra content that can set cookies on your device and collect data about your activity. Please review their details and accept them to load the content.Manage Preferences
It is understood that the question of whether any outlets here can be saved will be one for the liquidator. 
"We are desperately sorry not to be able to keep the Irish business operating but are faced with no alternative option in the current environment," said Stefaan Vansteenkiste, CEO of Debenhams. 
"This decision has not been taken lightly and is no way a reflection on our Irish colleagues, whose professionalism and commitment to serving our customers has never been in question.
"The colleagues have been placed on temporary lay-off under the Irish Government's payment support schemes for employers and we will be working with them to support them through this process," the CEO added.
A spokesperson for Debenhams said that vouchers and gift cards purchased in Irish stores were still valid and could be used on the store's website.
Commenting on the closure, industry group Retail Ireland said it the pressure on the sector at the moment.
It said some of the measures taken by the Government since the start of the Covid-19 outbreak - including the deferral of rates and the wage subsidy scheme - were welcome. However it called for more to be done - especially around rents.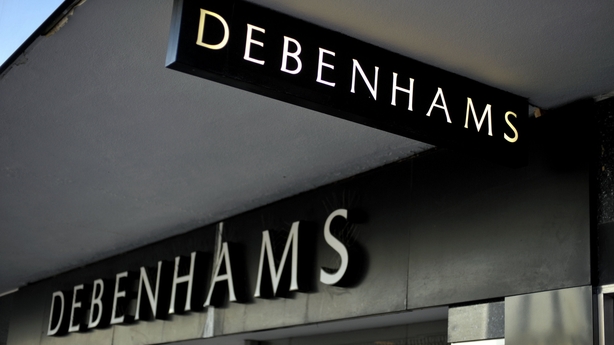 The company's UK arm is in administration for the second time in a year to protect the business from legal action from creditors during the coronavirus emergency. 
Earlier this week the retailer said it had filed a notice of intent (NOI) to appoint an administrator.
However, at that time a spokesperson said its Irish stores would be unaffected by the decision. 
Debenhams' 142 stores across the UK are also currently closed, while the majority of its 22,000 workers are being paid under the UK's government's furlough scheme.
The company is making preparations to resume trading in its stores once the government restrictions are lifted, with the filing of a NOI in the UK represented a first step in that process.  
Debenhams went into administration in April last year, wiping out equity investors, including Mike Ashley's Sports Direct, and is now owned by lenders consortium Celine UK NewCo 1 Ltd.  
In 2016 Debenhams Retail Ireland Ltd exited examinership, having entered the process after it said that high rents at its Irish outlets were making its business here unsustainable.
It has a number of shops in Dublin, as well as in Newbridge in Co Kildare, Galway, Limerick, Tralee, Cork and Waterford.
John Douglas, Mandate's General Secretary, said the closure of the Debenhams' stores is the first major casualty of the Covid-19 emergency.
"Despite knowledge that the company was in administration and that it wasn't trading well, this news has come as a massive shock to our members who will be devastated by this announcement," Mr Douglas said. 
He said the union is in close contact with the company and will remain so over the forthcoming process.
"We will be seeking a meeting with the liquidator when they are appointed and demanding that our members are prioritised throughout the liquidation process so that we can get the best possible deal for them," he added. 
Mr Douglas also said that the retail sector is in a very precarious state and will need government intervention.
"There is no end in sight to this Covid-19 pandemic and we are certain to see more turbulence across the economy, particularly in retail. Thousands of jobs and on the line and any state intervention must be directed at workers and protecting their living standards," he added.