The Construction Industry Federation has urged the Government to extend the Temporary Wage Subsidy Scheme to all workers by eliminating the qualifying cap on staff earning over €76,000.
In a letter to the Minister for Finance Paschal Donohoe, CIF Director General Tom Parlon says his members in the construction sector, which accounts for around 150,000 workers, are anxious to support the scheme.
The scheme is aimed at maintaining the link between employers and employees to accelerate the resumption of economic activity when the Covid-19 emergency ends.
However, he noted that employees earning above €76,000 - or €960 net per week - are being seriously disadvantaged, as they do not qualify for any wage subsidy at all.
They now face a higher risk of being laid off as work on construction projects has stalled.
"These employees are highly skilled and experienced and of great value to their employers.
"Employers who are negatively impacted by the pandemic will have no option but to place these employees on temporary lay-off and request that they avail of the Pandemic Unemployment Payment," Mr Parlon said in his letter to the Finance Minister.
"In such a scenario that employer will not have the option of topping-up the payment made.
"Of particular concern is that the employment of these individuals will temporarily cease and when work gets back to normal these employees may not be available to return," Mr Parlon wrote.
Mr Parlon also said that placing a cap on earnings runs counter to the Government's stated aim of preserving the link between employers and employees.
He noted that around half of construction workers are crafts people and general operatives working on sites, while the remainder are employed as engineers, architects, quantity surveyors and site managers.
He said that these highly skilled employees "will play a significant role in ensuring construction companies can speedily return to delivering key aspects of the NDP and Project Ireland 2040 after the pandemic."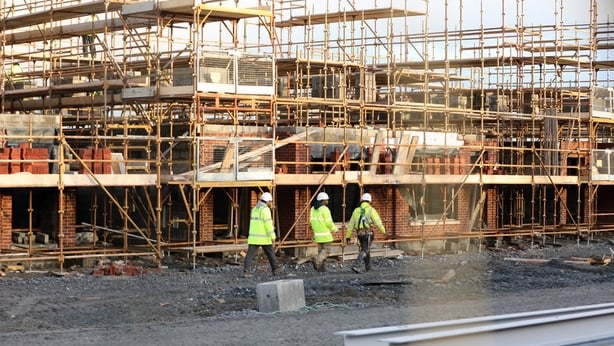 The CIF Director-General appealed to the Minister to extend the TWSS to all staff in qualifying companies regardless of earnings, so that employees kept on the books would at least have a chance of receiving a top up to the €350 per week social welfare payment they would receive under the Covid-19 Pandemic Unemployment Payment if laid off.
"Not only will there be no loss to the Exchequer as they will receive a minimum of E350 in either case, but there will be a benefit as earnings are likely to be topped-up, thus resulting in additional tax to the Exchequer on those top-up payments", Mr Parlon stated.
The CIF also voiced concern about the reference period for the scheme from March 14 to June 30.
He noted that all construction contractors will be able to demonstrate a significant interruption to their work or a 25% decline in turnover due to the virus.
However, he warned that many contractors may not receive payment for works carried out for several weeks or months after works have been completed.
He urged the Revenue Commissioners to take a "flexible and understanding" approach when assessing the effects of the pandemic in the construction sector - including assessing the effects on turnover over a longer reference period.