A new initiative has been launched to help small businesses with no e-commerce presence to get selling online.
The Doorstep Market is an online platform that will act as a one-stop shop where consumers will be able to purchase local and Irish goods from their homes.
Up to 200 individuals and small independent businesses here have signed up already to have their products hosted on the site.
The ideas is the brainchild of Grace Tallon, the Director of Newpark Music Centre in Dublin, and Joe O'Connor, an official with the union Forsa.
"We're really excited about the ambitious virtual shopping experience that The Doorstep Market will offer Irish consumers, with a huge and growing selection of Irish products and services," said Grace Tallon.
"We're encouraging people to stay home, and shop local."
They have been assisted over the past two weeks by many volunteers, who collectively have built the front and back end of the website, giving their time for free.
Firms can use the site to collaborate on offers and deliveries, while consumers can browse and buy a wide variety of Irish products from different suppliers on a single site.
"Irish people want to help support their small, independent businesses get through this crisis in whatever way they can. With The Doorstep Market, they can now do that in a single place, from the comfort and safety of their own homes," said Joe O'Connor.
The Doorstep Market can be accessed at www.thedoorstepmarket.ie
Meanwhile, BeerCloud is a brand new online venture set up in response to the disastrous consequences of Covid-19 for the Irish craft brewing industry. 
The Beercloud online store was founded by breweries including Dead Centre Brewing, Black Donkey, St Mel's, Wide Street, 12 Acres and Ballykilcavan.
New breweries are being added all the time to the online store.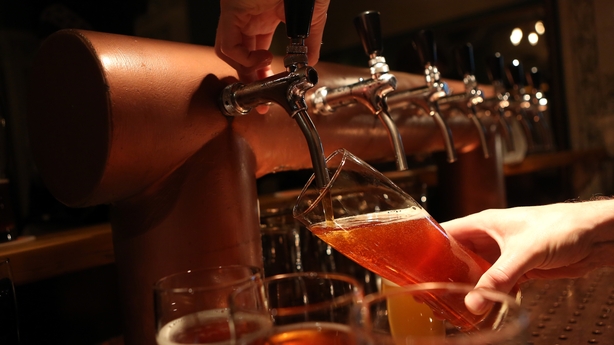 Craft breweries are feeling the pinch of Covid-19 really strongly as pubs, their main route to market, are now closed. As people are being encouraged to stay at home, buying at off licences is also less of an option.
Liam Tutty, from Dead Centre Brewing in Athlone, said that breweries in Ireland generally hold a wholesale and manufacturing license which means they have to sell in bulk. 
But the Dead Centre brewery also has a publican's license which allows it sell in much smaller volumes.
"I've opened this up to other small breweries to make sure their route to market is not completely frozen," Mr Tutty said.
Although craft beer accounts for only 2% of the beer market in Ireland it represents 70% of employment in the beer industry. 
"It's very important to us that we do everything we can to safeguard those jobs, keep those breweries open and keep a supply of fresh beer going to the public", Liam Tuffy said.