Ryanair said today it expects to report annual profit at the lower end of its prior outlook due to widespread travel restrictions imposed by European governments to curb the spread of the coronavirus outbreak.
The airline said pre-exceptional profit after tax will be at the lower end of a €950m and €1 billion range.
"This is due to the response of EU governments to the spread of the Covid-19 virus, which have since mid-March included widespread flight bans and travel restrictions which have closed Europe's skies to all but a tiny number of rescue and medical flights," the company said.
It also said it expects to record an exceptional charge of around €300m for the year ending 31 March, 2020, which relates to the ineffectiveness of its 2021 fuel hedges.
Ryanair said it is currently operating less than 20 daily flights - 99% less than its pre-Covid 19 daily schedule of over 2,500 flights.
It added that it expects its fleet to remain largely grounded for at least April and May, saying that it expects to carry "minimal if any" traffic during those months.
Ryanair also reported a 48% drop in passenger numbers for the month of March due to the Covid-19 outbreak.
The Ryanair Group said it carried a total of 5.7 million passengers in March, down from 10.9 million it carried the same month last year.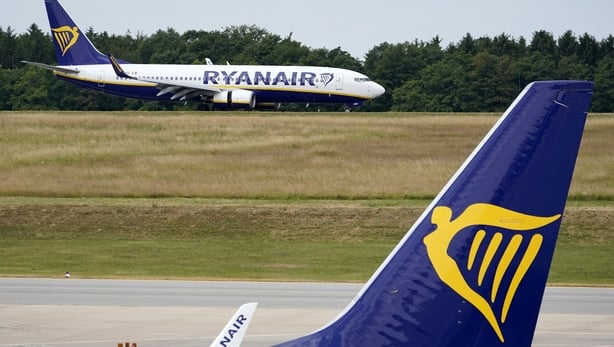 The airline said it operated over 33,000 scheduled flights last month, including a number of rescue and medical flights on behalf of various EU governments.
Ryanair today reported 2020 traffic up 4% to 149 million passengers, but that was short of the 151 million it had expected as of March 10 and lower than its earlier target of 154 million.
In a trading update, Ryanair said it has one of the strongest balance sheets in the industry, with year-end cash equivalents of €3.8 billion and 77% of its fleet unencumbered and debt free.
It said it has already implemented a series of measures to cut operating costs, improve liquidity and cash flows.
These include aircraft groundings, deferring capital expenditure, suspending share buybacks, freezing recruitment and discretionary spending.
It is also cutting all staff pay - including senior management - by 50% with immediate effect for April and May.
"We are engaging with our people and our unions across all EU countries to agree payroll support mechanisms as they are put in place by EU Governments," the airline added.
Ryanair said that given the continued uncertainty on the impact and duration of the Covid-19 pandemic, it is unable to give guidance for its coming fiscal year at this time.
"The Ryanair Group of airlines will continue to focus on delivering cost savings, protecting jobs, working with EU Governments to support rescue and medical flights, and preparing for the return to normal service when the Covid-19 crisis has passed, which we hope will be sooner rather than later," the airline said.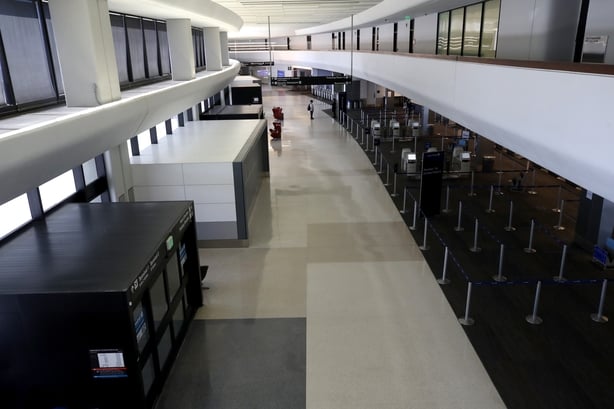 Meanwhile, new data suggests the aviation industry may take years to recover from the coronavirus pandemic. International seat capacity has dropped by almost 80% from a year ago and half the world's airplanes are in storage,
Carriers including United Airlines Holdings and Air New Zealand have warned they are likely to emerge from the crisis smaller, and there are fears others may not survive.
"It is likely that when we get across to the other side of the pandemic, things won't return to the vibrant market conditions we had at the start of the year," said Olivier Ponti,vice president at data firm ForwardKeys.
"It's also possible that a number of airlines will have gone bust and uneconomic discounts will be necessary to attract demand back," he said in a statement.
ForwardKeys said the number of international airline seats had fallen to 10 million in the week of March 30 to April 5, down from 44.2 million a year ago.
Data firm OAG said that several years of industry growth had been lost and that it could take until 2022 or 2023 before the volume of fliers returns to the levels that had been expected for 2020.
Cirium, another aviation data provider, said about half of the world's airplane fleet was in storage.
"While many of these will be temporary storage, many of these aircraft will never resume service," Cowen analyst Helane Becker said in a note to clients.
"We believe the airline industry will look very different when we get to the other side of this."
Planemakers are looking at drastic cuts in wide-body production amid a slump in demand for the industry's largest jetliners, manufacturing and supplier sources said.
Deliveries of long-range jets, such as the Boeing 777 or 787 and Airbus A350 or A330, have been particularly badly hit as airlines seek deferrals and many withhold progress payments.
"Governments need to ensure that airlines have sufficient cash flow to tide them over this period," said Conrad Clifford, Asia-Pacific vice president at the International Air Transport Association.
Such support could include direct financial support, easing the way for loans and loan guarantees and backing for the corporate bond market, he added.
Polish national airline LOT is working on a rescue plan and will likely need state aid as air traffic has been suspended because of the coronavirus, Jacek Sasin, the country's minister of state assets said today.
Air France-KLM is in talks with banks to receive billions of euros in loans guaranteed by the French and Dutch governments, as the airline group braces for a sustained coronavirus shutdown, sources told Reuters.
The two states, which each own 14% of Air France-KLM, have paused a long-running boardroom feud to address the cash crunch, according to three people close to the discussions.
Details and amounts are not finalised and could change, the people said.
Under the most likely scenario, Air France may get as much as €4 billion in French-guaranteed loans while KLM receives close to 42 billion backed by The Hague, one source said.