Pre-tax profits at insurance firm FBD Holdings more than doubled for the 12 months to the end of December to almost €112.5m from just over €50m the previous year. 
The increase came despite a slight fall in the company's gross written premium, although some of the difference was blamed on a exceptional loss recorded in 2018. 
Its underwriting profit has increased to €93.7m from €63.4m in 2018.
FBD said its average premiums were down 2.2% last year, with motor premiums down 4.2%, farm down 2.5% while business premiums increased by 1.8%.
The company noted that an "unusually benign" 2019 resulted in no weather events of note and the lowest quantum of weather claims in many years. 
"We had been very lucky with the weather in 2019," said CEO Fiona Muldoon on RTÉ's Morning Ireland. "We had no attritional weather at all and no storm of any significance - unlike the last few years.
"We had a rebound in the investment market after a very poor 2018 and we had increased activity and ability to settle older claims, and that caused to us to be able to release some of the provisions as we settled those down," she added.
Net claims incurred for 2019 amounted to €148.7m, down from €183.4m in 2018. 
We need your consent to load this rte-player contentWe use rte-player to manage extra content that can set cookies on your device and collect data about your activity. Please review their details and accept them to load the content.Manage Preferences

FBD also said there were positive previous year reserve releases of €40.1m as its claims experience from older years continued to show improvements relative to provisions. 
In today's results statement, FBD said its new business levels increased by 13% and it reported "satisfactory" retention rates of existing customers in a highly competitive market.
FBD noted that its average premium had reduced in the past year - though rates across the industry still remain considerably higher than they were just a few years ago.
Ms Muldoon said the company may have overshot somewhat in terms of pricing in its attempt to return to profitability.
"For the last two years our premiums have come down - our average motor premium was down 4% last year," she said.
"I think in hindsight, maybe, it might be possible to say that we were very cautious in our provisioning, but I think we have been and are fiercely competitive and we're in a fiercely competitive market.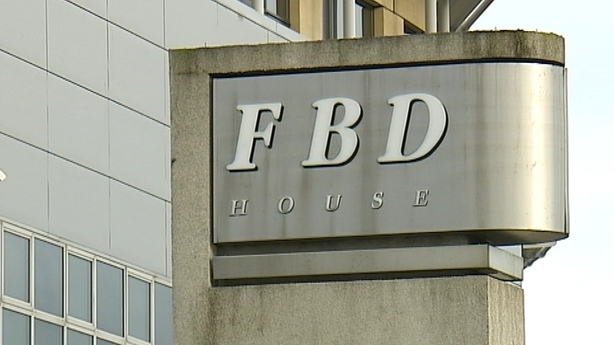 "Some of that is what gives rise to poorer behaviour in terms of pricing."
The company has proposed a 100 cent per share dividend for shareholders.
Ms Muldoon said shareholders had not received any dividend in 2015 or 2016. She said investors expected to be rewarded when the company was doing well, just as they expected not to be when the performance was poorer.
Ms Muldoon is due to leave the company in October, having led it for five years.
She said she felt a lot had been achieved during that time, and it was now time for someone else to take over the reigns."
"I'm leaving because I think I have contributed strongly, I think I'm leaving the business in much better shape than it was five years ago," she said. "I'm very proud of what the team has accomplished and I think it's time for somebody else to take it and to drive it on from here."
Alongside the company results, Ms Muldoon also said the company welcomed the increasing stabilisation evident in court awards and resulting strong claims settlement activity in 2019.
"However, all consumers urgently need claims costs to come down through lower awards, lower legal and medical costs and the increased recognition of personal responsibility in injury cases," she said. 
"FBD continues to call for systemic reform to lower the cost of insurance for all," she added.
On Brexit, FBD said it is preparing to limit the operational impacts on its supply chain following the UK leaving the European Union. 
"However the impact on our customers; the consumers, farms and businesses around the country, is still very uncertain. We will continue to monitor this economic impact and to advocate for sensible solutions
as the situation evolves," it added.
Shares in the company were lower in Dublin trade this afternoon.