Nutrition group Glanbia has reported higher revenues for the year to the end of December, but its pre-tax profits fell due to challenges faced by its Performance Nutrition division.
Glanbia said its revenues rose by 16.6% to €3.875 billion on the back of strong performance from its Glanbia Nutritionals division and by the acquisitions of SlimFast and Watson.
But its profit after tax, post-exceptional, fell by 8.2% to €180.2m from €234m in 2018 due to challenges in the Glanbia Performance Nutrition division, which sells products aimed at athletes and body builders.
Glanbia had cut its earnings guidance for the year in July after performance nutrition sales volumes were weaker than expected.
The division had faced currency and tariff headwinds in major non-US markets, including Brazil, the Middle East and India. A shift to online sales in Europe also had an impact.
Measures to improve the GPN division included exiting low margin areas including the majority of US contract manufacture business, managing the division as four distinct businesses and optimising routes to market.
The North America-focussed group also undertook a major rationalistion of its inventory, cutting around 35% of its portfolio, Glanbia's finance director Mark Garvey said today.
Mr Garvey said the company does not see any "significant headcount implications" from the new measures as they will be focused on supply chains.
We need your consent to load this rte-player contentWe use rte-player to manage extra content that can set cookies on your device and collect data about your activity. Please review their details and accept them to load the content.Manage Preferences
GPN, which includes the SlimFast brand bought in 2018, accounted for around one third of wholly-owned group revenue last year and Glanbia expects the division to regain revenue growth momentum in 2020.
In its results statement, Glanbia said its board is recommending a final dividend of 15.94 cent per share.
This brings the total dividend for the year to 26.62 cent per share, a 10% increase on the previous year.
Siobhán Talbot, Glanbia's group managing director, said it was disappointing that the company's earnings were impacted by challenges in the Glanbia Performance Nutrition segment.
But Ms Talbot said that Glanbia is financially strong and cash generative.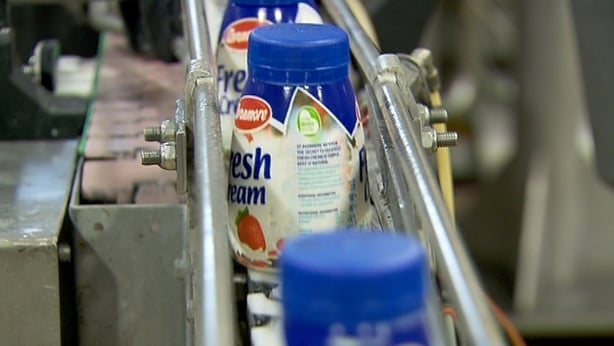 "We have increased our dividend by 10% and we are proposing to our shareholders that we adopt a share buyback programme in 2020," she said.
"We are confident that the actions being taken will position the company to generate enhanced shareholder value in a growing healthy nutrition market," Ms Talbot added.
Meanwhile, Glanbia said that its Chinese facility is "well below" capacity due to the outbreak of Coronavirus, adding that most of its 130 workers at the plant just outside of Shanghai is working from home.
Mark Garvey said that Glanbia expects its Chinese workers to be back at the plant in March.
The company also said its adjusted earnings per share (EPS) fell 7.7% to 88.10 cent, just about in line with the revised July guidance for between 88 and 92 cents.
Glanbia, which includes Avonmore and Kilmeadan Cheese, among its brands said it expected 2020 adjusted EPS to be broadly in line with the prior year on a constant currency basis.
Analysts at Davy Stockbrokers wrote in a note that while it would cut its forecast for 2020 EPS by 3-4%, the breadth of measures being taken to restore momentum in the GPN division appeared credible.
Shares in the company were 4.5% higher in Dublin trade today.