The smart speaker market is becoming more and more crowded, and the competition increasingly fierce.
Amazon was among the first to enter the space several years ago now and since then it has led the way.
Despite growing challenges from Google's Assistant, Apple's Siri and Microsoft's Cortana, its Alexa smart assistant is still arguably the best available.
Amazon continues to rapidly evolve its smart speaker hardware to leverage and make the most of this evolution, or possibly revolution taking place.
The speed of the evolution means it is regularly releasing new versions of the device – some larger, some smaller, some with screens, others without.
Among the latest crop to be released is the Echo, a third generation update to the original device released in 2017.
Ostensibly it looks much like the slightly higher grade Echo Plus and contains many, but not all the same features.
In terms of design it maintains the now familiar cylindrical shape with a soft fabric mesh case that gives an understated and subtle but still stylish look.
The volume, microphone mute and action buttons are all on top of the device, with the power socket and 3.5mm audio on the back (if there is such a thing as a back on a cylinder) for connecting an external speaker.
It comes in four colour options – the existing shades of charcoal, heather grey and sandstone as well as a new twilight blue.
Predominantly, buyers are most likely to use the Echo for music and the sound quality on this latest iteration is excellent for its size.
The speakers inside, borrowed from the Echo Plus, offer top notch 360° audio with powerful bass and crisp detail.
They can also be paired with another 3rd generation Echo or 2nd generation Echo Plus to provide stereo sound.
The equalizer settings can also be used to provide a personalized sound experience.
The music itself can come from a variety of sources, with Alexa capable of working with Amazon Music, Apple Music, Spotify, Deezer, TuneIn and more.
Away from that most obvious of functions, the third generation Echo has a variety of different uses. Few though are particularly new.
You can use it to control any smart home devices you may have using your voice.
The Echo won't, however, connect your smart home devices – for that you will need the Echo Plus with built in Zigbee smart home hub interface.
The Drop In and Announcements function can be used to communicate with others via other Echo devices around the house.
The ever growing list of "Skills", or apps that fulfill specific functions, can be used.
Of course, all these were features that were already available on the previous version of the Echo.
The main changes therefore, apart from the hardware, are really in Alexa itself as it matures with age.
Bit by bit, the voice assistant understands more and does more, with less fuss and fewer mistakes.
The attractiveness of the Echo, therefore, is that those improvements now come in a decent form factor with enhanced sound quality at a reasonable enough price of around €100.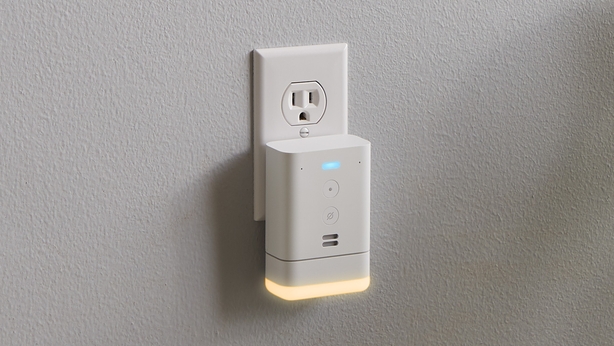 AMAZON ECHO FLEX
The Echo Flex is a much simpler, stripped down version of the Echo.
With an appearance more akin to a smart plug, it plugs straight into the wall socket, no wires required.
As well as a light on the front to tell you when Alexa is listening, there is also a mic on/off button and an action button (to call Alexa without using the wake word).
You won't really be opting to listen to your favourite tunes on the device – it has a basic mini speaker with very average sound quality.
But it will do everything that its bigger brothers and sisters will, offering the power of Alexa in confined spaces or places where you don't need the full razzle dazzle offering.
It also has a 3.5mm audio and Bluetooth output enabling it to be connected to an external speaker.
A USB port on the underside of the device also allows a third party accessory such as a night light or motions sensor, or indeed a phone charger to be connected.
Set up is simple and the device does exactly what it claims to.
So if a basic smart assistant at a cheap price (€30) is all you need, or you want to expand your Alexa based smart home connectivity to other parts of the house, then you won't go far wrong with the Echo Flex.
Comments welcome via Twitter to @willgoodbody