US President Donald Trump, Britain's Prince of Wales and ECB President Christine Lagarde are among the world leaders and influential business and civil society chiefs who will attend the World Economic Forum's (WEF) annual meeting in Switzerland, which opens later today.
This year marks the 50th anniversary of the invitation-only event, which takes place in the Alpine resort town of Davos, amid tight security.
Nearly 3,000 participants from 118 countries will take part in this year's event.
Fifty-three heads of state are on the guest list, including Mr Trump, who is expected to address the gathering tomorrow morning.
German Chancellor Angela Merkel will also attend, as well as Prime Minister of Spain Pedro Sánchez, Ukraine's President Volodymyr Zelensky, and Prime Minister of the Netherlands Mark Rutte.
Ireland was due to be represented by Taoiseach Leo Varadkar, Tánaiste Simon Coveney and Minister for Finance Paschal Donohoe. 
However, none of the three will now travel because of the General Election. As a result Ireland will not have ministerial representation at Davos for the first time since 2011.
We need your consent to load this rte-player contentWe use rte-player to manage extra content that can set cookies on your device and collect data about your activity. Please review their details and accept them to load the content.Manage Preferences

Leaders of other major political and economic organisations will also attend, including Secretary General of the United Nations António Guterres, President of the European Commission Ursula von der Leyen, Director-General of the World Trade Organisation Roberto Azevêdo, President of the European Central Bank Christine Lagarde, and Secretary-General of NATO Jens Stoltenberg.
---
Read more:
Davos 2020 - Five things to know
Fears for planet dominate as leaders pack for 'green' Davos
---
Global trade issues, including the US-China dispute, reform of the international taxation regime and other economic challenges weighing on the world economy will form the backdrop to the meeting. 
There will be a heavy presence of industry leaders present, including Sundar pichai, Chief Executive of Google's parent Alphabet, Apple CEO Tim Cook,  Microsoft's Chief Executive Satya Nadella, Huawei founder Ren Zhengfei and Salesforce boss Marc Benioff. 
Governor of the Bank of England Mark Carney will also take part in a session, while the chief executives of Citi, Airbus and Coca-Cola will all be present.
Climate change is also expected to be a major focus of the event, with many leaders of civil society groups and organisations in attendance, including climate activist Greta Thunberg, as well as representatives from the World Wildlife Fund, Amnesty International and Oxfam.
Protesters, who yesterday began a march from eastern Switzerland, are expected to gather as close to the venue as they can get in order to raise the issue of inaction on climate change.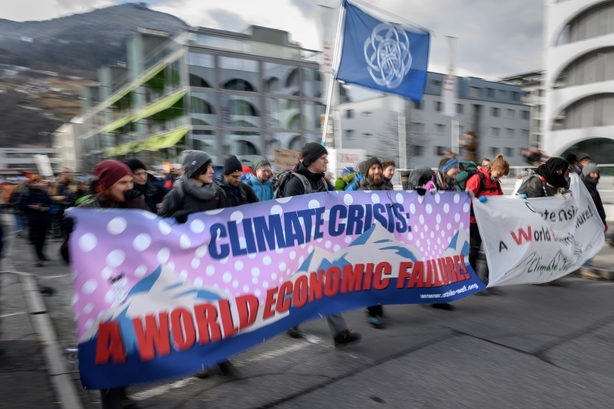 The WEF claims it has made big efforts to make this year's gathering sustainable after criticism last year, and as a result Davos 2020 will be carbon neutral.
The forum first met in 1971, on foot of an idea put forward by German engineer and economist Professor Klaus Schwab.
He suggested that business should serve all stakeholders including their customers, employees, communities and shareholders.
The theme of this year's event is "Stakeholders for a Cohesive and Sustainable World".
Climate change campaigners already making their presence felt here in Davos. "No planet B" scraped into the snow on the way into the town. #WEF2020 #Davos2020 pic.twitter.com/RLnkiJEqwB

— Will Goodbody (@willgoodbody) January 20, 2020
Organisers say the aim is to demonstrate the strength of "stakeholder capitalism", assist governments and international institutions in tracking progress towards the Paris Agreement on climate change and the UN's Sustainable Development Goals, and facilitate discussions on technology and trade governance.
WEF claims the annual gathering in Davos provides a platform where business, government, international organizations, civil society and academia can act together to achieve a global impact.
Just 24% of this year's participants are women, however, a point that will not go unnoticed among those seeking to improve gender equality in politics and business.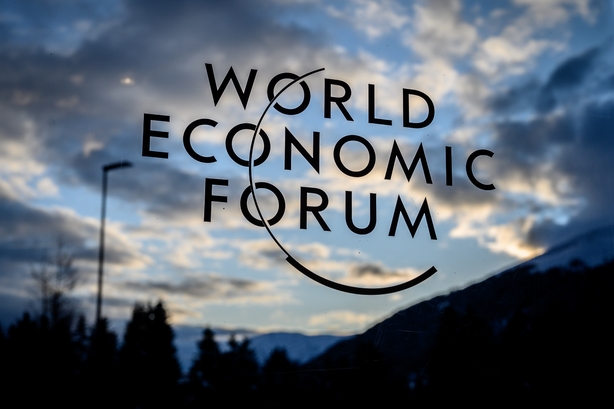 A number of priority themes will guide this year's discussions, including how to save the planet, society and the future of work, tech for good, fairer economies, better business, healthy futures and beyond geopolitics.
However, like in previous years, much of the big political and business discussions and decision-making will take place on the margins of the summit, out of the view of other participants and media.
The event has come under criticism in the past for its image as an elitist gathering out of touch with reality on the ground in many parts of the world.